Beastly Snapdragon 820 and 815 specifications leak
21 January, 2015
With the Snapdragon 810 still not completely out of the woods in regards to the recently debunked, presumable overheating issues and yet to make it into an actual mass-produced device all eyes are on Qualcomm to handle the situation gracefully and insure its future well-being. Whether or not the 810 SoC is problematic and could potentially boost rival MediaTek market shares is still open for debate, but it appears that Qualcomm has remained undaunted in its bright future, that is if today's leak is to be believed.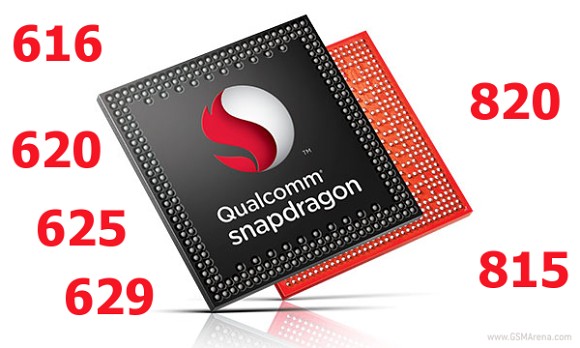 A rather interesting photo came to our attention, which seems to show the future lineup of Qualcomm processors, hopefully set to come in 2015. This leak comes rather suspiciously only hours after a roadmap of planned MediaTek chips made it online, which is a bit odd, but we will still give it the benefit of the doubt and dive a little deeper in what it foretells about the future of mobile hardware.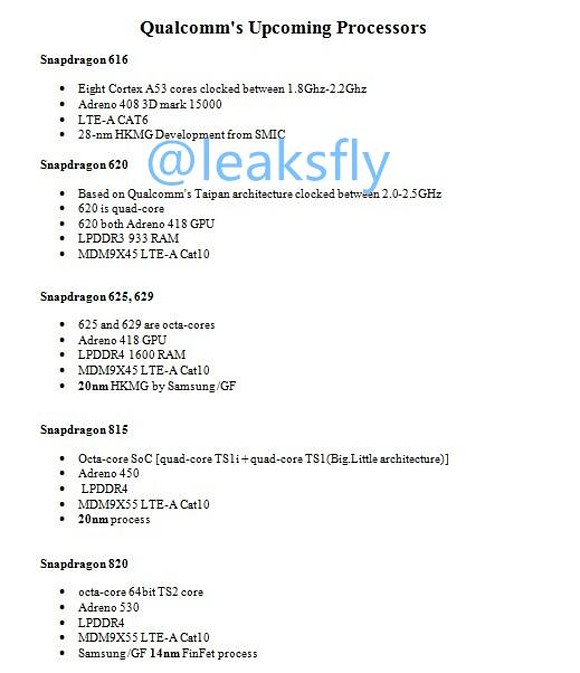 First on the list we have the Snapdragon 616. In many respects it seems like a logical continuation of the current Snapdragon 615. It should have the same eight Cortex A53 cores, although evidently clocked a little higher, between 1.8 GHz and 2.2 GHz. Besides that the GPU has been bumped up to an Adreno 408 and the modem now supports Cat.6 LTE speeds.
Next up we see the Snapdragon 620. It is said to be based on Qualcomm's own architecture, dubbed "Taipan" and is listed as having four cores. It should also have an Adreno 418 GPU, DDR3 RAM and Cat.10 LTE support.
The Snapdragon 625 and 629 will be octa-core chips, with the same modem and GPU. They will, however use upgraded LPDDR4 1600 RAM with dual-channel memory support and will be based on 20nm HKMG technology.
Going further down the list we reach the most interesting of the bunch. The Snapdragon 815 is listed as an octa-core beast with eight processor cores in a Big.Little setup. It will also feature an improved Cat.10 MDM9X55 LTE modem and an Adreno 450 GPU. LPDDR4 is also present and the chip will again be based on a 20nm technology.
Last, but not least we have the all-mighty Snapdragon 820. It is a powerhouse, like nothing we have seen in a mobile device. Specifications list it as being powered by eight TS2 cores. Interestingly enough there is no mention of Big.Little architecture here, which might just mean that all eight cores will function simultaneously. RAM support and LTE are the same as the 815 model, but the GPU is a whopping Adreno 530. Perhaps most exciting though is that the top of the line chip will be based on the new 14nm FinFET manufacturing process, which has already been licensed to GlobalFoundries.
We really hope that all of the above chipsets become a reality during 2015, even though GlobalFoundries and Samsung's facilities, who should be producing the Snapdragon chips will most definitely be busy manufacturing Apple's A9 for the new iPhone line around the end of 2015, so Qualcomm's 820 SoC might just be pushed to 2016.
Again the credibility of the leak is unknown and the information should be taken with a grain of salt, but the future seems more than exciting for Qualcomm. What are your thoughts on the matter and the expected additions to the Snapdragon lineup?
Related
Lol... Chemicals have everything to do with cpu
2 Cores is too little for apps and games these days. the reason we use more cores as it's more efficient than higher clockspeeds, and is not as hard on batteries due to lower voltage requirements for low clockspeeds
Chemicals??? What do chemicals have to do with cpus and gpus? secondly, they are very battery efficient, using almost the same amount of battery as a standard dual core processor
Popular articles
Popular devices