BlackBerry Bold 9700 review: Dare you go
Dare you go
GSMArena team, 8 December 2009.
Introduction
Some handsets will work their socks off to have their fifteen minutes of fame, others are simply born into stardom. The BlackBerry Bold 9700 is certainly fortunate to carry a name that stands for popularity and excellence in the RIM family of phones. But this kind of fame can be less a blessing and more of a curse if the successor fails to live up to the standards set by its illustrious namesake.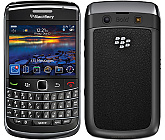 BlackBerry Bold 9700 official photo
These high expectations have quite often turned otherwise decent handsets into a byword for failure. It's simply not enough to provide incremental improvements when upgrading an iconic handset. The iPhone somehow gets away with that, but Apple usually does. But for regular mobile phone manufacturers it takes something new and it certainly takes something better for the successor to achieve the same kind of success.
Key features:
2.44" 65K-color TFT landscape display with a resolution of 480 x 360 pixels
Comfortable four-row full QWERTY keyboard
Quad-band GSM support and tri-band 3G with HSDPA
Wi-Fi and built-in GPS and BlackBerry maps preloaded
3.15 autofocus megapixel camera, LED flash
624 MHz CPU, 256 MB RAM
BlackBerry OS v5
Responsive trackpad navigation
Hot-swappable microSD card slot (up to 16GB)
DivX and XviD video support
Good web browser
Office document editor
3.5 mm audio jack
Decent audio quality
Smart dialing
Great battery life
More compact body and lighter weight compared to the Bold 9000
Good build quality
Main disadvantages:
Many features are locked without a BlackBerry Internet Service account (plan)
Mediocre camera performance and features
No FM radio
No video-call camera
No TV-out functionality
No built-in accelerometer
No built-in compass
It's pretty obvious where the RIM R&D team is heading with the BlackBerry Bold 9700. It's hard to really overhaul a handset that was considered almost perfect by most of its users without testing their loyalty, so they embarked on optimization instead. It's not a bad formula for success to just keep the same functionality, stick it in a smaller, fitter body and improve the performance wherever possible.




Will the BlackBerry Bold 9700 have the span and impact of its predecessor?
One glitch or an important feature sacrificed to fit the compact package and the plan goes down the tubes. The smartphone market is increasingly competitive and smaller companies like RIM know they have little room for error. The new Bold 9700 looks fit and hot, no doubt about that. Let's see if it performs to our expectations, and yours.
My blckbarry does not work internet
ban" waiz
30 Jan 2019
XBt
I want to know why my blackberry 9700 fails to go to the Internet
Call her old reliable. I still use the ATT Blackberry Bold 9700 and treat her as an old friend and personal assistant. Too bad there's no more support. Stays charged even after 4 days until now. No kidding...