BlackBerry Bold 9700 review: Dare you go
Dare you go
GSMArena team, 8 December 2009.
Messaging: Email plays nice with BIS users only
The BlackBerry Bold 9700 handles messaging pretty well as you would expect. It has support for all common types of messages - SMS, MMS and email. It also has the BlackBerry Messenger and Google Talk IM clients preinstalled.
The BlackBerry OS has a fairly simple and easy to use organization of the messaging department and all messages are composed through a common editor.There is a counter at the top indicating the remaining characters to 160, and another one showing the number of parts the message will break down into for sending.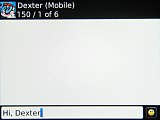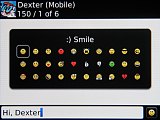 Sending Dexter a message on the Bold 9700
Emailing also has a remarkable set of customizable options, probably one of the best in business. However just out-of-the-box you can only set up BlackBerry Internet Service email accounts on the Bold. This means that without a proper Blackberry service plan, the handset is just a plain no-email device since you need to have that before you go setting up any other email accounts.
That's definitely a drawback in our books as there are quite a lot of carriers globally that do not support BIS yet. But then again, you would hardly be buying a Blackberry device if you don't intend to use the Blackberry services.
The changes brought by BlackBerry OS 5 in this department include the option to resize photos to 1024x768, 800x600 or 640x480 for sending, flag emails and filter them by request, color, status, as well as create, edit and delete folders from the device itself.
Music player gets a facelift, some extras
Conservative looks is what best describes the BlackBerry Bold 9700 music player. Luckily the new version of the OS also brought some nice features to the music department such as equalizer presets.
The music player sorts the music library automatically by artist, album and genre and you can search your tracks by gradual typing. You can also create your own playlists in no time.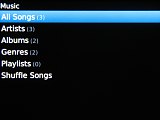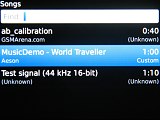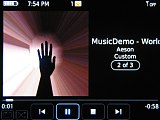 There are a few changes in the music player
Album art is also supported and there is single track repeat option - those were the two main omissions from the previous Bold.
Quite naturally, the player can also be minimized to play in the background. You can then go back to it via the task manager or the main menu. Unfortunately, there's no indication of the currently playing song on the home screen.
Decent audio quality
The audio quality of the BlackBerry Bold 9700 is almost level with its predecessor's, the Bold 9000. That means it's quite good, but the competition is also making strides in this area so it doesn't stand out as much now as it did back then. As a matter of fact, the Nokia E72 manages to outdo the BlackBerry with better frequency response, while all the other results seem identical.
The Bold 9700 has cut-off bass frequencies as evident in the graph below. This helps to explain the disturbing corresponding reading in the table too. It is the same issue/solution that we witnessed with the previous Bold and we suspect the hardware that's responsible for the audio output has remained unchanged.
The rest of the readings are excellent with noise levels, dynamic range and stereo crosstalk comparable to the best in class. Distortion is also kept well within standards. All in all, you will be enjoying some great sound with BlackBerry Bold 9700. Business or not - a pat on the back is due.
| | | | | | | |
| --- | --- | --- | --- | --- | --- | --- |
| Test | Frequency response | Noise level | Dynamic range | THD | IMD + Noise | Stereo crosstalk |
| BlackBerry Bold 9700 | +0.25, -3.62 | -89.8 | 87.8 | 0.014 | 0.023 | -88.6 |
| Nokia E72 | +0.05, -0.26 | -88.3 | 88.2 | 0.012 | 0.024 | -88.8 |
| BlackBerry Bold 9000 | +0.20, -3.87 | -87.6 | 86.1 | 0.0056 | 0.023 | -85.8 |
| BlackBerry Curve 8900 | +0.20, -3.87 | -89.4 | 89.6 | 0.011 | 0.025 | -88.9 |
| BlackBerry Storm 9500 | +0.09, -0.39 | -87.6 | 89.5 | 0.025 | 0.048 | -85.8 |
| Nokia E71 | +0.74, -1.26 | -74.5 | 74.7 | 0.016 | 0.097 | -75.8 |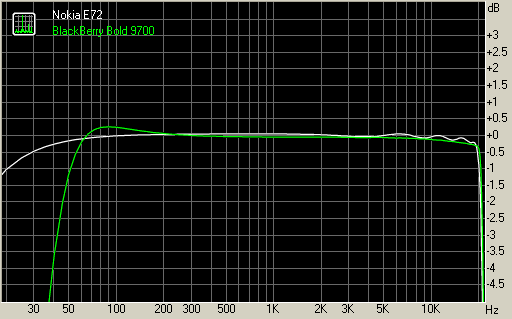 BlackBerry Bold 9700 vs Nokia E72 frequency response graphs
You can find more info about the testing process here.
The video player is great
Watching videos on the BlackBerry Bold 9700 is a really nice experience. The landscape screen and its great picture quality are a great start and the wide variety of supported codecs makes it all the better.
The video player usually works fullscreen with the virtual buttons only appearing upon a key press.
The best part about the Bold video player is that it comes with DivX and XviD support, incomplete though it might be. RIM claim full DivX 4 support on the Bold 9700 but only limited compatibility with DivX 5 and DivX 6 videos.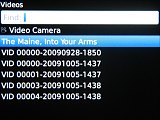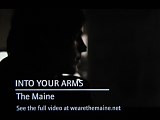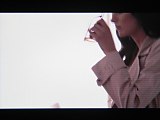 BlackBerry Bold 9700 makes a good portable video player
This is pretty much what we experienced too when we tried playing various videos. Just as its predecessor, the Bold 9700 played successfully about 3/4 of the videos with the rest displaying no video but only sound.
So in most cases you will only need to upload the video to your Bold and start the player - no converting necessary. Now add the impressive picture quality and the landscape screen and you've got yourself a decent PMP on a business-minded handset.
My blckbarry does not work internet
ban" waiz
30 Jan 2019
XBt
I want to know why my blackberry 9700 fails to go to the Internet
Call her old reliable. I still use the ATT Blackberry Bold 9700 and treat her as an old friend and personal assistant. Too bad there's no more support. Stays charged even after 4 days until now. No kidding...