BlackBerry offering plenty of discounts for Black Friday
Kaloyan, 22 November 2016
BlackBerry's online shop in the USA is now selling all BlackBerry smartphones at slashed prices. It's a Black Friday sale that should go on for about a week or so.
You can get Priv for $299, DTEK50 for $229, Passport for $249, Passport Silver Edition at $299, and Leap at just $159. While BlackBerry claims the Passport and Priv were discounted from $649 and $499 respectively, in reality those are available at Amazon for much less.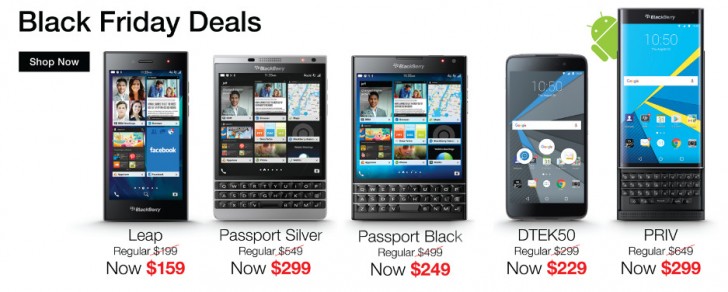 Still, the new BlackBerry prices are probably cheaper than any other retailer right now, so if you were looking for a smartphone with an extra layer of security, now is the time to treat yourself one from the mothership itself.
There is no promo for the DTEK60 just yet, but maybe one will pop up on Friday here or at some other retailer.
Related
May we get the same discounts in South Africa
Guys, any suggestions between the priv and the Dtek50
Popular articles
Popular devices