BlackBerry KEY2 LE hands-on review
GSMArena team, 30 August 2018.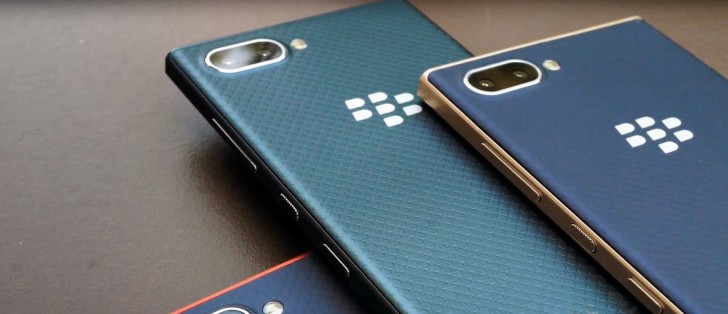 Design
Like we already mentioned, the KEY2 LE has a footprint practically identical to its bigger brother's - 150.25 x 71.8 x 8.35mm. The overall look and design are identical, as well. Kudos to TCL for that. However, aluminum is expensive, especially the Series 7000 stuff, the regular KEY2 is made of.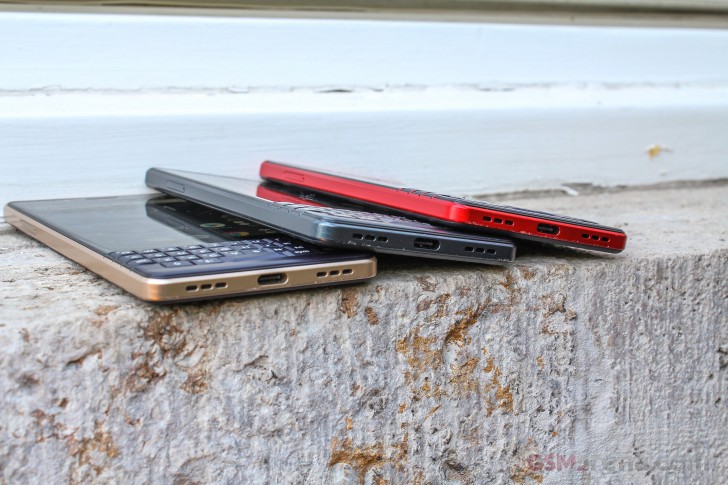 Hence, the first in a list of cost saving measures for the LE was a switch over to a plastic frame and overall shell design. TCL is calling it a toughened polycarbonate blend. Sure, it doesn't feel nearly as premium as metal, but it's not all that bad either. We've defended some of the redeeming qualities of plastic compounds time and time again and the KEY2 LE is a perfect example of how plastic construction can be done right.
The phone feels very solid, with no notable flex. Yet, plastic makes for a lighter build. Although, we are pretty sure some of the weight-loss is due to the reduction in battery size - 3,000 mAh, down from 3,500 mAh. You also can't dent plastic. So, there's that as well. The KEY2 LE is available in a trio of colors - traditional Slate, Atomic and a rather interesting Champagne.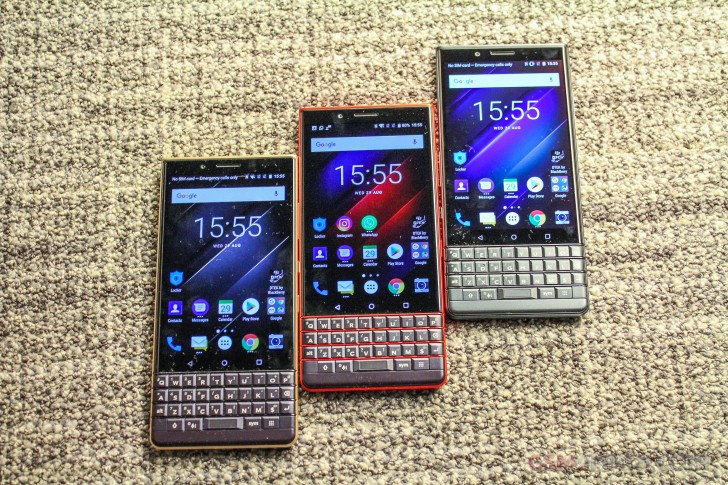 Slate is not exactly black, but rather a blue or grey hue. As per TCL reps, black was deliberately avoided for the LE edition. Atomic is a pretty vibrant red and clearly the color everyone was most excited about. It is also the only one of the three to include matching accent in the plastic separators, between the keyboard rows. A nice touch, which TCL apparently also tried to pull off for the Champagne, but then deemed too tacky. Champagne, we would liken to a copper, more than anything else.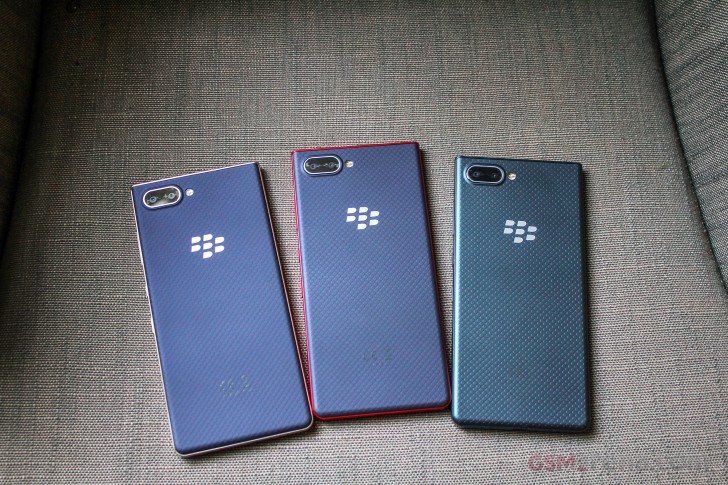 It seems like forever, since we've seen actual colors on a blackberry. Apparently the official statistic says this hasn't been the case since 2014.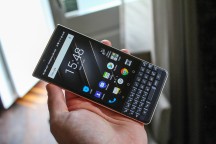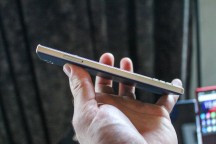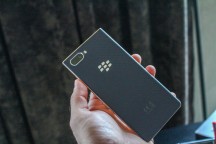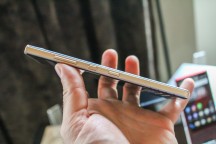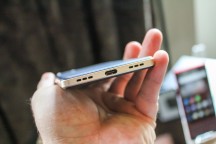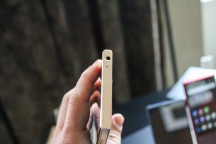 BlackBerry KEY2 from all sides
Even though plastic is the prevailing material on the KEY2 LE, there is still some metal to be found, arguably, where it counts - on the side buttons. These are color-coded, as per every dye option and feature a small chamfer.
These buttons are exactly the same as the ones found on the regular KEY2 - volume rocker on the top right side and underneath it - the power button and the BlackBerry convenience key. These also feel just as good - clicky, responsive.
On the opposite side - a SIM card tray - also metal. It is a hybrid affair, so you either get two SIM cards in, or swap one out for a microSD.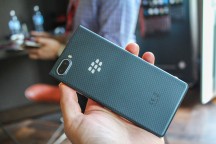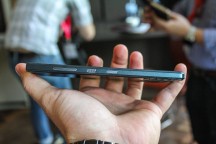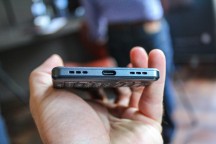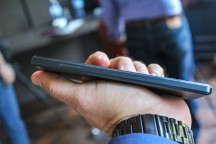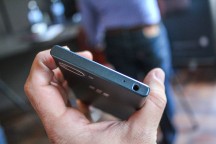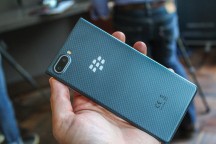 BlackBerry KEY2 from all sides
Not much has changed on the top and bottom sides either. Well, the bottom speaker and microphone grills are wider, compared to the original KEY2. Other than that, the Type-C port is accounted for. So is the 3.5mm audio jack, on the top side.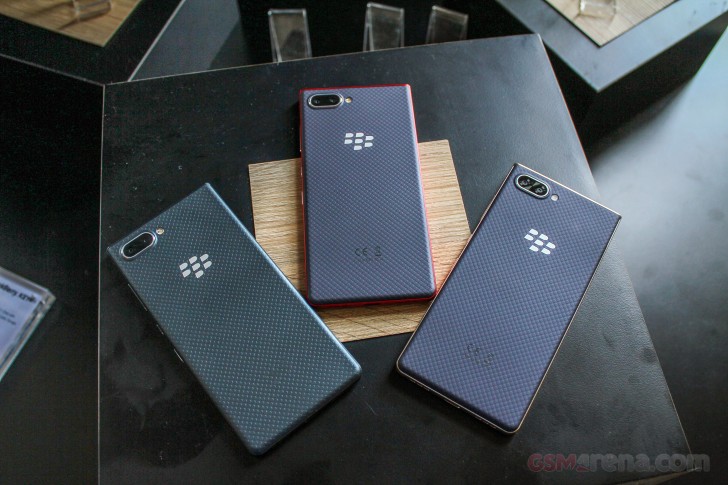 Flipping the phone over, we find a familiar textured back. On the one hand, it's quite similar to the KEY2. Then again, after holding it for a bit, we quickly realized it is even gripper than before. Perhaps it has something to do with the different pattern, as well as the fact the grooves are much shallower. It's hard to say, really, but the bottom line is that once in your hand, the KEY2 LE isn't going anywhere. Plus, feeling something other than glass on your palm in 2018 is a pretty nice throwback to another bygone era of handset design.
As far as the logo, camera module and flash go - they appear practically unchanged. Position and relative size is the same, even for the dual camera module, which, we know, for a fact, houses a different setup.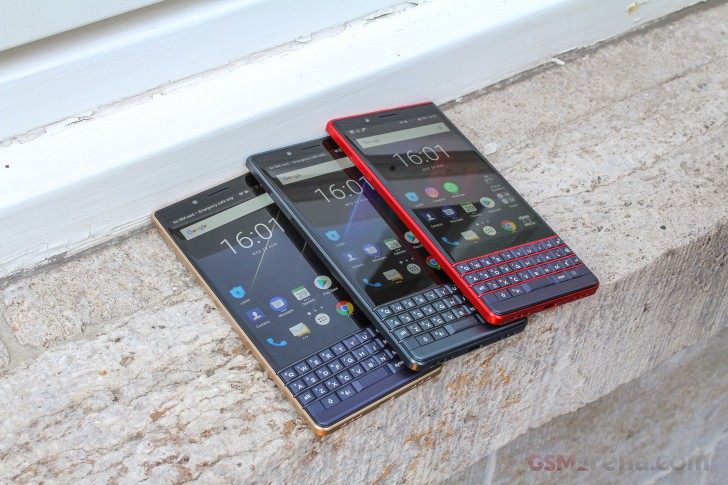 For the display on the KEY2 LE, TCL is sticking with the exact same, tiny by today's standards, 4.5-inch unit. The resolution is set at 1080 x 1620 pixels, giving away the odd 3:2 aspect ratio. Just because it's odd, doesn't mean it's bad, though. Sure, any sort of gaming or standard 16:9 video playback looks sub-par and black-boxed on the KEY2 LE. However, 3:2 is still great for reading, which is what BlackBerry is all about.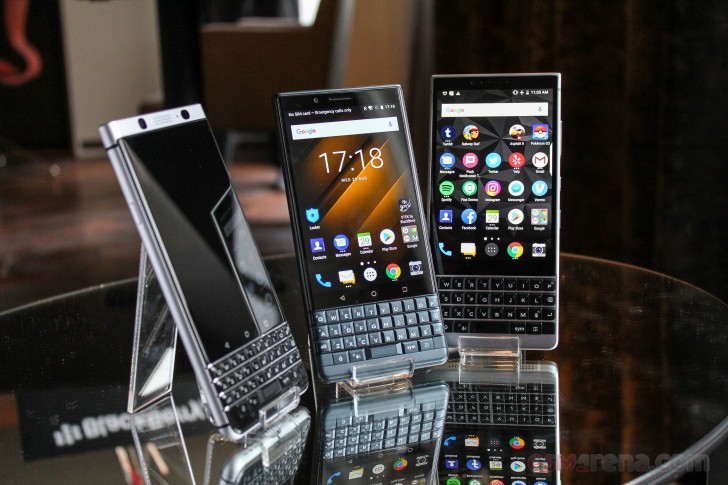 Using the new LE outdoors, along with the original KEY gave us the impression that the light edition is slightly dimmer than its sibling. This is likely due to a change in brightness management, perhaps even part of a battery saving policy, since we can't imagine TCL found another LCD panel in such odd dimensions. Other than that, colors look exactly the same. No complaints there.
Since we touched upon it already, as a side note, TCL has stated that battery endurance is at the core of the KEY2 LE design. Apparently, the budget berry can last up to 22 hours of advertised mixed use and is promised to withstand "the heaviest usage you can imagine in a day." We'll definitely be sure to check that in the full review.
In the meantime, back to controls. And before we get to the keyboard, there is the matter of the static strip of capacitive navigation buttons, BlackBerry is still persisting with. We still believe extending the display downward and opting for optional on-screen navigation would have been a much better use for the space. Then again, we might be missing some ergonomic concern.
Keyboard
On the surface, the QWERTY keyboard on the KEY2 LE also looks mostly unchanged. Unfortunately, TCL had to cut one of the coolest features at its disposal - the touch-sensitive nature of the entire area. That means, so swipe typing, gestures or scrolling on the KEY2 LE. Bummer!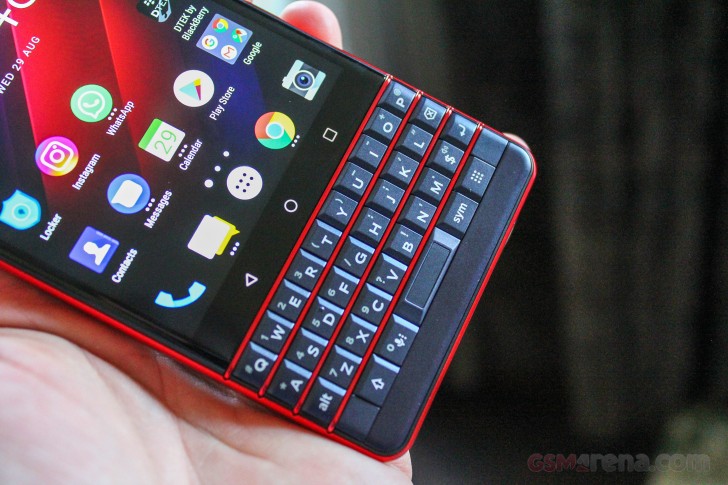 Even so, it is still a good physical keyboard. A feature, which in itself, is practically extinct on the 2018 smartphone scene. TCL apparently took yet another shot at the ergonomics of its design. To give you a bit of a rundown - the original KEY One incorporated a rounded, sloping design for both the keys and the entire board. It made for a really clean and fluent look, but led to frequent complaints of crammed keys and unresponsive rounded key edges, near the bezels of the phone.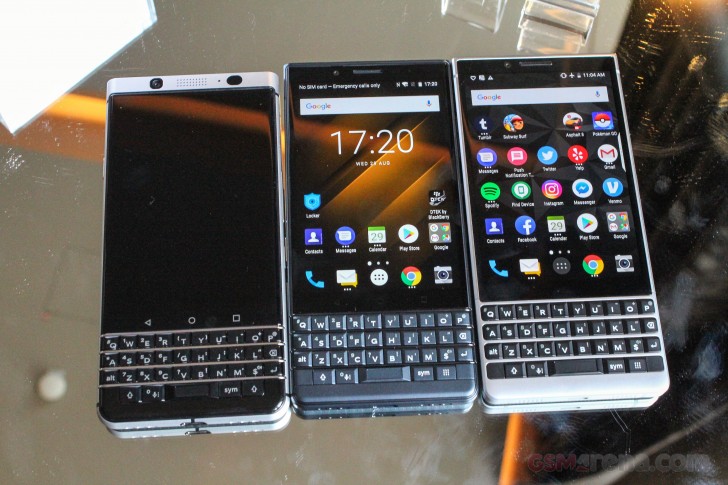 The KEY2 addressed quite a few of these complaints - ditching most of the curves, making sharper and more tactile edges on the keys and spacing them out a bit more. The KEY2 LE doesn't use either of these boards directly. Instead, it borrows from both. The keys seem a bit rounder, a la original Key One, but about 10% larger, as per TCL's PR. However, the spacing is a bit more roomy and reminiscent of the KEY2. We can't definitively say if it's better or worse than the KEY2, but it does, personally, appeal to us more than the original Key One's board.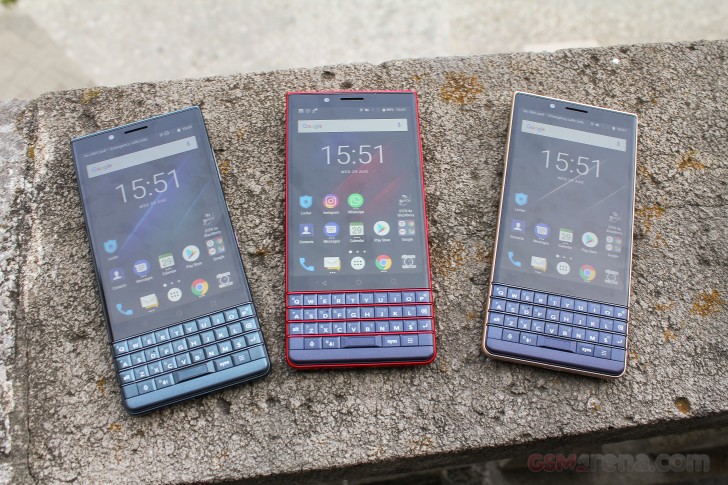 One thing we really appreciate is the Speed Key, which users can leverage to map an outrageous number of quick shortcuts and commands, which can then be executed from anywhere in the UI. The Speed Key is complimented by 52 customizable shortcuts, so you can program each key to instantly bring up the contacts and apps you use most. With enough practice, you can probably hide every last icon from your launcher and still be able to use the KEY2 LE with keyboard shortcuts alone, like a wizard. Also intact is the fingerprint reader, in the space key.
Blackberry certainly have enough sales of software to continue, and TCL has through the brand a reliable fanbase; and I disagree that these are primarily enterprise, I think it is mostly keyboard fans, and sole business folk. But growth? That w...
OS: Anndroid? nn? I'm not trying to point out misspelling lol, Anyways it's a company that every smartphone person would love see them use the lastest chipsets and components out there 8gb ram, LTE CAT 18, USB 3.1 Snapdragon 845., It's one of the pi...
Goodness! Your comment is about as long as a full section of a GSM Arena device review! It's very informative though!