BlackBerry KEYone review: Make or break
Make or break
GSMArena Team, 29 May 2017.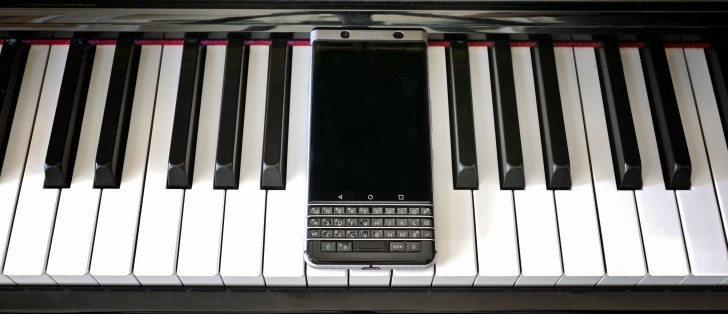 Android Nougat with BlackBerry Apps
BlackBerry used Android since the days of the Priv, and thereafter with the release of the first TCL-made BlackBerry devices: the DTEK 50 and DTEK 60. The KEYone's formula for software has remained largely unchanged since the Priv.
The KEYone comes running Android 7.1.1 out of the box with a mostly stock/vanilla look and feel. BlackBerry's software expertise doesn't reflect in the UI as much as in the apps that BlackBerry developed, aimed at productivity and security. We wouldn't really call these apps "bloatware" since most of them are quite useful and add to the BlackBerry package.
Unlike the Priv, whose keyboard was more 'optional' since it could slide away, the KEYone's keyboard is permanent and always there. Sure, we've seen Android phones that used physical keyboards before, but it's been several years and several versions of Android since that happened. It's not to say that Android doesn't work well with a physical keyboard. It's the apps we're more worried about.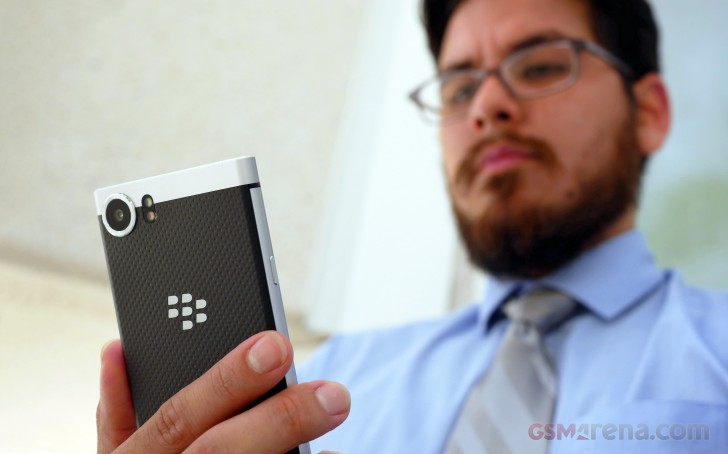 The unconventional 3:2 aspect ratio may bring incompatibilities with some applications, most notably apps like Snapchat or games that were designed for use with a 16:9 display. This shouldn't worry the types of users looking at this phone, considering BlackBerry's recurring audience.
What we will mention before moving on is the placement of the navigation keys. While the nav buttons have traditionally been under the virtual keyboard on Android, the nav buttons here are between the keyboard and the display. When combined with the learning curve required for getting used to a physical keyboard again, things can get quite frustrating when you're trying to press a key on the top row, only to unintentionally press the home button, throwing off what you were carefully trying to type. As you get used to the hard keys, you'll find that your accuracy will improve as well.
Starting off with the lock screen, there is not much new to see here. You get a large clock, a couple of shortcuts, and standard Nougat behavior for notifications. If you're worried about the KEYone going off in your bag or purse, you'll be happy to know that after 5 unsuccessful unlock attempts, you'll be required to manually type "blackberry" to continue. This ensures your KEYone won't be wiped after too many unsuccessful attempts (when enabled, the default is 10 failed attempts).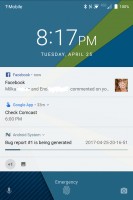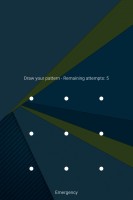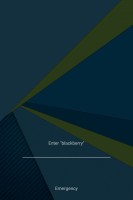 Lock screen • Fail-safe for unsuccessful attempts
Along with the standard options for screen lock, there's another option called "picture password". It may be overkill for some, but it makes it harder for wandering eyes to figure out your unlock method. A randomized number grid appears over a predetermined photo. To unlock, you drag a pre-chosen number over a predetermined spot on the photo.
Just so you know, if you haven't used a more recent BlackBerry, you may be put off by the phone's screen unlock sound, which sounds more like an email alert than a soft "click". This can be changed in Settings.
The KEYone's launcher looks a lot like the stock Google launcher, but there are a few tweaks. The default grid is 5x5 plus four apps at the dock. The dock's middle spot is reserved for the app drawer button.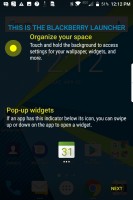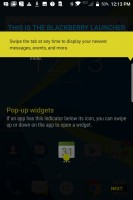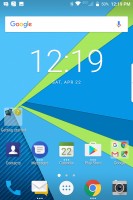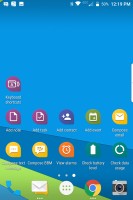 BlackBerry Launcher and home screens
The launcher also natively supports icon packs, though, the phone doesn't come with any. Thankfully, pressing on the "Play Store icon will perform a Play Store search for "icon packs" which yields hundreds of results.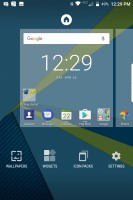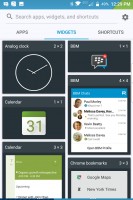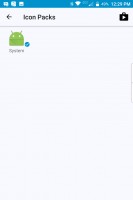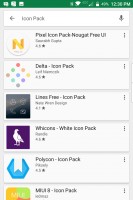 Launcher settings • Widgets • Icon packs • download Icon packs
BlackBerry has incorporated a feature into its launcher that prevents your home screens from getting clogged up with widgets. You can swipe up on any app's icon that supports widgets and you'll get a pop-up version of that app's widgets. The first time you do it, you'll be asked to select the widget you want to pop up. This is a nifty way of peeking into the app without opening it and saving precious space on your home screens.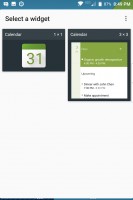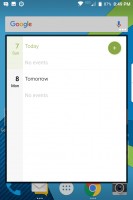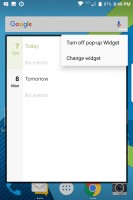 Select a widget • Pop-up widget • Pop-up settings
There is even a "Dark" theme, one that would make any ex-BlackBerry user feel right back at home. Also, it might help with seeing the screen at night, since it doesn't go dim enough for comfortable bed-side use. In Dark mode, the app drawer button also turns dark. Sadly, there isn't any such dark theme for the rest of the UI.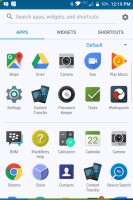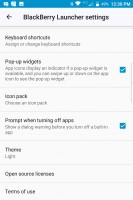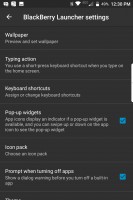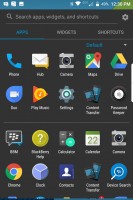 Switching between "Light" and "Dark" modes
The default app switcher view is called "Masonry" and arranges apps in a clumsy and unpredictable arrangement. If trying to switch quickly between apps, we recommend you switch to the standard "Rolodex" or "Tiles". Tiles are arranged in 3 rows of 2 recent apps. The "Recents" setting can be found under the Display options.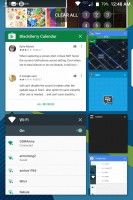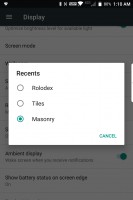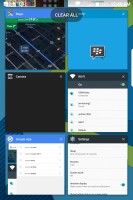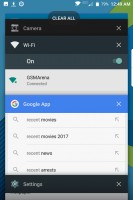 Masonry view • Recents option • Tiled view • Rolodex view
The KEYone features something called the "Productivity tab". This allows you to quickly look at the most important information for your day: your calendar, Hub notifications, tasks, and your favorited contacts.
Pulling the tab opens a full-screen view of whatever you need to refer to. On the right are the four tabs of these apps mentioned above and tapping on them switches between relevant screens. The design of this tab reminds us of a spiral-bound paper agenda with labels.
Apps
The BlackBerry Hub is a powerful feature that adds organization to your notifications so you never lose track of messages or alerts. The Hub app is essentially an inbox for all your notifications and every notification you receive will have an entry in the Hub, even if you swipe it away from the notification shade. It also acts as a powerful search tool, so you can dig through SMS, Facebook, Emails, Calendar events, and Contacts all in one go.
So let's say a client texts you a question that you'll only be able to answer tomorrow once you are at the office. In the Hub, you can "snooze" this message so you'll be reminded of it first thing in the morning. You can snooze by preset amounts of time, a specified time, a location, or even a Wi-Fi network associated with the location relevant to the reminder.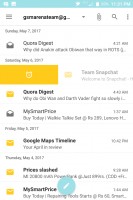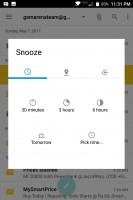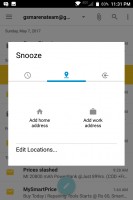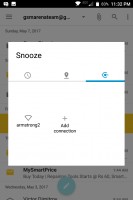 Snoozing a Hub item: at a later time • by location • by Wi-Fi network
Actions you can perform on each notification will depend on the app it comes from. The Hub doubles as an email client, complete with Microsoft Exchange support, so emails will have more options like "forward, reply, mark unread, and so on. Otherwise, every notification can be "snoozed" and every notification can be marked unread in the hub. You can add your Gmail account to the Hub, just know that you'll get double notifications if you already use the Gmail app.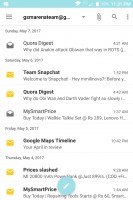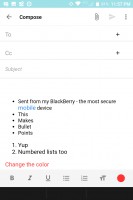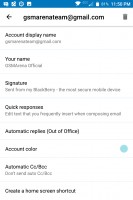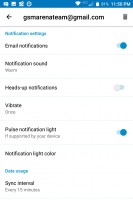 Email view • Compose • Settings
DTEK is BlackBerry's security-centered app for keeping sensitive data safe. The App can track, detect, and control individual app permissions. It also gives you a score based on the settings and features enabled on your phone. Here is where you'll be told to set up a lock screen if you don't have one, and you'll be given suggestions to improve security and ensure that your information doesn't get into the wrong hands in the event of loss or theft.
BlackBerry Messenger was all the rage back in its prime time: WhatsApp was still in its infancy and there was no such thing as iMessage. It was one of the first smartphone applications that allowed you to see when the other person read your message.
Unfortunately, BBM is not as mind-blowing today as it once was before and there are plenty of other messaging apps that offer more features and functionality, complete with encrypted messaging. Perhaps it'll work well as a platform for internal communication between corporate employees.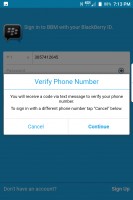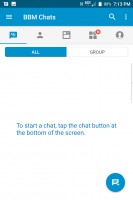 Use phone number to log in • Chats window
Notable has powerful editing tools for drawing and writing on screenshots as well as writing hand-written notes, but the app itself is half-baked at best. It doesn't pop up when you take a screenshot, so instead you'll have to "share" the screenshot with the Notable app in order to use it on the fly. Once you are done cropping, you can draw, add text, or add other images and stickers.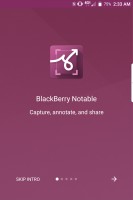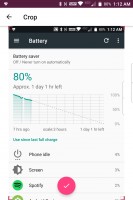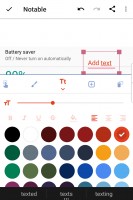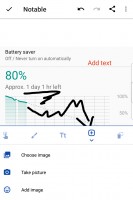 Notable • Crop • Draw or add text • insert images or stickers
Oh yeah, and if you use the app, you'll have an always-on notification. If summoned, this notification will take a screenshot of your current activity and instantly open it in the app for further editing.
The BlackBerry Calendar app doesn't really offer additional abilities over Google Calendar, not to mention: when adding an event we weren't able to search for the location of our event. Google Calendar lets you find a hotel in New York just by typing it and will insert the address into the event for you. You can still use Google Calendar to create your events and it'll still sync to BlackBerry Calendar.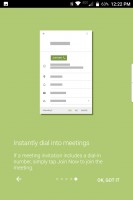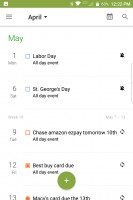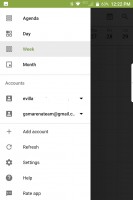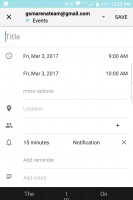 Calendar • Agenda view • Menu • Adding an event
The tasks app offers syncing with Microsoft Exchange/Outlook, Novell GroupWise, and Hotmail/Outlook.com task lists. You can see tasks in a unified view or by account. You can add tags to your tasks for easier search.
Blackberry don't want to pay much for OS development since their market is nearly zero and they didn't have much phone development too and they know they just wait for completely died, so for what paying os development team anymore if 1 major upgrade...