Blue Coral Samsung Galaxy S7 edge is now available at Vodafone UK
Vlad, 12 January 2017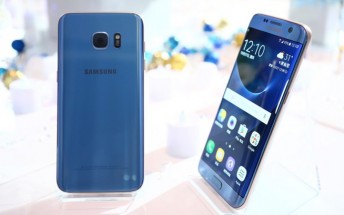 As expected, the Blue Coral version of the Samsung Galaxy S7 edge has now landed in Europe. This follows rollouts in the US, Canada, India, as well as Samsung's native South Korea.
Over in the UK, Vodafone currently has the Blue Coral S7 edge in stock, and ready for your order. The phone is offered with Pay Monthly plans, and can be yours for just £10 upfront. The operator's recommended plan costs £23.50 per month for the first six months, and then £47 a month for the remaining year and a half of the contract.
This will give you 6GB of 4G data in the UK every month, along with unlimited UK minutes and texts, and 500MB of data roaming. And if you purchase the device before February 28, you'll receive a Samsung Gear Fit 2 sports band for free. You do however have to remember to claim it using this Samsung website.
Related
I don't know the blue XL looks pretty nice, even if it's only available to the US markets.
An ugly phone is an ugly phone no matter the colour... hence s7 Edge is the answer.
I can't decide which device the color looks better on, The S7E or Pixel XL.