Camera test: Nokia 8 vs. Galaxy S8 vs. LG G6 vs. iPhone 7 Plus vs. Huawei P10
Chavdar S., 25 August 2017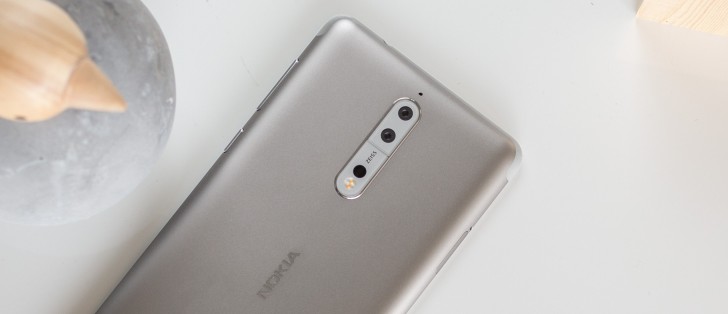 While reviewing the Nokia 8, we couldn't pass on the opportunity for a quick camera shootout between the flagships we have around. Consider this an early look into what's coming - our Nokia 8 review should go live today. Update: The Nokia 8 review is live.
Daylight camera comparison: Nokia 8 vs. Galaxy S8 vs. LG G6 vs. iPhone 7 Plus vs. Huawei P10
Looking at the images below, the Galaxy S8 has the punchiest colors, the LG G6 excels in resolved detail, while the Huawei P10 and the Nokia 8 are on par in picture quality. The iPhone has the dullest colors and the least amount of resolved detail, but is not far behind.
Overall, the Nokia 8 handled itself pretty great next to the other flagships and has one of the best cameras this season.





















Nokia 8 • Galaxy S8 • Huawei P10 • iPhone 7 Plus • LG G6
The Huawei P10 has a 20MP monochrome camera but we have always recommended shooting at 12MP (not only because the hassle of switching the color and monochrome resolution each time, but also the 20MP samples aren't that great in full resolution). So, for our next test in B&W we shot 13MP monochrome shots with the Nokia 8 and 12MP monochrome shots with the P10.
The Huawei certainly has an edge as its images were originally taken at 20MP and then downsized to 12MP. But while the P10 wins in the amount of resolved detail, the Nokia 8 samples are not that far behind and are equally impressive in dynamic range, contrast, and noise levels.









Nokia 8 • Huawei P10 • Nokia 8 • Huawei P10
Low-light camera comparison: Nokia 8 vs. Galaxy S8 vs. LG G6
We used the opportunity to put the Nokia 8 against the Galaxy S8 and LG G6 while we were shooting our regular low-light samples.
The Galaxy S8 and the LG G6 have wider lenses (f/1.7 and f/1.8 respectively) than the Nokia 8 (f/2.0) and thus were expected to perform better. Indeed, the Galaxy S8 bested the other two in every scene, with the LG G6 followed closely behind. The Nokia 8 did quite well though not as great as the S8 and G6.
That's it for now. Consider this a taste of our full Nokia 8 review, which should go live some time later today. Update: The Nokia 8 review is live.
Related
Anonymous
28 Aug 2017
RI8
Maybe but I am confident that I know more than you.. LOL.. I have been using my 808 as my main phone to this day almost 5 years and still no other phone can beat its 41MP sensor.. I still keep my N8 as backup.. This year I am considering to buy a Nok...
Please rename the sample photo names. Some sets they are all named LG G6 with different settings instead of different names themselves. Even though we could all extrapolate which is which, please change it so that the readers are not as much confused...
AnonD-425519
27 Aug 2017
Y7J
Unfortunately, the direction that companies are taking is one of large screens with hardly any hardware buttons and features. Everything is about making things as simple/barren as possible. I am not happy about that. I miss old phones. We need those ...
Popular articles
Popular devices
Electric Vehicles