Canalys: HP shipped the most PCs in Western Europe during Q3, Apple leads tablet department
Michail, 30 November 2021
Based on data from Canalys and its Q3 2021 Western Europe's PC market which includes desktops, notebooks and workstations grew by 21% compared to last year, totaling 16.3 million shipments. HP regained the top spot with its 4.4 million shipments and a 27% market share, followed by Lenovo with 4.1 million shipments and 25% share. Dell grew by 43% to take up the third spot with 2.3 million shipments while Apple (1.9 million) and Acer (1.2 million) round out the top five makers.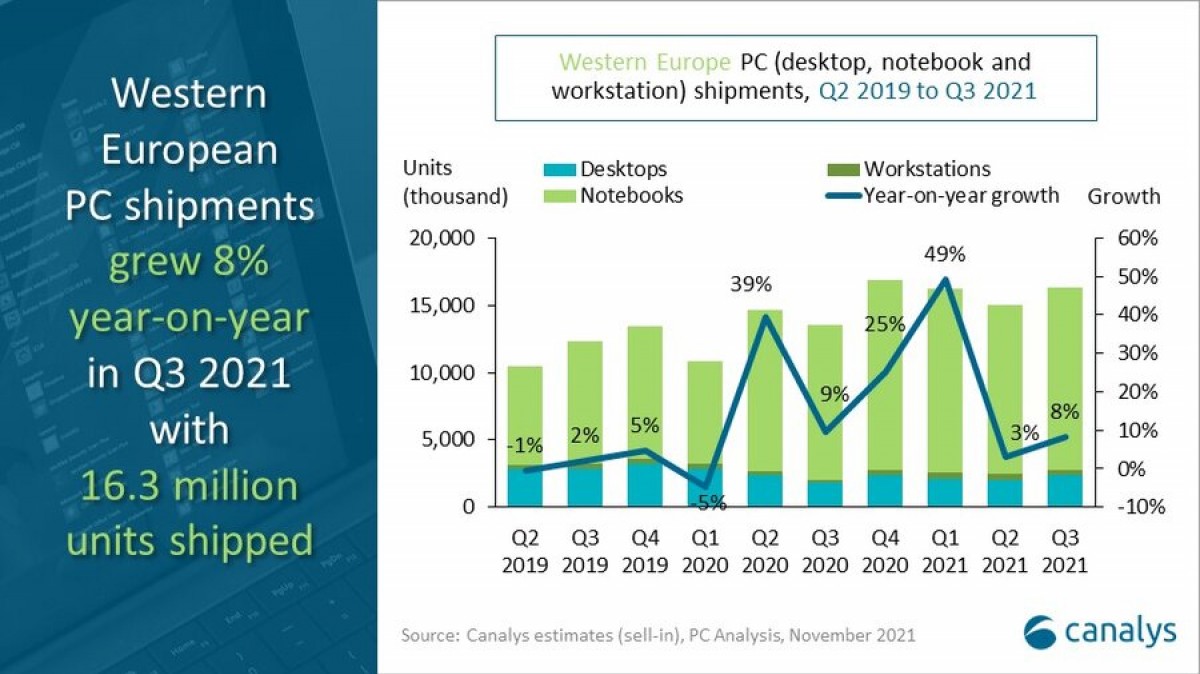 The July – September period marked the sixth consecutive quarter of growth for the PC market in Western Europe showing a consistent long-term demand for new hardware. Canalys analyzers note that there is a shift in demand from consumer to commercial clients. PC demand is expected to sustain growth heading into 2023.
Company
Q3 2021 Shipments
(in million)
Q3 2021
Market share
Q3 2020 Shipments
(in million)
Q3 2020
Market share
Yearly change
HP
4,350
27%
3,499
26%
+24%
Lenovo
4,059
25%
3,325
25%
+22%
Dell
2,305
14%
1,606
12%
+43%
Apple
1,928
12%
1,520
11%
+27%
Acer
1,271
8%
1,262
9%
+1%
Others
2,391
14%
2,295
17%
+4%
Total
16,304
100%
13,507
100%
+21%
Shifting over to the tablet market and Apple is unsurprisingly still at the top with 3.1 million iPad shipments and a 45% market share. The total tablet market shipments in Western Europe totaled 6.9 million though all major players apart from Apple saw declines in their yearly shipment figures with Samsung contracting by over 50%.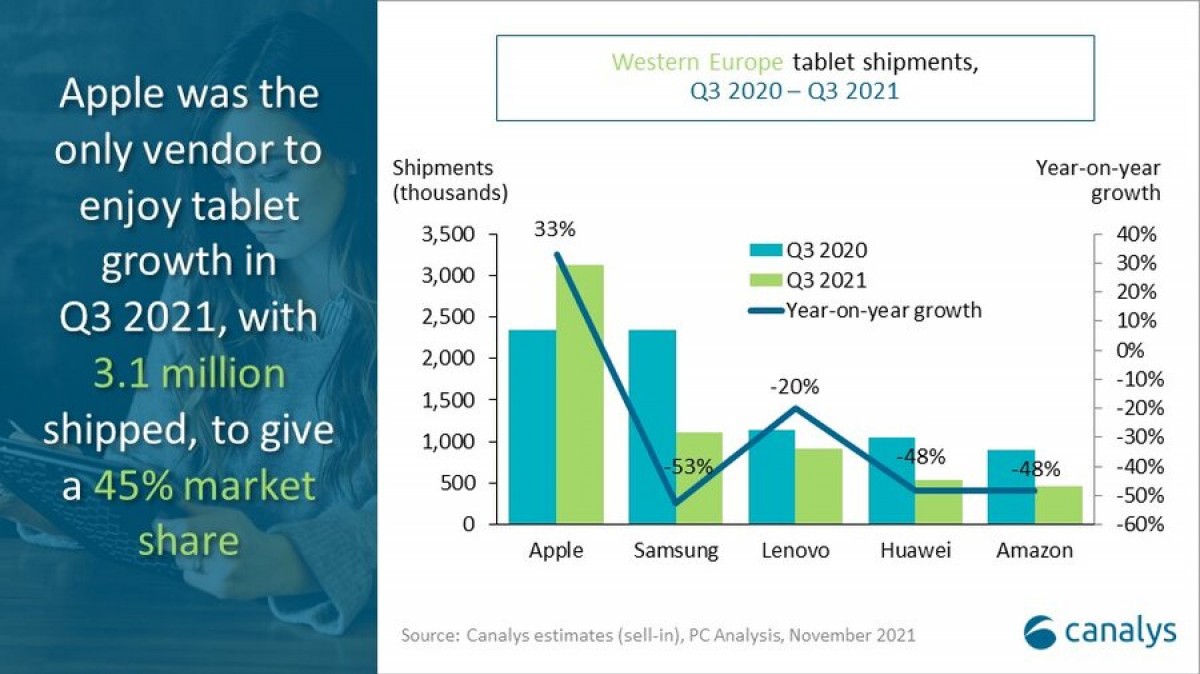 Canalys notes that tablets managed to fill demand gaps created by the shortage of PCs. Apple reached more users thanks to its new iPad mini and refreshed iPad Pro models
Related
It's a 100% laptop and 100% tablet. A premium 2-in-1 that Apple can only dream of giving. IPad pro is for people who can't afford premium tablet like Surface pro 8
The iPad pro is a gimmick with M1 chip and no significant application & services to use that power.
I disagree. Aritifial intelligence and powerful processors will eventually make the tablet replace the laptop.ask ur desktop to execute commands by speaking to it... And as Siri gets better .it will be able to execute task many people cannot comprehe...
Popular articles
Popular devices
Electric Vehicles