Canalys: Q3 global tablet shipments down 15% compared to last year
Michail, 02 November 2021
After strong growth in the past year, tablet shipments have dwindled in the July-September period and are down 15% compared to Q3 2020. As per Canalys, a total of 37.7 million tablets were shipped during Q3 2021 while a year ago the figure stood at 44.3 million units. Apple still dominates the market with 15.2 million shipments for the period and a 40.4% market share. Samsung is second with 7.2 million tablet shipments and a 19.1% market share while Lenovo sits at the number three spot with around 4.3 million shipments and an 11.3% share of the market.
Company
Q3 2021 Shipments
(in million)
Q3 2021
Market share
Q3 2020 Shipments
(in million)
Q3 2020
Market share
Yearly change
Apple
15,230
40.4%
15,233
34.4%
0.0%
Samsung
7,209
19.1%
9,034
20.4%
-20.2%
Lenovo
4,279
11.3%
4,195
9.5%
+2.0%
Amazon
2,772
7.4%
4,993
11.3%
-44.5%
Huawei
2,502
6.6%
5,096
11.5%
-50.9%
Others
5,710
15.1%
5,738
13%
-0.5%
Total
37,705
100%
44,293
100%
-14.9%
Amazon (2.8 million) and Huawei (2.5 million) round out the top five charts though both companies experience significant reductions in market share on the yearly basis with Amazon losing 44.5 percentage points of its market hold while Huawei contracted by 50.9 percentage points.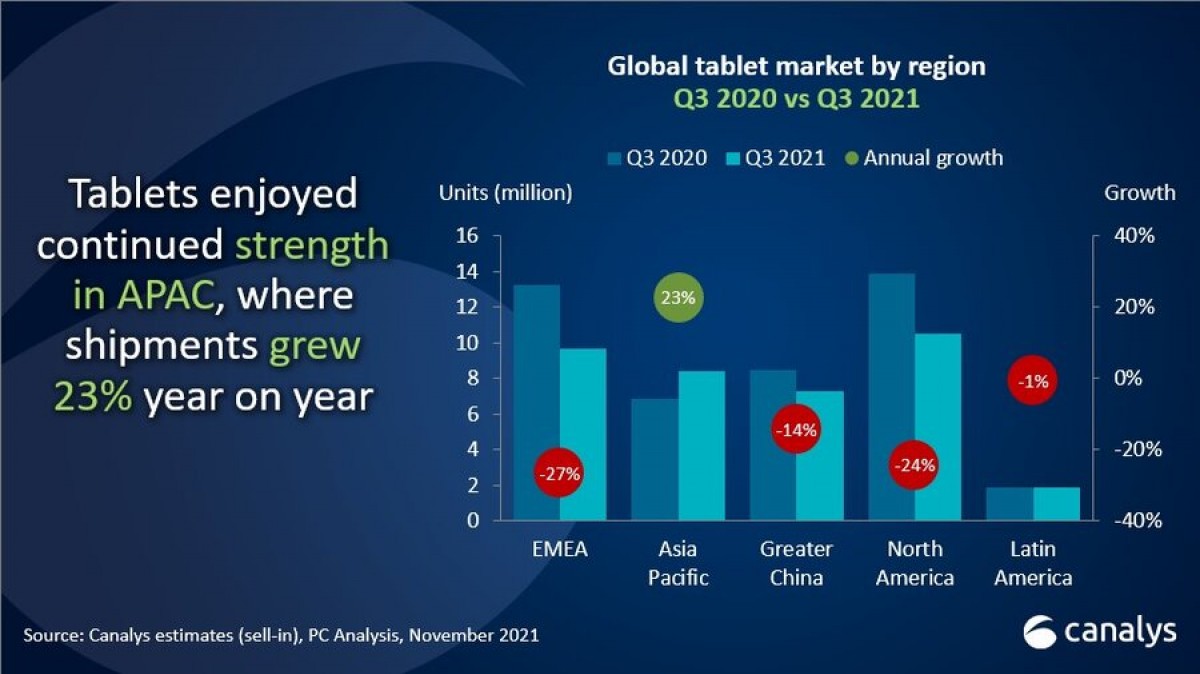 Looking at the per-region basis all major territories apart from Asia Pacific experienced declines in tablet shipments. APAC saw a 23% rise in shipments for the Q3 period while Europe stood on the other end with a 27% decline compared to this time last year. Despite the grim Q3 performance, Canalys expects underwhelming demand for tablets going forward in most regions apart from APAC.
Related
3gb ram is bare minimum to run android with manufacturer custom ui like oneui, miui,realms etc. Stock android is different 4gb is best for an entry level tab with good price limit
These are the games I played in Samsung tab a 10.1 Pubg ( crashed if did too much running around the map but shooting and lag were ok) Call of duty ( only played death match only lagged but surprisingly never crashed) Minecraft ( never crashed ...
Popular articles
Popular devices
Electric Vehicles