Canalys report: India smartphone shipments shrink by half in Q2 2020
Victor, 18 July 2020
Canalys recently put out India smartphone sales statistics for Q2 2020, visualizing the harsh realities of the country's strict and lengthy lockdown and battle with the COVID-19 pandemic in numbers. During the period, smartphone shipments in the country, as a whole, fell by 48% year-over-year. In raw numbers, that's a decline form 33 million units in Q2 2019, down to only 17.3 million in Q2 2020.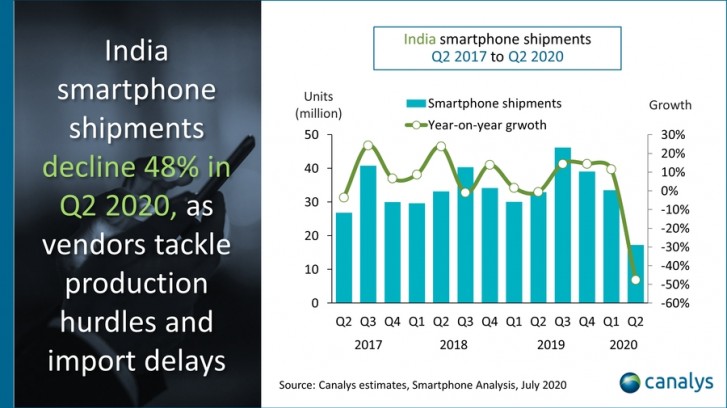 During the nationwide lockdown, smartphones were classified as non-essential goods, prohibiting even giants like Amazon and Flipkart from distributing them within the country. This effective deadlock on the local market lasted until mid-May, when shipments did resume, but timing for smartphone manufacturers was not exactly perfect, since they were still struggling to normalize their own delivery chains and production after the massive local effects from COVID-19 within China itself, which were hardest during Q1 2020. For context, during Q1 2020, local Chinese smartphone shipments declined 18% year-over year and global shipments in the entire smartphone sector fell by 13%. At the time, India was still enjoying an increase in year-over-year sales of 4%.
The ongoing Sino-Indian border conflict has been another important aspect of falling Chinese smartphone sales figures within the country. Many have boycotted Chinese manufacturers for political reasons, though Canalys experts say that even so, the actual effects felt by those companies are not really too harsh, since: "the alternative products from Samsung, Nokia, or Apple have almost no price competitiveness".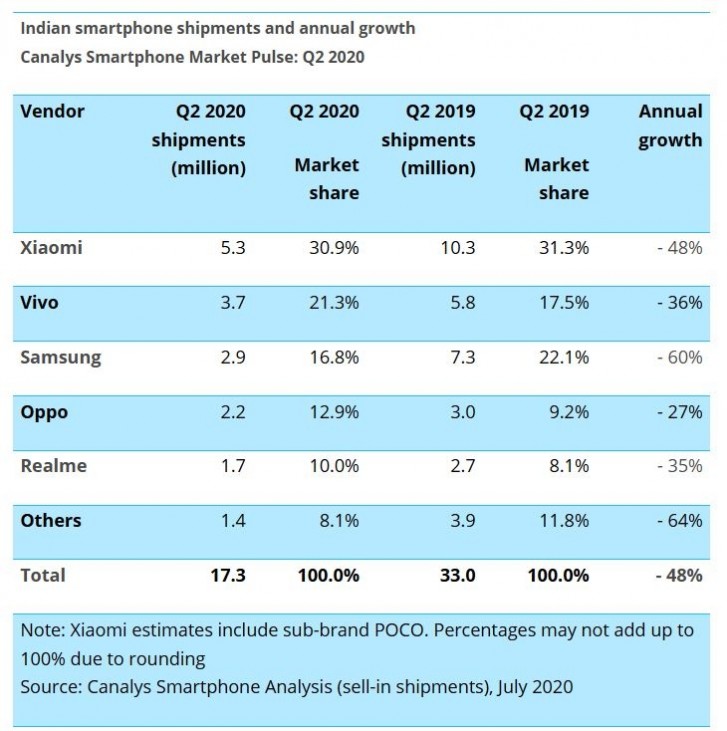 Xiaomi, logically, took one of the larger hits of the bunch, due to its leading position on the local market. 5.3 million units delivered in Q2 2020, compared to 10.3 million in Q2 2019. It still retains the top spot by sales, though, followed by Vivo, which managed to muscle-out Samsung from second place. The Koran giant sustained a whopping 60% decline in its local sales. Overall, Chinese manufacturers comprised about 80% of the total smartphone sales in the country. Apple, apparently, took the smallest absolute hit in sales, which makes sense, considering it only owns about 1% of the Indian smartphone market. Still, its Q2 sales of 250,000 units within the country represent a 20% year-over-year decline.
Clearly, it's a turbulent time for the smartphone market in India. All the major Chinese manufacturers have recently been rushing to announce new models in a bid to try and make up for lost time and re-capture market ground in the commotion. Some major corporate power-plays are also underway. Samsung has recently invested heavily in India, so have Apple and Foxcon. Major tech players, like Facebook, Intel and Google have all taken interest in growing local businesses, particularly Jio and its parent Indian conglomerate Reliance Industries. Large sums of money have been pouring into the latter. With India's increasing focus on local production, India-first and China plus one Initiatives, we are clearly witnessing a large-scale migration of resources into the country and investments for the long-haul and overall tech future.
Related
It's the problem with Indian government. They increased GST. A phone that costed 9k 6 months ago costs 16k now.
Its good to make have in house things like processor camera sensors it reduces the cost but they never reduce the cose they provide inferior hardware and charge a huge amount for that they always wants to get a good profit margin.Thats why they are l...
They probably want to swich for their CPU, they follow everything apple. So they struggle to make a better cpu and make people use it. Of course the idea is not bad, the more in-house, the better, more money for them. Nokia could be in place of samsu...
Popular articles
Popular devices
Electric Vehicles