Canalys: Smartphone market recovered to pre-COVID levels in 2021
Michail, 28 January 2022
According to the latest Canalys report, the global smartphone market managed a total of 1.35 billion smartphone shipments for 2021 which represents a 7% growth compared to 2020 and is close to the pre-pandemic level of 1.37 billion observed for 2019. The top-five vendor list remained unchanged with Samsung once again leading the way with its 274.5 million shipments and 20% market share.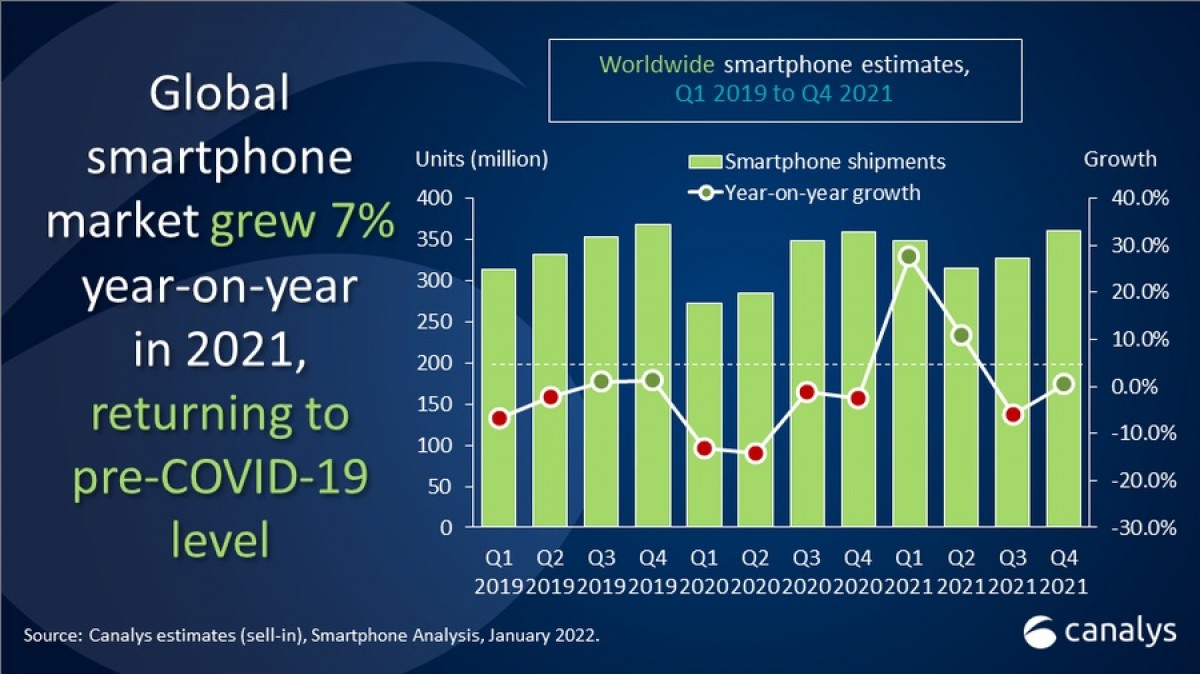 Apple came in second with an equally impressive 230 million shipments and 17% market share while Xiaomi rounds out the top-three with its 191 million shipments and 14% share of the market and also boasted the highest yearly growth of all brands at 28%.
Company
2021 Shipments
(in million)
2021
Market share
2020 Shipments
(in million)
2020
Market share
Yearly change
Samsung
274.5
20%
255.5
20%
+7%
Apple
230.1
17%
207.2
16%
+11%
Xiaomi
191.2
14%
149.6
12%
+28%
Oppo
145.1
11%
119.4
9%
+22%
vivo
129.9
10%
112.6
9%
+15%
Others
379.4
28%
420.5
33%
-10%
Total
1,350.2
100%
1,264.7
100%
+7%
Going further down the list we find Oppo (including OnePlus) with 145 million shipments and 11% of the market while vivo rounds out the top-five with its 129.9 million shipments and 10% market share. Despite persistent supply shortages, consumer demand for new smartphones continued to rise in 2021.
The budget segments in Asia Pacific, Middle East, Africa and Latin America were key growth drivers. Demand for Samsung and Apple high-end devices was also strong with Samsung reaching its goal of selling eight million foldables while Apple had the strongest Q4 out of all brands with 82.7 million shipments. Canalys analysts predict 2022 to be another strong year of smartphone growth.
Related
Anonymous
30 Jan 2022
0CL
SE not a flagship, and they release more flagship devices, than anyone else. And there are last years flagship devices, which cost as mid range. And apple's major markets are us and eu, and people there dont care that much about prices.
You're right. It doesn't matter if their combined shipments is higher than Samsung because Samsung itself is raking in a lot of money for every Samsung-made smartphone components (display panels, RAM, internal storage, and camera sensors) t...
That competition did great to them. Yes, I see your point. Yet it's interesting to see how this strategy works for the parent company, BBK, which, from the shadow so to say, still moves the most units in the world through its different child com...
Popular articles
Popular devices
Electric Vehicles