CAT S60 hands-on: CAT at MWC 2016
CAT at MWC 2016
GSMArena team, 20 February, 2016.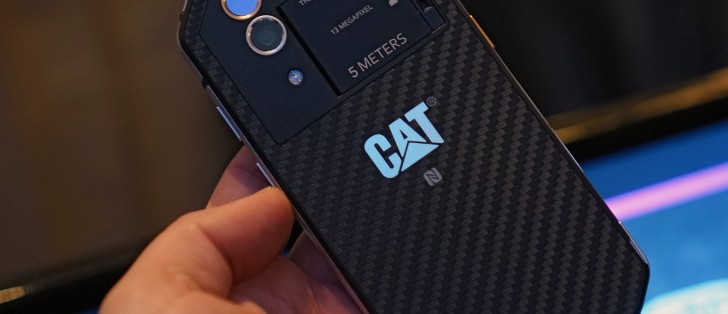 CAT S60 hands-on
CAT's latest S60 smartphone went official earlier this week, and it is beyond interesting. It is the first smartphone to offer unseen before water resistance - up to 5 meters deep, but it is also the first smartphone to pack a thermal camera.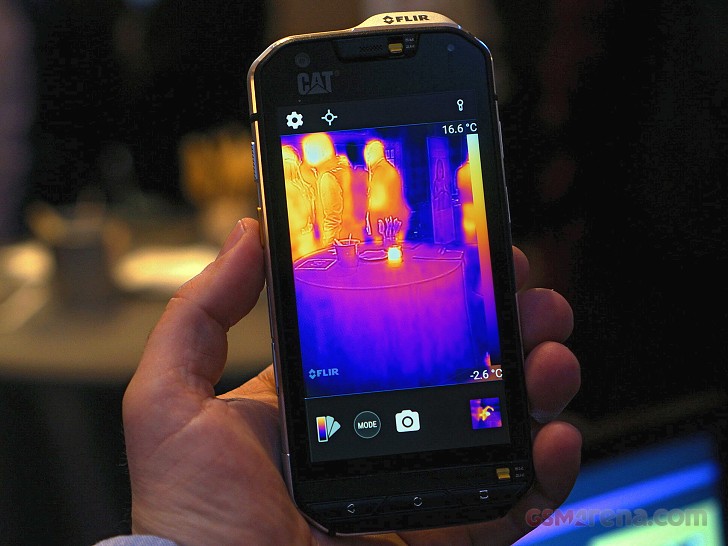 The CAT S60 has a regular 13MP snapper on the back, coupled with a FLIR Lepton thermal camera. The latter is capable of showing 80 x 60 pixels of thermal video, but CAT has a special technology that combines the image of both cameras into a single picture. The result is pretty amazing and can be helpful to lots of people in various scenarios - construction workers, plumbers, firefighters, emergency services, among others.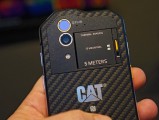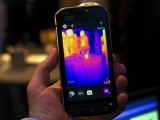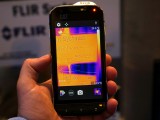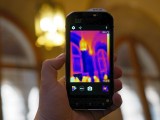 CAT S60 thermal imagining in action
The phone can measure temperatures at up to 30m distance and can display it real-time. It can also detect heat prints.
We've captured a small presentation of this feature, and you should give it a look.
The CAT S60 is MIL-STD-810G certified, as most of the CATs, which translates into salt, dust, humidity, rain, vibration, solar radiation, transport and thermal shock resistance.
But CAT wasn't satisfied with just these, they went further to improve on the water resistance, and it can now survive a 5m deep dive if you close the lids on the mouthpiece and earpieces. Otherwise, it can swim at up to 2m, which is still quite impressive.
You can tell by the looks the CAT S60 is shock-proof. CAT promises it can survive drops from 1.8 meters. CAT dropped the phone 26 times from 1.8m (6ft) to make sure it survives hard hits. The display is covered with 1mm Gorilla Glass 4 (standard phones get 0.4mm) and very bright - 540nits. The touchscreen works with gloves, of course.
As far as the trivial specs are concerned - the CAT S60 has a 4.7" IPS 720p display and runs on the Snapdragon 617 chip with 3GB of RAM. There is a front 5MP snapper, 32GB expandable storage, LTE connectivity, and a beefy 3,800 mAh battery.
The CAT S60 is quite pleasant to handle, and while its industrial looks may render it distasteful for some, it wasn't designed to be a good looking shiny toy. It's a tool and in this market niche, we can say it's a nice-looking tool and CAT has put some effort making it as durable as possible, but also as pretty as it can get.
Thanks to the small screen it easily fits in every pocket, it isn't that heavy or bulky, and we had no problem using it as a smartphone whatsoever.
If you are after the toughest smartphone on the planet - it's the CAT S60. It's fast, super tough, and it has a thermal camera, which makes the S60 the only smartphone helpful in an entirely new list of possible scenarios.
Urgent Patronage
05 Oct 2021
Nue
I have an existing discomfort with my Flir s60. Recently anytime I try to charge it, the battery level shows 0% and it doesn't charge at all. A phone engineer said it has a battery issue and that the battery needs to be replaced. I have been loo...
Meistarin
08 Jun 2021
pcm
Well I used to love the phone. Have used it for 4.5 years now. Changed the battery once. It is not the fastest nor has good speeker or microphone. The camera is another story that does not produce anything you might want to share with others. But...