Cat S61 hands-on: the multitool smartphone
Peter, 27 February 2018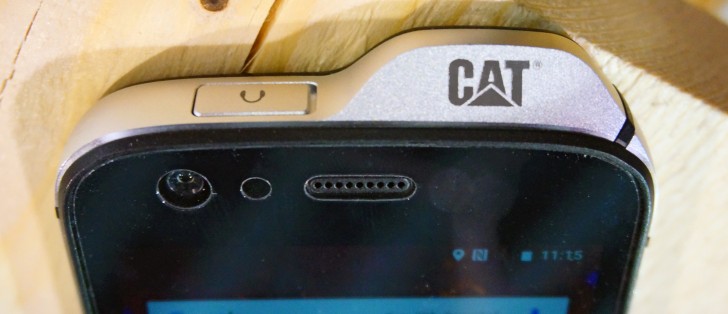 Smartphones have revolutionized software, but when they need to interact with the real world, they usually rely on external accessories. The Cat S61 is unique in that it's a venerable toolbox that can be used in a variety of professions. Going in, we had no idea just how many uses this phone has.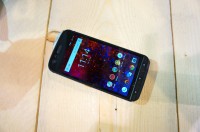 The Cat S61 is the toughest, most-capable phone
The thermal camera is the key draw. It can be used by handymen working on the insulation on your house or for checking for hidden leaks. Or it could be used by vets, e.g. it can be used to spot the extra heat of an infected area or the lack of heat due to poor blood circulation. Here's a list of 60 uses for thermal imaging.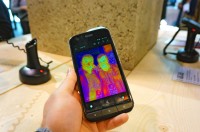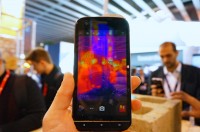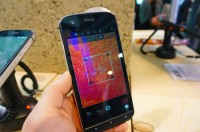 The thermal camera sees what the naked eye can't
The S61 has an improved thermal camera - again by FLIR - that can read temps from -20°C to 400°C and show a higher resolution image than its predecessor (from SD to HD). The camera app can even livestream the image, if you need to consult with a colleague.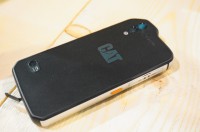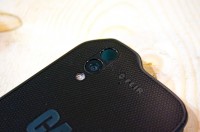 Thermal camera aside, there's 16MP/4K regular camera on the back and an 8MP selfie cam
An interior designer will prefer to use the phone's other tool - the laser-assisted measurement tool. What you do is snap a photo and you can accurately measure distances up to 10m and calculate area.
You don't need to do this on location, all relevant info is saved so you can go back and do extra measurements. This will be invaluable when planning out furniture placement or even just calculating the length of cables you need to run.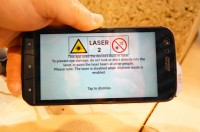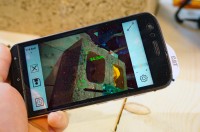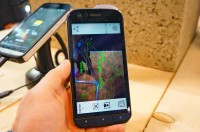 This is a serious tool • Measuring distance • Calculating area
Working with some common things like paint, glue or a cleaning product can lead to a dangerous build up of pollutants in the air (VOCs). With the Cat S61, you can stay safe by constantly monitoring the air in the room and the phone will alert you if the it becomes dangerous.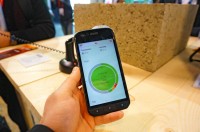 Monitoring air quality: there's an app for that
Some people bring along a "work phone", a cheap phone they don't mind damaging if they drop it at the work site. The S61 lives up to IP68 and MIL-STD-810G standards and has an extra-wide operating temperature range - from -30°C to 65°C.
Cat built the phone out of reinforced die-cast aluminum frame and so it can survive drops on concrete from 1.8m heights. And it can survive being submerged under 3m of water for an hour.
The device is a survivor and is built for workplace operation. The 5.2" screen doesn't mind if you wear gloves or if your fingers are wet. And it has been optimized for outdoor visibility. In the rare cases when the touchscreen fails you, you can use the grippy orange button on the side - its function is programmable (both short and long presses).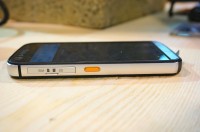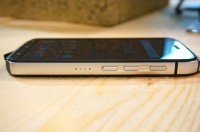 The yellow key is user-programmable • Grippy power key on the other side
If you're not afraid of long working hours, neither is the S61. It has a large 4,500mAh battery that can be filled up quickly thanks to QuickCharge 4.0 (via the USB-C port).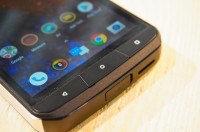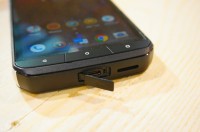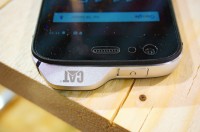 A sealed USB-C port • 3.5mm audio jack
The Cat S61 will launch with Android Oreo and the company promised to deliver an Android P update. The Snapdragon 630 chipset is more than fast enough to run daily tasks - you probably won't spend too much time playing games on a work phone, right?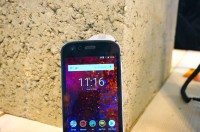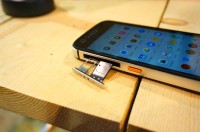 Android Oreo at launch • There's 64GB of built-in storage plus a microSD slot
It will be available globally in Q2 at a price of €900/£800. Not cheap, but have you checked the price of a thermal camera? Or of a laser distance measurer? Or the air sensor? Not to mention the added benefit of having all that packed into one rugged package.
Related
im out of the labor market now, but i would be thrilled just to have the model 60, i still consult, but 120F thermal would do what i need it to do, but everything seems to be OUT OF ORDER on their website, I had a Motorola mil spec phone in past, was...
Nice to have company joint Motorola bring innovation, lately most just copycat
I wonder if it has a capped 10fps on the flir sensor and if it's super laggy as my S60 is in the thermal department?
Popular articles
Popular devices