Caviar makes a custom iPhone and an Elon Musk bust out of a melted down Tesla Model 3
Peter, 25 November 2021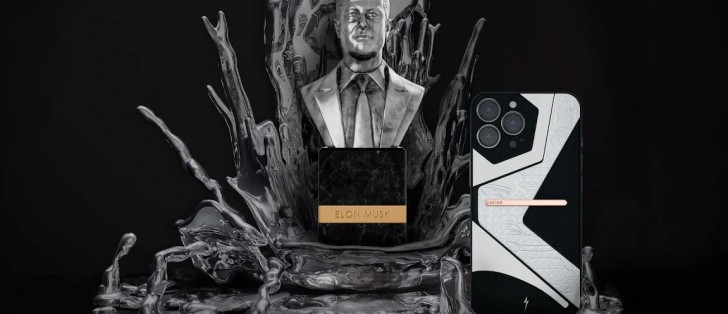 Caviar typically looks back when it comes to luxury – its phones are often clad in precious gold, expensive leather and sometimes even marble. But the company also likes to look towards the future, a future filled with electric cars and space exploration. At the intersection of both is Elon Musk, CEO of Tesla and SpaceX.
Recently, the Caviar team got inspired to extend its Visionaries collection with a special iPhone 13 Pro and a bust of Elon Musk – both made out of a melted down Tesla car.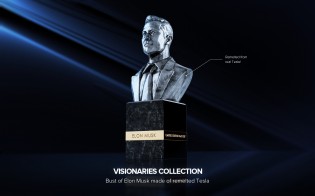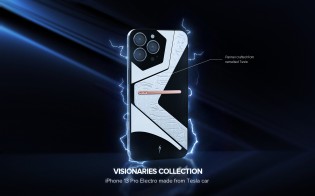 The Elon Musk bust and the iPhone 13 Pro Tesla Electro feature metal from a melted down Tesla Model 3
The Caviar iPhone 13 Pro (Max) Tesla Electro has a frame made out of titanium with black PVD coating. This contrast with the white composite material (which is shock-resistant) and the aluminum panel – the material for this panel came from the body of a Tesla and features engravings of Musk, the Tesla logo and the car itself. On top of that is a copper insert, a tribute to the coils of electric motors that make such cars possible.
Only 99 Tesla Electro phones will be made, the base option starts at $6,760.









Caviar's iPhone 13 Pro (Max) Tesla Electro
The Elon Musk bust sits on top of a black marble base with a double gold-plated plaque that features the serial number of the bust – only 27 will be made. The bust itself is made out of metal parts of a Tesla Model 3 that were remelted: the hood, doors and other panels. Check out the video below for a look at the process. If you want one of the 27 busts, it will cost you $3,220.









The bust of Elon Musk was made out of the body panels of a Tesla Model 3
For more details, check out the Visionaries collection on Caviar's website. There is another Elon iPhone, that one inspired by the Tesla Bot. Also, there are busts of other visionaries – Steve Jobs and Jack Ma.
Related
AnonD-909757
26 Nov 2021
pZV
It isn't about liking it or not, it is about the fact that it shouldn't be the only available option. Even myself who prefer no front cam and pop-ups, I wouldn't want those to be the only available option, there is no point in seeing...
AnonD-909757
26 Nov 2021
pZV
Yes, because OEM and some people want to (and will succeed) at making it the ONLY AVAILABLE OPTION, like punch holes and teardrop notches currently are. If it was just one thing among others, I wouldn't give a shit about it. But this isn...
Popular articles
Popular devices
Electric Vehicles