CES 2015: ZTE Nubia Z7, Star II hands-on
ZTE at CES 2015
GSMArena team, 5 January 2015.
Introduction
CES 2015 in the US will probably see a lot of Chinese phone manufacturers, but only ZTE among those holds the 4th place in the US phone market ranking. The company has a lot in store for this edition of the CES and is showing the press all manner of smart devices, including some, which have been already announced but are just now daring to step in front of the camera.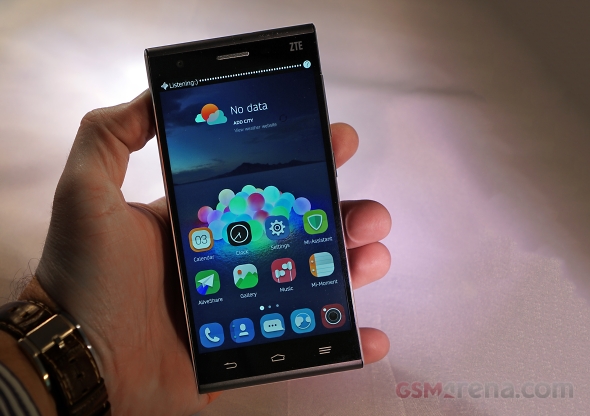 Highlighting the lineup for ZTE are the Nubia Z7, the Grand X Max+ and Star II. Two of those have already been officially introduced to the public while the new Grand X Max+ is an entirely new device. It's making its way to Cricket in the US as the successor to the Grand X Max.
The ZTE Grand X Max+ doesn't offer much more than its predecessor. It still uses an ample 6" display of 720p resolution. It's an upper-midrange device with a 13MP/5MP camera duo, Snapdragon 400 CPU, Android 4.4.4 KitKat, MicroSD card slot, 3,200mAh battery with Quick Charge 1.0 tech.
The other two devices are admittedly more advanced than the Grand X Max+. The ZTE Nubia Z7 and Star II both tout high-res screens, Snapdragon 801 chipsets and 4K video recording.
The Nubia Z7 is the flagman here - it has a 5.5" 1440 x 2560px display, a 13MP main camera with optical image stabilization, a Snapdragon 801 chipset with 3GB of RAM, 3,000Mah battery, Dual-SIM capability and a redesigned user interface, featuring ZTE's new system-wide voice assistant.
The ZTE Star 2 is the middle-man in the ranking with a 5" 1080p display, 13MP camera with 4K video recording, Snapdragon 801 chipset and a slim waistline at 6.9mm.
ZTE has also announced smart tech that's not confined to the phone category. The new Spro 2 is a new smart Pico-projector, built around a Snapdragon 800 chip. It will readily hook up to any device via HDMI, Blueooth or USB and will project whatever is on the device screen (a wall image of up to 120" in diagonal, with a brightness of 200 lumens).
ZTE's booth also features a heap of other devices like the Bamboo headphones, a series of Nubia smartphones (V5 Max, V5s, X6, Z7 Max and mini), the Warp Sync smartphone, the ZMAX phablet, the zPad tablet and other little consumer gadgets and accessories - all of which have been announced already.
AnonD-319946
23 May 2015
utq
Does ZTE ever update their phones.