CES 2017: LG K10 (2017) and LG Stylus 3 hands-on
CES 2017
GSMArena team, 06 January 2017.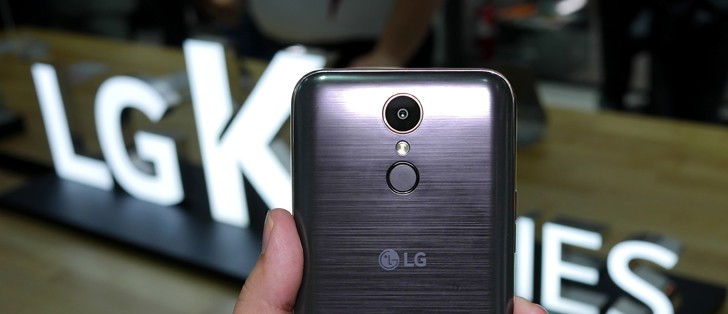 LG Stylus 3
LG's Stylus family has built-up sort of a legacy at this point and the third generation doesn't really stray from the original formula either. We still don't really get why LG persists in its efforts to slightly and confusingly change the moniker to "Stylo" for the US, but marketing has stuck with it yet again.
The Stylus line has always been mostly developed as an affordable entry point into the phablet+stylo segment, which is still underdeveloped. With a hefty 5.7-inch screen, the Stylus 3 definitely has the phablet part covered and although pricing isn't clear yet, judging by its specs and the fact that LG is readily slapping the "mass-tier" title on it as well, competitiveness is almost guaranteed.
To kick things off with a physical tour and impression - the 5.7-inch LCD display only has 720p resolution to work with, which is noticeable at that size. Just like with its predecessors, as well as the "K" family, plastic is still the material of choice. Again, this opens up the room for a removable battery - 3,200mAh, in this case.
Even without premium glass, ceramic or metal materials all around, the Stylus 3 still looks quite stylish in our opinion. There is a nice arch on the back, for a snug fit in the hand. The plastic of choice seems very sturdy, but its finish tends to get greasy easily and is generally a fingerprint magnet. So, there is that.
Of course, we can't fail to mention the distinct feature of the handset - the bundled stylus. It is tucked away so neatly in the top right corner, that unfamiliar users can easily miss it. Taking it out is actually a hurdle but we hope it just needs to be broken in. Either way LG can surely take a hint or two from Samsung's Note line and its evolution of the S Pen mechanics for future generations.
Once out and operational, however, the stylus generally works well and it is easy to see that LG has been working on improving its functionality. Frankly, we couldn't really appreciate the new 1.8mm fiber tip, but the extra software goodies do appear handy.
UX Pen Pop 2.0 allows for your memos to appear on screen every time you pull out the stylus. Yes, there is now a system in place to detect that and LG's Pen Keeper is also helpful enough to warn you if you try to walk off without the stylus. Screen-off memo is also added to the mix and it is pretty self-explanatory.
And since we kind of transitioned into the software side of the Stylus 3, we will also mention that it boots Android 7 Nougat out of the box as well. While in no way a testament to LG's overall commitment to timely updates to it or any other phone, it is still a speedy integration worth noting.
As for performance, the handset has the same MediaTek MT6750 octa-core chipset like the K10 at its disposal. This time, however, it is backed up by 3GB of RAM - a welcome improvement for more multitasking headroom. Again, we were very pleased with how it handled general usage. On the flip side, 16GB of storage is hardly acceptable in 2017, despite the addition of a microSD card slot.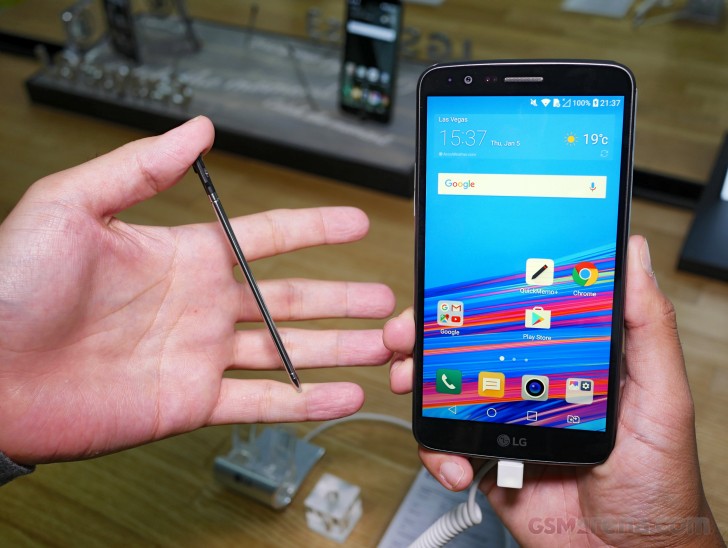 The Stylus 3 comes equipped with a 13MP camera as well. We have to wonder if it is the same one from the K10. But it is worth noting that LG isn't mentioning any flagship roots this time around. As far as specs sheets go, there is nothing really special about the 8MP selfie camera either.
Oh, and one last note - the LG Stylus 3 has FM radio on board.
All things considered, both the K10 and Stylus 3 have at least a few things going for them. Granted, we are far from flagship territory here, but if LG manages to price the two right, perhaps around the $200 to $250 mark, both could be headed for a successful future.
Camera very very very poor.......disappointed yooo
I'm currently using it and it doesn't have fingerprint.
I have an LG stylus 3 about a month old now then suddenly charging takes forever for no reason. Ive tried multiple charger but no luck. any suggestion?