Charge test: Battle of the fast chargers
Battle of the fast chargers
GSMArena team, 10 April, 2015.
Qualcomm Quick Charge
Qualcomm has been working on faster charging phones for a while now. Their Quick Charge tech, currently in its second generation, employs an extra Power management integrated circuit inside Snapdragon chipsets, which allows it to charge significantly faster.
Quick Charge 1.0 was introduced in 2012 and it made use of a 5V/2A charger, which could charge a phone up to 40% faster than conventional 5V, 1A chargers. That boost accounts for a 10W max charging power.
Qualcomm Quick Charge 1.0 was available on phones such as the Samsung Galaxy S III, LG Nexus 4 and LG Optimus G, the Sony Xperia T and the Redmi2.
Pretty much all Qualcomm Snapdragon 400 chipsets today come equipped with Qualcomm Quick Charge 1.0.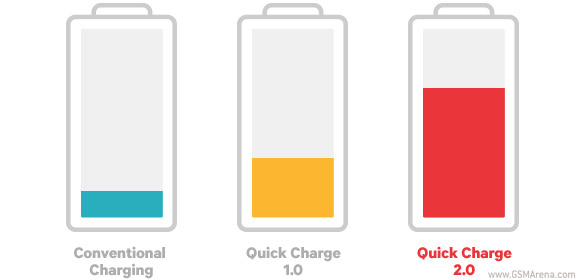 Qualcomm Quick Charge 2.0 was introduced later on in 2013 with the Snapdragon 800 chipsets. It made use of a 9V/1.67A charger, which improved on the existing design, by offering up to 75% faster battery topping than conventional 5V, 1A chargers. That accounts for a maximum of 15W charging power.
The charging current is actually adaptive and smartphones can negotiate either regular 5V/2A current or the higher 9V/1.67A current. These chargers are safe for use with regular phones as well. It's up to the phone to determine the charging speed, which is one of the reasons why a more powerful charger does not automatically mean faster charging.
Plenty of the latest devices support Quick Charge 2.0 including the Moto X 2nd gen and the Nexus 6, the Samsung Galaxy Note 4 and Galaxy Note Edge, Sony's Xperia Z3 and Z3 Compact, the HTC One M8 and the Xiaomi Mi 4. Not to mention the more recent HTC One M9 and the LG G Flex2, which utilize Qualcomm's latest Snapdragon 810.
To put the technology in perspective, Qualcomm quotes a laboratory test that they've carried out where within a 30-minute charging window a smartphone with a 3300mAh battery would charge the following:
from 0% to 60% with Quick Charge 2.0 (9 volt/1.67 amp)
from 0 to 30% with Quick Charge 1.0 (5 volt/2 amp)
from 0% to 12% with a conventional charger (5 volt/1 amp)
It's a striking difference, indeed.
Oppo VOOC Flash Charge
Chinese manufacturer Oppo has been using Qualcomm's chips quite successfully, but Oppo has come up with a quick charging innovation of their own and it's in its second generation as well. They call it VOOC Flash Charging, with the VOOC standing for Voltage Open Loop Multi-Step Constant-Current Charging.
In the beginning Oppo's VOOC chargers such as the ones bundled with the Find 7 were bulky and supplied 5V/4.5A current for max charging power of 22.5W.
The second-gen chargers, called VOOC mini for the reduced size of the charging head, come as standard with the Oppo N3 and the R5 and allow for the cable to be separated from the charger. They also supply a maximum of 5V/5A current, meaning 25W max charging power.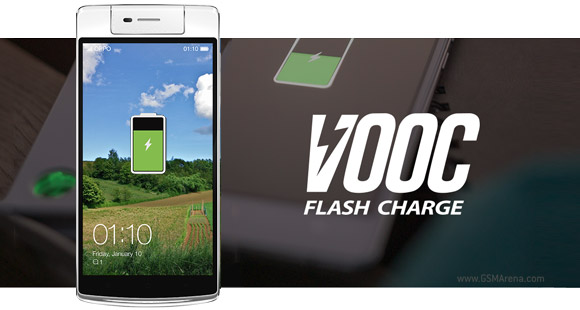 But that's not the only thing Oppo does differently than Qualcomm. The battery on a VOOC-enabled phone consists of several battery cells and the high 5A current is split among those. Due to this, the battery has a higher number of contacts than usual. The technology also employs a special microUSB cable, which has 7 pins instead of the usual 5.
The charging current is also constantly monitored by a microcontroller unit inside the phone.
The battery is not charged all the time at this high current. As the promo materials have it when about 75% of the battery capacity has been reached, the charger will limit the output to 2A. Then, when about 85% has been reached, the charging current will drop down to 1A.
Other quick charging solutions
Samsung Fast Charge solution is no different than Qualcomm's Quick Charge 2.0. Samsung uses its own Exynos chipset for the Galaxy S6 and Galaxy S6 Edge so you'd reckon they didn't have the luxury of relying on Qualcomm's ready-made solution that comes with Snapdragon processors. Or did they?
After some research we found out that Qualcomm is actually offering their Quick Charge 2.0 technology to third-party OEMs royalty free. All they have to do is integrate the extra Power management integrated circuit into their designs.
The Galaxy S6 duo ships with the same 9V/1.67A chargers that you would get with their certified Qualcomm Quick Charge 2.0 products such as the Galaxy Note 4. Note that Samsung labels its compatible chargers with "Adaptive Fast Charging."

Intel seems to be using Qualcomm's Fast Charging 2.0 tech as well. What we found out is that the Asus Zenfone 2 ZE551ML for instance, even exceeds the standard specs. Its charger is capable of supplying up to 9V/2A current or up to 16W charging power. Asus has dubbed their tech ASUS BoostMaster Technology, but for all we know, it's just a marketing name and not a new quick charging technology of their own.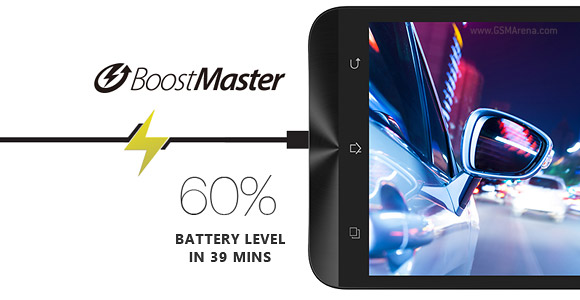 15 watts is definetley better regardless of the battery size. Right now we are between 2200 and 3200, it is a more than small difference but it's fine
prashanth
19 Mar 2016
uwN
I had a cellphone INTEC AQUA POWER PLUS.can I use qualcomm mobile charger or does it support my cellphone
AnonD-292864
12 Jan 2016
0If
Motorola ATRIX 4G with fingerprint scanner released in 2011 BEFORE iPhone 5s and Huawei Mate S with 3D Touch announced before iPhone 6s. Yes Apple is behind.