Chrome OS spotted running on an Acer tablet in the wild
Victor, 27 January 2018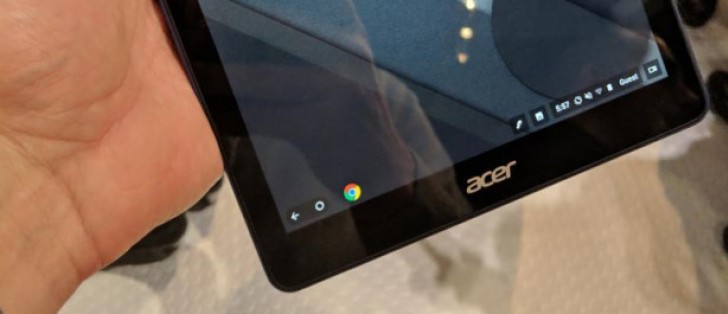 Google's Chrome OS has successfully managed to carve our a sizeable market chunk for itself, primarily in the education field. Now, as the unique OS is officially enjoying growing Android app support and on its way to a new Android-inspired, touch-friendly UI update, it appears to be expanding on to tablets as well.
An intriguing new photo of an unannounced Acer tablet, running Chrome OS was briefly posted online by Alister Payne - an attendee at the BETT education expo in London. Shortly after, his Twitter post was taken down, likely on Acer's request, but the original text has been recovered:
Grade 1, 2, 3 look what's coming your way… Not official released but a ChromeOS tablet @chromeunboxed #BETT2018 @LadyWesner @cloud_ed
It seems pretty clear that Alister got some hints regarding the purpose of the tablet - likely only the first of many headed towards classrooms. It makes perfect sense as well. Up until now, Google has mostly focused its Chrome OS efforts on inexpensive laptop-style devices, with all the necessary input methods for productivity. While there have been some 2-in-1 options in the past, but now that Chrome OS is closer to Android than ever, the opportune time seems to have arrived to officially expand to tablets.
Plus, beyond the evolutionary side of things, a tablet is a great way to potentially shave off even more cost on an educational tool. The wide bezels on the Acer in the photo, as well as the subjectively high reflectability of its likely low-end LCD, further prove this theory. Such a move makes sense on a content and use-case level as well. Younger kinds have a greater focus on multimedia and simpler interactive experiences in their curriculum, as opposed to typing task and a keyboard won't be sorely missed.
Acer is yet to make an official announcement regarding the tablet, so no specs are available beyond what we can estimate from the photo, like, what looks to be a 4:3 aspect ration, fairly big display, a lack of capacitive navigation keys and at least one camera, on the selfie side.
Related
Chrome OS is not exactly touch friendly.
Love my Chromebooks ... have 4 of them. from 10 inch Asus flip to 55 inch TV (Chromebit)
You know, this happened before; it was called Windows 10.
Popular articles
Popular devices