Counterclockwise: plotting the average camera resolution through the years
Peter, 22 October 2017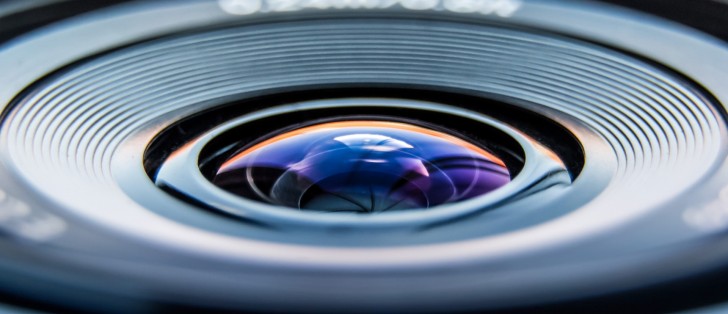 The camera megapixel race is dead as most flagships have scaled back and instead chosen to race with wider apertures and secondary snappers. But mid-range and entry-level phones have been catching up in the megapixel count, pushing the average higher and higher.
We took the 100 most popular phones from our database for each year. For those we averaged the megapixels of their main camera (for dual camera phones, the higher resolution sensor was used in the calculations).
As expected, we see an upwards trend to the average pixel count. Growth accelerates from 2011 to 2015 and then it tapers off. There is not a lot to be gained by increasing the resolution after a certain point if you don't increase the sensor size too.
A bigger sensor will require a thicker optical assembly – and phone designers are sworn enemies of thickness (for better or for worse). Samsung recently unveiled the first sensor with 0.9µm pixels, which offers 24MP resolution in a slim module. But in the dark it has to resort to pixel binning to keep noise in check.
To make things interesting, we also found the highest resolution among the Top 100 and plotted it on the chart. You can see what we're calling the "PureView peak" - the Nokia 808 PureView and Lumia 1020 (so far the only 41MP phones in history) go off the chart (almost literally).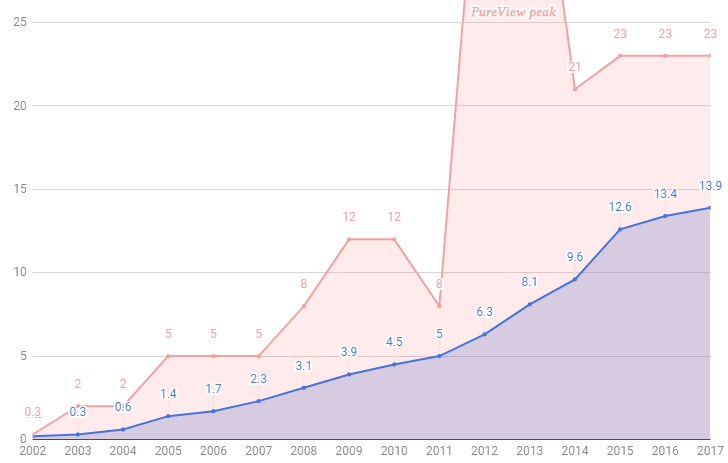 There's one interesting dip before the Nokias though, all of the Top 100 phones for 2011 had an 8MP or lower-res camera. A surprising drop after two years of 12MP shooters dominating. There were a couple of Motorolas with a 13MP cameras in 2011, but they didn't make the list (they are China Telecom devices with no global availability).
Time has proven HTC right – megapixels do not equal image quality. Most flagships today use cameras with 12MP-16MP resolutions and even Sony with its large sensors and after years of pushing 23MP sensors came down to 19MP for its XZ darlings.
Honestly, we're not too sad to see the 20+ megapixel cameras go. We find dual cameras more enticing as they offer flexibility in photography you can't match with pure resolution – wide-angle or telephoto lens, portrait mode and better low-light perfomrance.
Related
Dave Granger
13 Nov 2017
m5M
Personally I'm really hoping the 808 Pureview 1/1.2" 41mp sensor resurfaces at some point.
Also about your comments on monochrome secondary camera modules: You literally only posted reviews comparing two separate smartphone cameras. I could similarly claim that single-lens cameras are useless because the Huawei Mate 10 takes far bette...
It was on par in good lighting conditions where no extra features such as zoom was required. I'm not saying the 808 PureView was a bad camera. It still blows modern smartphones out of the water in many aspects. But miniature camera modules can n...
Popular articles
Popular devices
Electric Vehicles