Counterclockwise: searching for the meaning of max, mini, pro, plus and other such names
Peter, 19 May 2019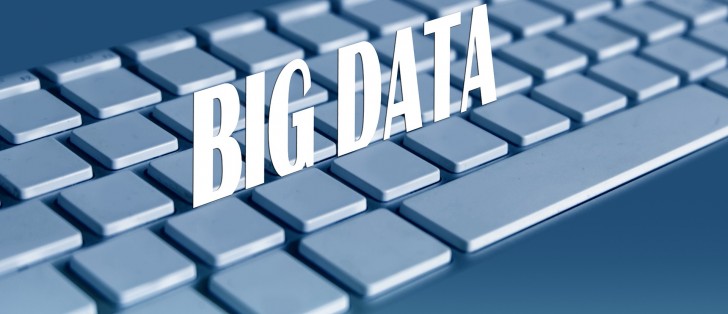 Is "Pro" better than a "Plus"? Which is bigger, "Max" or "Note"? Which has the bigger battery? How small is a "mini", anyway?
Some of these qualifiers do carry some meaning, e.g. "note" always means a larger device. Larger than the company's average phone that is, there is no legal minimum for a phone to be get "note" in its name.
"Max" is more vague – it could mean a large screen, large battery or both. Similarly, "Pro" and "Plus" carry connotations of a more premium device (which often means larger too), but again there are no rules to naming phones.
Let's start by finding which qualifier is the most (ab)used. Usage of these terms was rare before 2006 or so, so that's when our charts begin (for example, it wasn't until 2011 when the first "note" showed up – the Galaxy Note).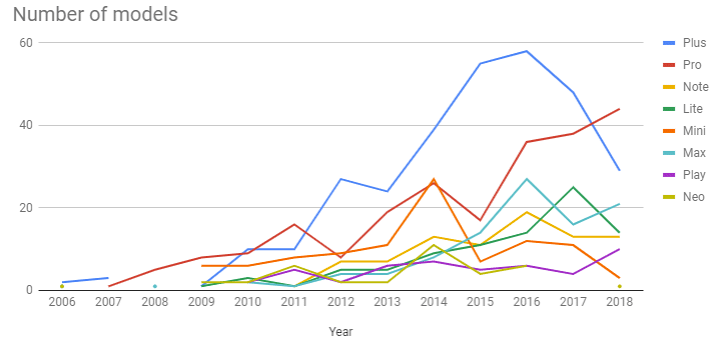 Historically, manufacturers preferred "plus" for their top offerings, but recently "pro" has taken over in terms of new models. And there seems to be a good explanation - in terms of popularity, "pro" phones have fared much better on average than the "plus" ones.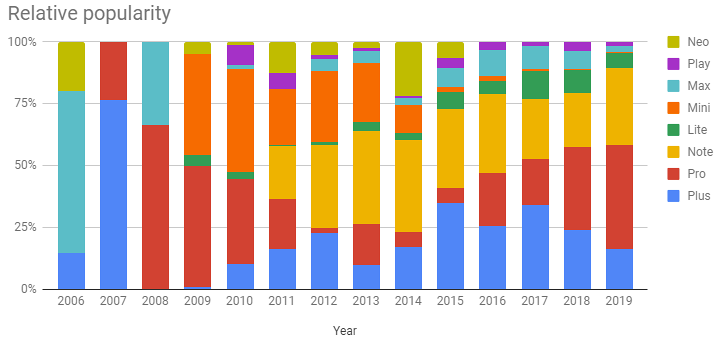 As we mentioned earlier, "note" came on the scene in 2011 and caused quite a splash – it had a huge-for-the-time 5.3-inch display. It was way above the global average for phones and words like "max", "plus" and "pro" just didn't mean much for screen size. Now there's little variety in terms of screen size, regardless of name.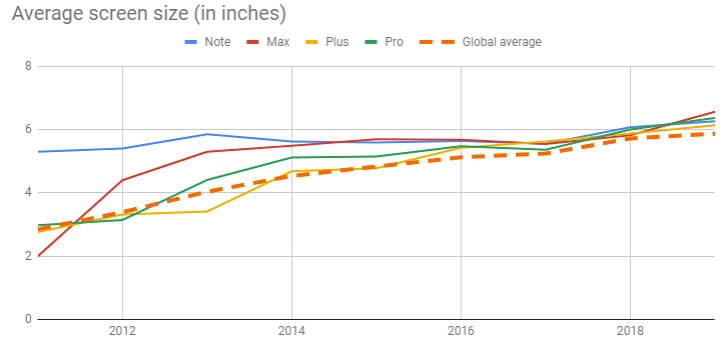 While they don't mean much for screen size, there's a strong correlation between these words and larger batteries.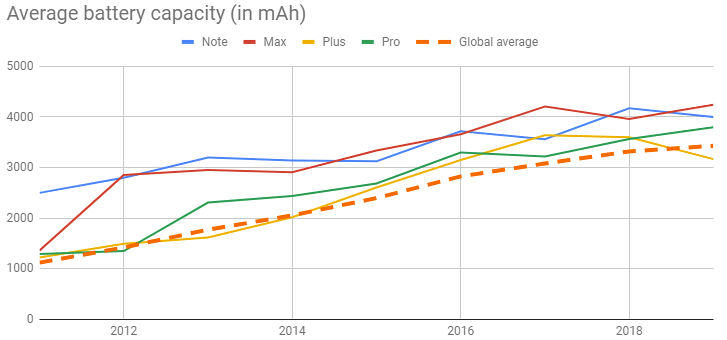 Maybe the average is the wrong number to look at, let's find the outliers, e.g. the biggest and smallest "mini". Well, isn't this annoying? The largest "mini" phone often has a larger screen than the average phone! Even with the smallest bezels, these are not small phones.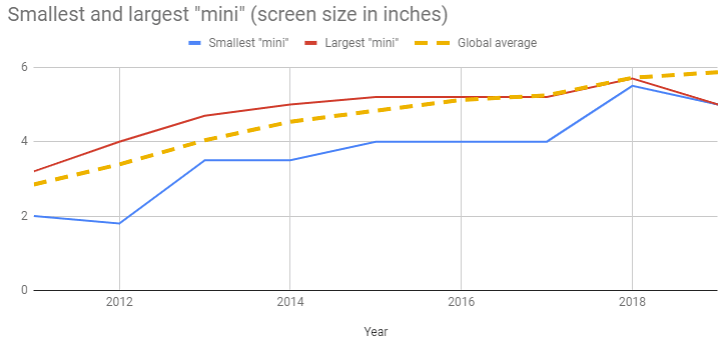 There's more variety in "max" models. Last year, they ranged from the puny 2.8" screen of the Energizer Power Max P20 to the 7.12" slate of the Honor 8X Max. You see, the Energizer is a "max" because of its battery (4,000mAh is huge for a feature phone), not its screen.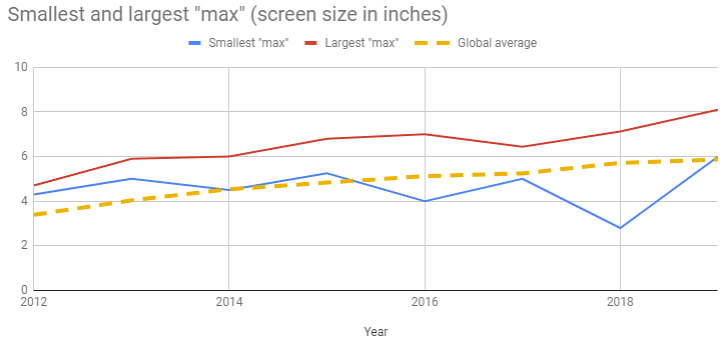 Does that mean that "max" is a qualifier that signals a large battery, not so much a large screen? It definitely seems so, a "max" phone has at least an average battery and at best one that's quite a bit larger than the common phone.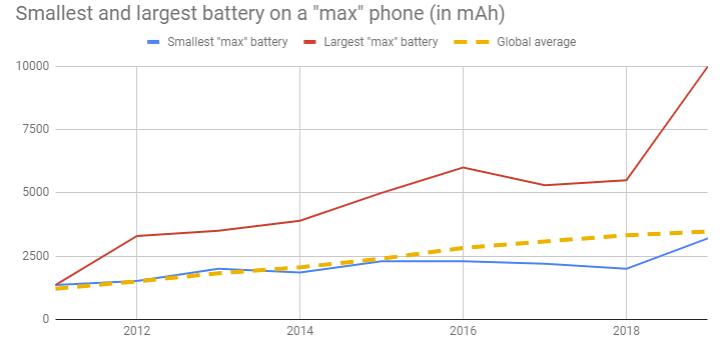 So, what do you think? Do qualifiers like "max" and "pro" help us find the right phone? Or are they just gimmicky marketing terms with no set meaning?
Related
Its more gimmicks these days when anything else, if you just decide phone features just by looking at its name, my friend you will be in big trouble :)
A major reason for the decline in minis is obviously the decline in the availability of options from the OEMs. In the last few years, most of the OEM has completely removed the minis/ handy devices form their portfolios, with 6" becoming the base. Th...
Anonymous
21 May 2019
x1y
I don't mind. A phone is just a tool. If new tools are uncomfortable to use for me, I'd stick to the old one.
Popular articles
Popular devices
Electric Vehicles