Counterclockwise: Jelly Bean was the last Android version to reach 50% market share
Peter, 11 February 2018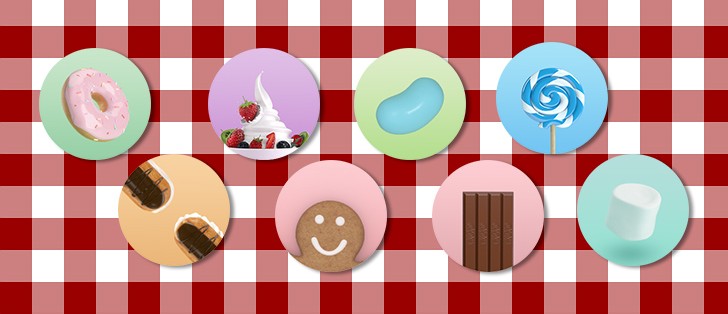 Did you know that the first Android OS version code name was Petit Four? It means small bite-sized appetizer and served as inspiration for the desert-based names of future versions. That was version 1.1.
The first publicly available version was Android 1.5 Cupcake, launching with the T-Mobile G1. Then in mid-2010 Eclair (versions 2.0 to 2.1) took over as the most popular version, about half a year after its introduction. 2.2 Froyo rose to the top at the end of 2010, again about six months after launch. Google was on a two releases per year schedule back then, introducing two major Android versions each year.
Then came 2.3 Gingerbread. This proved to be the Windows XP of Android versions, it lived on for years and years, refusing to die (and forcing devs to support a very outdated API). Gingerbread took the lead at the start of 2012 and kept it until August 2013.
Meanwhile Google took a detour named Honeycomb. The 3.x branch of Android was meant to be tablet-only and featured a brand new UI to match. It brought more compatibility issues than UI benefits, however, and this branch is now mostly forgotten.
The Honeycomb UI did inspire Holo, the major look and feel redesign for Android 4.0 Ice Cream Sandwich. Tablets were migrated over to ICS, but even with that this version never surpassed Gingerbread.
Afterwards, Google slowed down to one named release per year. The first such was Jelly Bean which spanned versions 4.1 to 4.3. JB did surpass Gingerbread, but the crusty 2.3 version had as much as 8% share at the start of 2015.
Next up was Google's first brand collaboration – KitKat. This version was reportedly going to be named Key Lime Pie, but a last minute deal with Nestle changed that. KitKat never cracked 50% market share, nothing since Jelly Bean ever achieved that milestone.
This lead to some fragmentation, despite Google's efforts to level the playing field by moving core functionality to Google Play Services. The company is taking more drastic measures – starting this August, new apps will be required to target Oreo. This would turn many Android features mandatory for apps, which should greatly modernize the experience.
Anyway, 5.0 Lollipop would come with major changes. It retired Holo and introduced Material design. Dalvik was retired too, in favor of the Android Runtime (ART). Then came 5.1 Lollipop (which introduced support for multiple SIMs… in 2015) and 6.0 Marshmallow.
This brings us to 7.0-7.1 Nougat, the which took the top spot away from Marshmallow just this January. As you can see from the chart, since Jelly Bean each new Android version peaked lower.
Google has a new plan to fight fragmentation (beyond forcing apps to upgrade). It introduced Project Treble, which will abstract away the hardware and low-level drives so that the higher levels of the OS could be updated more easily.
This was introduced with 8.0 Oreo, Google's second brand collaboration. The new round of flagships coming to the MWC should help boost Oreo's market share, which currently hovers around 1%.
You can check out Bidouille.org for more detailed charts on the history of Android versions.
Related
Anonymous
01 Apr 2019
fwq
Yes I remember those names. But I didn't know what Astro and Bender meant
Anonymous
13 Feb 2018
0XI
It is optimized in a sense that it has no features. I explain myself. Let's admit Microsoft decided to run Windows 95 or a Core i9. The code of Windows 95 is so simple that it will run with few bugs. But, with less features too. No I am not trol...
I am not an Iphone fan but I have to admit that iOS is optimized ...that's why it doesn't need a lot of RAM... it's working without freezing and without bugs....
Popular articles
Popular devices
Electric Vehicles