Counterclockwise: Samsung's pre-Android smartphones were multimedia beasts
Peter, 21 October 2018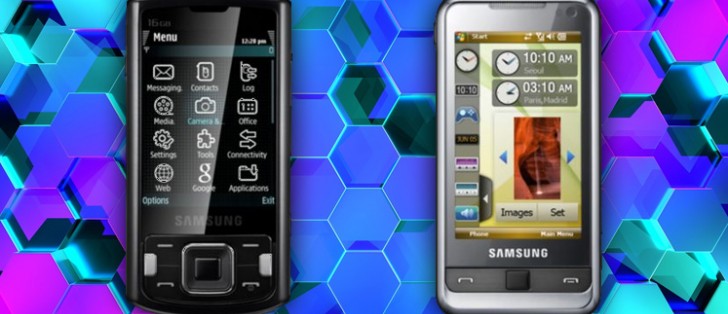 Samsung Mobile is best known for its Galaxy phones today, but the company has been in the phone game long before Google launched Android. Back in the Dawn of Samsung Galaxy post we hinted that the company's early Android devices were mid-rangers playing second fiddle to the Omnia flagships. Time to meet the failed ruling class of Samsung phones.
Samsung saw early on that the underlying OS was less important than the user experience. Most Omnias were based on Windows Mobile (later Windows Phone) and there was a Symbian entry too. Yet, they all had TouchWiz as the dominant interface, a unifying thread.
We start with the Samsung i900 Omnia. The design drew on the Samsung Armani, an early all-touchscreen attempt by the company to answer the iPhone's challenge.
The phone's ambitions were great, but the screen proved a limiting factor. A small 3.2" resistive touchscreen with not that many pixels - the resolution was 240 x 400px. Compare that to the 3.5" 320 x 480px capacitive touchscreen of the original iPhone. And the early iOS interface was significantly simpler.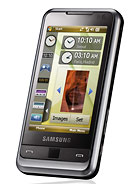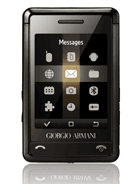 Samsung i900 Omnia • Samsung Armani
TouchWiz in comparison was oh so busy. There were widgets that you can position around the screen and the results... well, judge for yourselves. The underlying Windows Mobile 6.1 Pro supported full multitasking (workable even on the 624MHz processor and 128MB of RAM), but (thankfully) you could only have one app on the screen.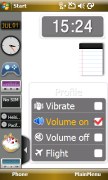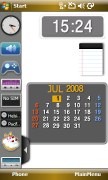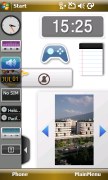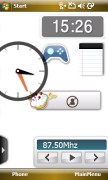 The TouchWiz interface: various widgets can be moved around as you please
The rest of the hardware was actually great. The 5MP camera produced excellent photos and had advanced features like GPS-based geo-tagging. Speaking of, the original Omnia came with Google Maps pre-installed (though navigation wasn't supported). Here's a screenshot of GMaps, so that you can appreciate how far we've come.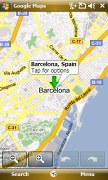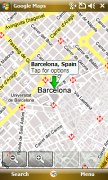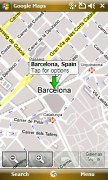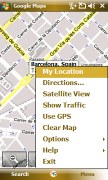 Viewing a map on the Samsung Omnia (Google Maps, Barcelona)
"It's probably the first time that a Windows Mobile PocketPC turns out as a fully-fledged multimedia device," proclaims our conclusion in the Samsung Omnia review. In typical Samsung fashion this was a "do it all" phone and it only cost €500 - almost unthinkable for a flagship today.
We get off track for a bit to visit the Samsung i8510 INNOV8. A Symbian-powered slider that too traded on its multimedia skills. Released around the same time as the Omnia, it had an 8MP camera with better video recording (480p @ 30fps). The phone boasted stereo speakers too.
But this was before Symbian S60 grew touchscreen support and despite the 3D accelerated eye candy in the interface, the INNOV8 was an old school phone with new age multimedia features.
The Samsung i8910 Omnia HD was the intersection of the Omnia and INNOV8 phones. It ran Symbian again, but this time Series 60 release 5 - the first S60 with touch support. And it had a much better screen than either of its parents - a 3.7" AMOLED with 360 x 640px resolution and capacitive touch.
TouchWiz was brought on board to deliver its usual mix of rich features and cluttered look.
But that's not Omnia HD's best feature - it got its name thanks to its camera, not its screen. This was the first phone capable of recording 720p HD video. At 24fps, but it was glorious HD in 2009. The first HD-capable iPhone (the 4) would arrive a full year later.
A few months passed and the Samsung I8000 Omnia II arrived on the scene. It used another 3.7" AMOLED - this one with 5:3 aspect ratio and higher 252ppi pixel density compared to the Omnia HD (16:9, 198ppi). And it ran Windows Mobile 6.1 Pro again after Samsung's detour through Symbian.
TouchWiz was touched up with a card-based app switcher and 3D Media gate - a three dimensional cube that matched the stylized home button on the device. However, despite all the eye candy, the Omnia II couldn't match the HD's camera, it only took 5MP photos and 480p video.
Still, the fast Samsung-made chipset made WinMo fly like we've never seen it before.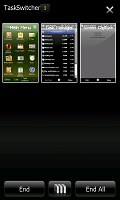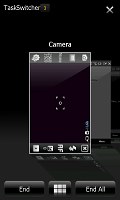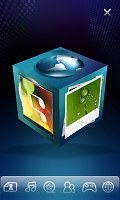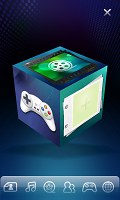 The task switcher offers two view modes • The 3D Media gate
Here's a quick bit of trivia - the first Galaxy S had a model number I9000. In a way that makes it a successor of the Omnias (i900, i8910 and I8000) and INNOV8 (i8510). The original Samsung I7500 Galaxy is somewhere on that family tree as well.
Anyway, 2009 saw a few more interesting Omnias. The Samsung B7300 OmniaLITE had a powerful 800MHz CPU like the Omnia II, but also a tiny, low-res screen - 3" 240 x 400px. That and the 3.15MP camera got it the "lite" moniker.
The polar opposite was the Samsung B7610 OmniaPRO. It had an AMOLED display, 3.5" with a higher pixel density than the Omnia II. And a slide out QWERTY keyboard! This was one of the last sightings of hardware keyboards, though, despite all the "pro" labels this phone never got into the pockets of business suits that were quickly swapping out their BlackBerrys for iPhones.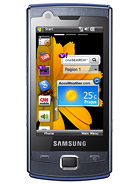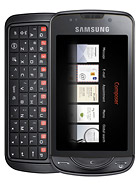 Samsung B7300 OmniaLITE • Samsung B7610 OmniaPRO
Then in 2010 there was a split in Samsung land. The Samsung I8700 Omnia 7 was an early Windows Phone 7 handset, now with proper Super AMOLED. The same 4" panel that was used in the original Galaxy S, in fact, which launched a few months earlier, with TouchWiz and all.
But Microsoft had locked down Windows Phone and TouchWiz was not welcome. Maybe because of that, maybe because the OS wasn't ready, but somehow we think that Samsung's heart wasn't in it when it was making the Omnia 7.
And that's because earlier in 2010 a better phone launched - the Samsung S8500 Wave. It was the first phone to wear a Super AMOLED display, it had an awesome compact metal body, but it was most interesting for Bada - Samsung's own smartphone OS.
Bada was Samsung's answer to Android. Google tried to assert control over Android-running phones, Samsung wanted to have a backup plan. And it worked well enough, the Wave sold 1 million units in its first month. It proved popular in Europe as well.
Despite an early lead, the Wave lost the sales race to the Galaxy S. Still, it hinted at a power struggle. 2010 is the year that Google and HTC launched the first Nexus, which raised concerns that other makers can turn into second-class players. And Google held the reigns with Google Play - outside of China only Amazon sells Android devices without the Google apps and only gets so-so market share, despite rock-bottom prices.
As we've seen, Samsung prefers to control the software on its devices, which caused it to butt heads with Google. Eventually, the two came to an agreement (perhaps it helped that Samsung was quickly becoming the biggest Android maker) and the Wave series and Bada were forgotten.
Samsung still has its own OS - Tizen - which it uses on its smartwatches and smart TVs. To be fair, Android Wear (now Wear OS) lacks some features and is hobbled by Qualcomm's aging Snapdragon Wear chipsets. As for the TVs, well, you saw how much Samsung loves its multimedia features. And Android on TV is hardly the must-have it is on mobile, allowing Samsung to control the software running on its hardware.
Related
The Publisher
17 May 2021
64i
I still have my omnia i8910 HD. What a device that was. I feel in love with OLED and how it blew away lcd. Imported it to USA and never saw another person with one. Was also my first foray into what is now called rooting or jailbreaking. Fun stuff.
Anonymous
16 Mar 2020
7AH
Man, the Galaxy Wave was such a beautiful phone. I hope Samsung revisits that design language. It also had a metal body with a replaceable battery.
Popular articles
Popular devices
Electric Vehicles