Counterclockwise: smartwatches are cooler in space than on Earth
Peter, 01 April 2018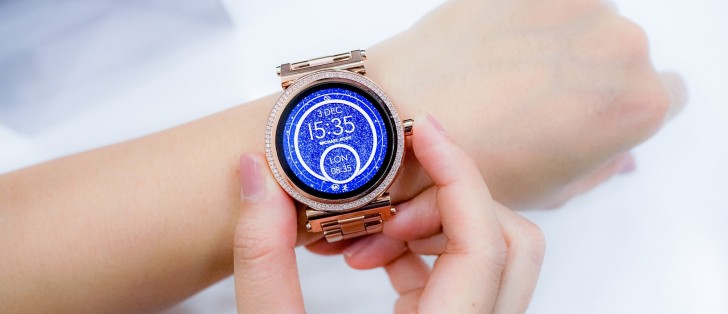 The Timex Datalink was co-developed with Microsoft and first launched in 1994. Since then, many astronauts and cosmonauts have used a Datalink. That's so cool, but it seems that for a long time, smartwatches were more popular in space than they were down here on Earth.
The Datalink models were fairly limited in what they can do. You can set up many alarms (which the astronauts loved), store text notes and even run basic apps, transferred from a computer.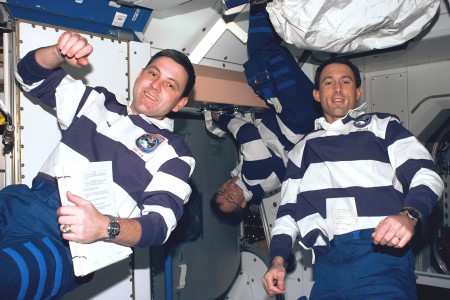 Astronaut James H. Newman (right) wears the Timex Datalink 50 model 70502 on STS-88
Some makers tried watch phones – e.g. Samsung S9110 and LG GD910 from 2009 – but they weren't "smart" - no more than most phones were back then. Sony Ericsson launched the LiveView, which still wasn't technically a "smartwatch" and, ironically given its name, neither was Sony's first SmartWatch.
Okay, there's no set rule of what a "smartwatch" is, but we think it needs to be usable without being connected to a phone – we don't insist on standalone cellular connectivity on the watch, but we want it to be something more than a wireless display for the phone. At least that's the definition we're using for today's stats.
Last time, we saw that interest in tablets among consumers rose quicker than interest among makers. This time, that's not exactly the case. Actually, interest peaks in 2015, before and after that people just didn't care much.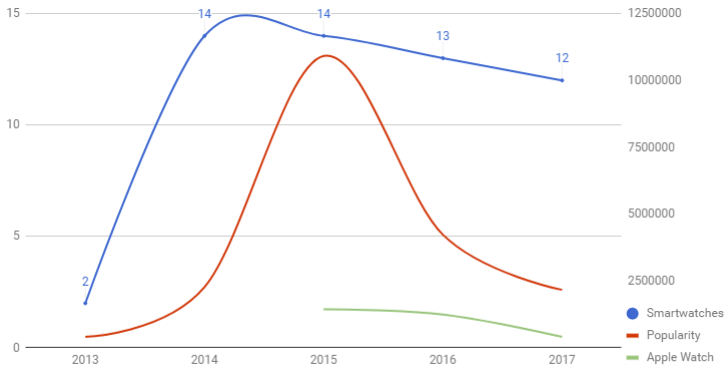 Perhaps it didn't help that there weren't many models on the market and they all had pretty major flaws. Poor battery life, flat tire screens, no always on screens, lack of apps, half-grown interfaces, we can go on. In recent years, the software got the much needed polish and the screens improved, yet interest didn't rebound.
In the conclusion of last week's article, we predicted that Apple will be the major player. The company went into the smartwatch business in 2015 and... well, the Apple Watch is responsible for only a small part of the user interest in smartwatches on our site.
Maybe people don't do much research – Apple is the only maker of Apple Watches, you can buy Android Wear watches from dozens of companies (well, not Samsung). But that's interest in specs, what about actual purchases?
We turn to IDC, which shows that Apple basically rules the smartwatch world. Xiaomi and Fitbit come close, followed at a distance by Garmin, Fossil and others. Except, these companies mostly make smart bands and hybrid watches – those are relatively cheap and lack functionality compared to a proper smartwatch.
Vendor
2017 Shipment Volumes
2017 Market Share
2016 Shipment Volumes
2016 Market Share
Year Over Year Change
Apple
17.7
15.30%
11.3
10.80%
55.90%
Xiaomi*
15.7
13.60%
15.7
15.00%
-0.30%
Fitbit*
15.4
13.30%
22.5
21.50%
-31.60%
Garmin
6.3
5.40%
6.3
6.00%
-0.80%
Fossil
4.9
4.30%
2.1
2.00%
133.10%
Others
55.5
48.10%
46.6
44.60%
19.10%
Total
115.4
100.00%
104.6
100.00%
10.30%
Source: IDC Worldwide Quarterly Wearables Tracker, March 1, 2018 (* IDC considers sub-1% differences a tie)
The analysts expect that Apple will double its yearly shipments by 2021 from 2017's 31.6 million. Everyone else, well let's just say that IDC is looking forward to "sensor-laden clothing" and smart headphones. Non-Apple smartwatches do not seem to be a huge factor.
Related
Did you read an article properly? Xiaomi, Garmin sells smartbands, which is included as smartwatches sales. Apple solely sells only smartwatches so in reality, it is king in smart watch business, which by no one comes close to it.
It dies because it's useless and redundable tech. Phones does everything, you no need smartwatch to check something when you have smartphone. Hack I didint have a real wrist watch since I got my first mobile phone, because it lost its functionality. ...
I can never imagine disconnecting my smartphone from my Gear S3, or my Gear Sport when I use either which. To save battery? I have a maximum more than 2 days for either of those two Tizen watches - with heartbeat monitor checking every 10 minutes, al...
Popular articles
Popular devices
Electric Vehicles