Counterclockwise: the brief popularity of stereo speakers
Peter, 06 May 2018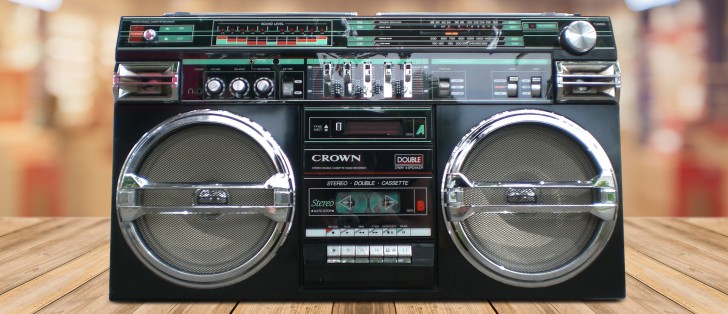 Two ears, two speakers is a pretty simple equation. However, in recent times it has become pretty common to see a single speaker – on most phones and even portable Bluetooth speakers often have just one.
Looking through our data, we found the golden age of the stereo speaker in the mobile world. It occurred in 2014-2015 when nearly one in ten phones played music in stereo. That translates to about 70 new devices for each of the two years.
And now we're in the dark ages, the steep decline is hard to miss. Note that this is counting the number of models that have stereo speakers, not the number of phone units sold.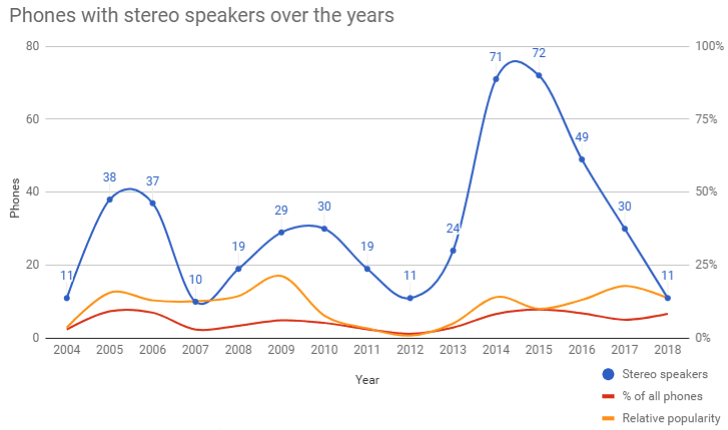 In lieu of sales data, we plotted the relative popularity of phones with stereo speakers. You can see the dip in 2012 - there were only a few models and none of them particularly popular.
A recent high-profile player to jump on the bandwagon is Samsung with its new Galaxy S9 duo. Apple started a bit earlier with the iPhone 7 generation. Instead of dropping the 3.5 mm headphone jack this is the iPhone feature other makers should have "borrowed".
Of course, it's not always about stereo (funnily enough, the iPhone X can't record stereo, go figure). The LG G7 ThinQ (announced this week) has a "boombox" speaker – a clever rearrangement of the phone's internals allowed LG to create a resonance chamber, which amplifies the sound (the bass especially).
Then there's the Dynamic Vibration System on the Sony Xperia XZ2 Premium, which simulates bass with its beefy vibration motor. Those system lack the wide spacial quality of stereo speakers but a full, undistorted audio is often preferable to that.
What do you think – are stereo speakers better than a single but powerful speaker? Or do you just not care (some listen through headphones exclusively)?
Related
No, Galaxy Tab A 10 2016. I don't buy Apple.
share? LOL. they do that because they want to sell more bluetooth earphones to people. they realize their mobile division is dying. so they decided to increase their audio division's profit to balance the mony-loss of their mobile division
Why Sony sharing their precious LDAC technology for those android OEMs/follower? Because the follower is not innovative on audio technology lol
Popular articles
Popular devices
Electric Vehicles