Counterclockwise: the first app store
Peter, 08 July 2018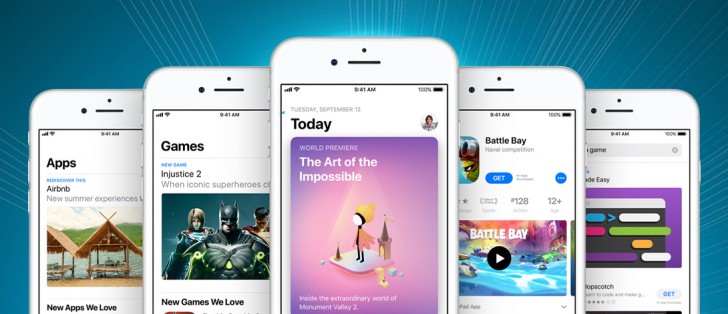 The Apple App Store just turned 10, a year after the iPhone got into the double digits. That's because the App Store was introduced with iOS v2.0 (actually, it was iPhone OS back then). So, this is a good moment to talk about how app stores came to be.
The one on the iPhone isn't the pioneer, actually, but Apple is curiously connected to the first app store – the Electronic AppWrapper. EAW began life as a print catalog in 1991, but soon started including CDs. Each disc would have apps, music and other media which were encrypted – you had to pay to unlock them.
Keep in mind that the first web browser was also introduced to the general public in 1991, the Internet wasn't ready to download full apps. As for the connection with Apple, EAW distributed NeXT software, that's the company that Steve Jobs founded after leaving Apple. It was later acquired by Apple and the NeXTSTEP operating system was used as the basis for MacOS X, iOS and the software running on the Apple Watch and the Apple TV as well.
In the past cassette tapes were used to store programs typed into 8-bit computers. So people had the obvious idea – what if we play the tape over FM radio and have folks at home record it? BASICODE and other standards did just that – broadcast apps wirelessly over radio. And that's not even the weirdest way to distribute apps, before CDs were a thing some magazines experimented with vinyl records!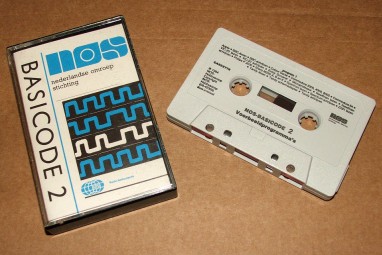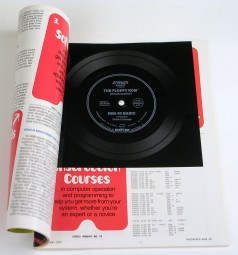 Programs could be broadcast over radio and recorded • Before the CD-ROM there was the floppy ROM
But those are missing a key part and are not true "app stores", they are just ways to distribute free apps. A "store" implies buying products and that's the innovation brought by the Electronic AppWrapper.
1998 saw the first web-based app store for mobile devices – PDAs that ran Palm OS, Windows CE or EPOC. The service was called Palmix and was launched by Information Technologies India. You can see an early version of it through the WaybackMachine.
Next up was NTT's i-mode – a phone Internet service for web browsing, emails and downloading apps. That last part came a couple of years into i-mode's existence and was called "i-appli". It allowed phones to download and install Java applets.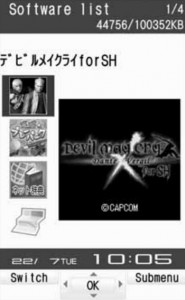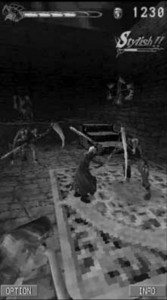 Browsing i-mode's i-appli store • You could download Devil May Cry!
Then in 2001 carrier Sprint introduced "Ringers & More", which as the name suggests focused on downloadable ringtones, wallpapers but also J2ME apps. There were also independent services like GetJar from 2004, it also served J2ME software.
J2ME was the main software platform on featurephones, but smartphones at the time could run it too, making it the common ground between the two types of handsets (which in turn made it attractive to developers wanting to reach a wide user base).
Let us fast forward to the first store on the iPhone – no, it's not the App Store. Installer.app let users with jailbroken iPhones download and install apps and even tweaks to iOS. That was back in 2007, before Apple admitted that web apps won't cut it. But it wasn't quite a store as all the software was free.
Then came Cydia that did support paid apps and ran on iPhone OS 1.1. That was in February 2008, Apple wouldn't release the iPhone OS 2.0 (which finally brought the App Store) until July of that year. As you can imagine, Cydia was often used to get paid content for free, but it also housed software that Apple didn't want in its App Store (e.g. it wasn't keen on emulators that can load external game ROMs).
App stores are hugely successful on mobile, but haven't changed the habits of PC users - downloading installers from the Internet is still more common, as is installing from a DVD or USB flash drive. Microsoft would love it if you used its store on Windows 10, but despite some cool apps and free content, people mostly avoid it (maybe the focus on UWP apps doesn't help).
Mobile has proven a more fertile ground for app stores - big phone makers have their own (sidestepping Google) and even Amazon has one. As a solid source of revenue - and the sheer convenience for users - the app store will be with us for a long time.
Related
Anonymous
09 Jul 2018
Mkc
No mention of nokia store..and stores for Windows Mobile?
Popular articles
Popular devices
Electric Vehicles