Counterclockwise: the rise of the metal phone
Peter, 22 April 2018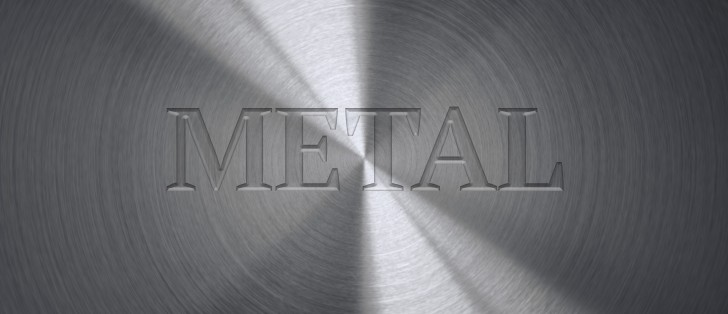 Phone makers have converged on one design for premium models – a metal frame sandwiched between two panes of glass. It's a practical choice, the metal gives rigidity to the thin, long phones while glass lets radio waves and wireless charging through.
The number of phones that incorporate metal in their build has been rising in recent years. While some phones use plastic for the back instead of glass, the chart below shows that glass is by far the most typical choice.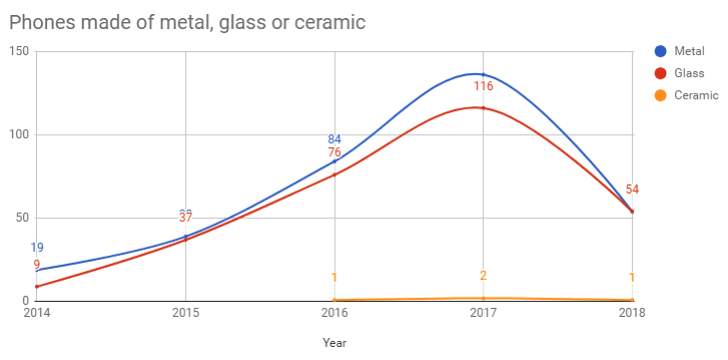 It's interesting to see companies experiment with ceramics instead of glass. Some ceramics are transparent to radio waves just like glass, but they are harder, which makes them more difficult to scratch. Xiaomi's Mi Mix phones use microcrystal zirconium oxide ceramic. Zirconium oxide is used for making ceramic knives, which lose their edge much slower than metal knives. Of course, if you have one you know how easy they are to crack. Remember that hardness doesn't equal toughness.
There are some oddballs out there too, like the Sony Xperia XZ1 Compact, which used glass fiber reinforced plastic for its body. And who can forget the Nokia 8800 Carbon Arte, which got its name thanks to the carbon fiber panels attached to its titanium frame. We can understand why titanium isn't used often, but we have to wonder why carbon fiber didn't catch up.
Note that we counted both aluminum and steel frames, however, steel is rarely used in phones. It is surprisingly common in smartwatches. though. Interestingly, ceramic is also more popular in smartwatches than in phones. And, of course, there's the occasional wood panel or a leather back, but those are decorative rather than structural elements.
What materials would you like to see in the future? More ceramics, something else entirely or is it metal + glass forever?
Related
AnonD-755797
30 Apr 2018
Tqf
They don't use carbon fibre because it blocks RF signals almost as well as metal due to the tight weave of the carbon fibres. That's why you rarely see it used in phones or phone cases.
Metal phones are nothing even close to new. In 2008 I had the Nokia E71, aka The Messenger of Steel. It never broke. After that came the E6. Also stainless. Also never broke. And that one had a Gorilla Glass display. Ceramic phones are interesting, ...
Anonymous
24 Apr 2018
vV5
Polycarbonate for back cover is very easy scratched, unless it has paint with a layer of protection shield. Corning Gorilla Glass is more durable to protect from scratch and protect against drops higher than ever, surviving 1.6-meter, shoulder-...
Popular articles
Popular devices
Electric Vehicles