Counterpoint: Mediatek increases its lead in smartphone chip maker race
Yordan, 16 December 2021
Counterpoint Research posted its quarterly analysis on the smartphone SoC shipments. The data showed Mediatek increasing its lead over Qualcomm in the July-September 2021 period, while Unisoc was another big winner, reaching double digit market share and surpassing Samsung for fourth place. Unsurprisingly, HiSilicon is continuing to lose ground and now holds a mere 2% slice.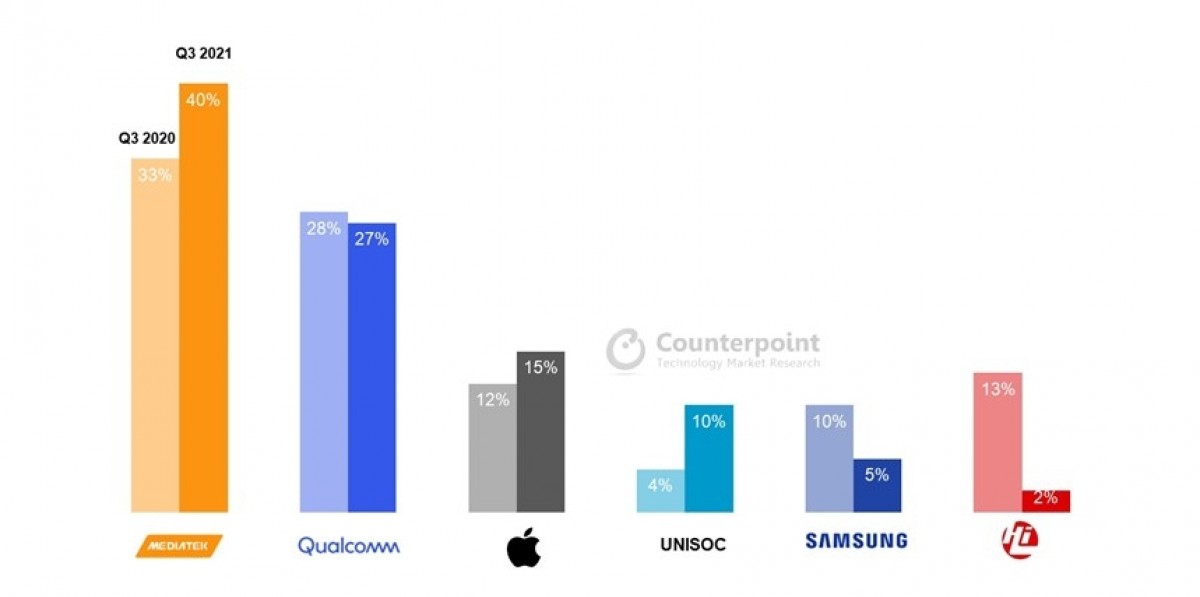 Global Smartphone AP/SoC Shipments Market Share, Q3 2020 vs Q3 2021
Mediatek managed to move so many chipsets primarily because of the high demand for 4G SoC. The current shortages in the world of 5G chips helped the Taiwanese company which provided 2 of every 5 smartphones with a chipset.
The 5G market was lead by Qualcomm, despite the supply chain issues. Qualcomm managed to grab a massive 62% share of chips with the NR connectivity primarily because it was able to get dual contractors for manufacturing of key components, including its Snapdragon 8-series chips, as well as the premium 5G modems.
The massive increase was also driven by the seasonal demand for new iPhones as Apple launched the iPhone 13 series in September, for which Qualcomm supplies the modems.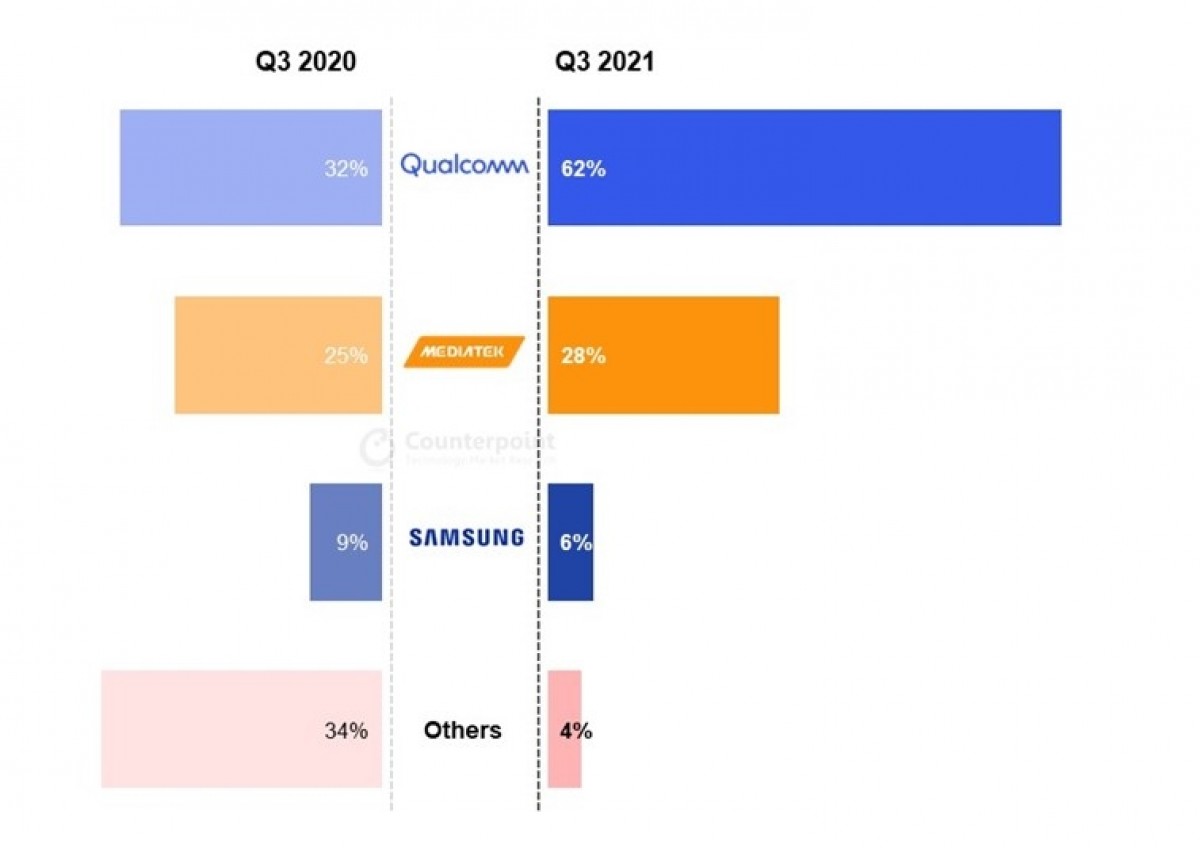 Global 5G Smartphone Baseband Shipments Market Share, Q3 2020 vs Q3 2021
Apple maintained its third position in the smartphone chip world. Component shortages will affect the company when the Q4 data is out in three months.
Unisoc managed to record a third consecutive quarter of growth for two reasons - securing partnerships with companies such as Realme, Motorola, ZTE, and even Samsung; the other being selling chips to Honor - a brand that used to rely on HiSilicon platforms.
Related
Still nice to see Mediatek be near the top. And now India start making their own chip to, this can only be a good thing. Indian mobile tech know what they are doing 🙏🏻
it won't just be on China. Currently its China that's taking the lead and would have been if there wasn't anything done to counter it. Given any other country that is able to advance further than that one making unfair calls, it wo...
Y'all have been saying this for years
Popular articles
Popular devices
Electric Vehicles