Counterpoint: US smartphone market remains flat in Q4 2021
Ro, 29 January 2022
Counterpoint research published its US market analysis for Q4 last year and for the most part, it has remained steady with a modest 2% growth. Analysts cite supply constraints, delayed launches and in-store restrictions are the main reasons. On the other hand, strong carrier promotions were able to counteract the negative impact of the aforementioned issues.
Of course, Apple remained on top of the market with 57% share in the quarter with 17% growth compared to Q3, mainly due to strong iPhone 13 sales. The Pro versions performed particularly well. Samsung sits comfortably in second place with 11% year-over-year growth, but it could have been much better if it wasn't for the Galaxy S21 FE delays. The well-performing Galaxy A series were there to save the day.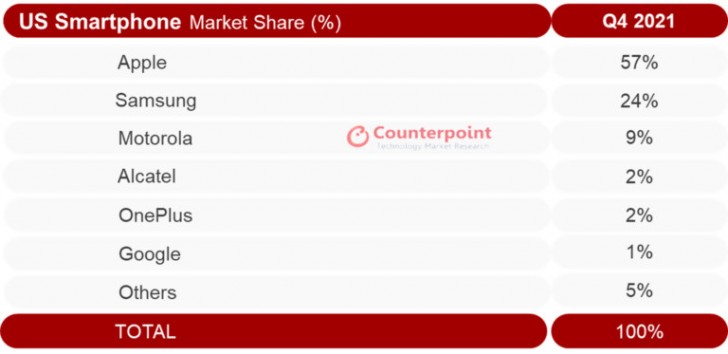 Motorola is breaking some personal bests delivering a large number of smartphones, with sales surpassing its own record in Q4 2019. In fact, the Moto G Pure was in the top three best-selling handsets in the market.
OnePlus' performance stands out from the crowd and even though it's a bit behind Alcatel, it managed to overtake Google with a monstrous 524% year-over-year growth mainly due to the Nord series, which is available through carriers and Walmart.
Google recorded a 56% YoY increase in sales with the well-received Pixel 6 and 6 Pro devices.
Looking ahead, analysts think that tough times aren't over. The looming inflation, COVID-19 crisis and supply chain constraints will affect the industry throughout 2022.
Related
Ro, How much is apple growth compared to last year fourth quarter?
Anonymous
31 Jan 2022
7kk
to show how "well" apple is doing in their home country (or to please the readers), what else? I pity the situation there for anyone buying a phone
Anonymous
30 Jan 2022
4$X
Why you guys ( GSM) compared APPLE sales growth between the 4 th quarter to the 3 quarter , while all the other info is from the previous year 4 th quarter ? It can and probably does distort the reality
Popular articles
Popular devices
Electric Vehicles