CR: iPhone XR tops 2019 global best-selling chart, iPhone 11 comes in second
Michail, 27 February 2020
The iPhone 11 proved a real hit for Apple. The successor to the iPhone XR is doing even better than its predecessor,dominating sales around the globe.
According to the latest report from Counterpoint Research, the iPhone 11 was the second best selling phone in 2019 with 2.1% share of all global smartphone sales, trailing only the iPhone XR which commanded a 3% share. Keep in mind that the XR was available throughout 2019, whereas the 11 only came at the end of September.
The Samsung Galaxy A50 rounds out the podium with 1.8% of all global sales. Apple and Samsung continued their domination throughout the top-10 chart while Oppo and its A5 was the only other company in the global top-10 ranking as per CR.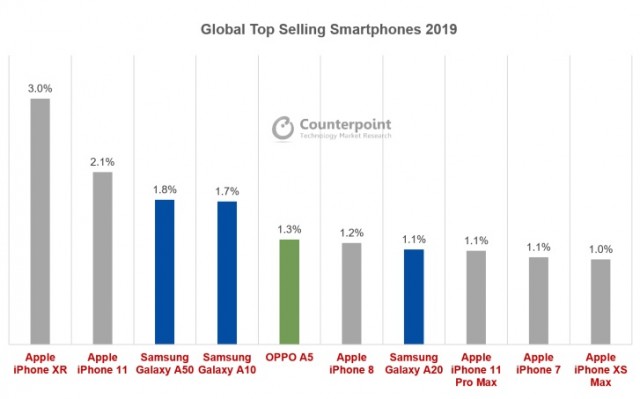 2019 Global Smartphone Top 10 Model Sales Market Share
Going on a per-region basis, Apple unsurprisingly dominated the North American market where it had the 5 best selling phones, headlined by the iPhone XR. In Europe, Samsung reigned supreme with the A50 followed by Apple with the XR and iPhone 11.
Oppo topped the charts in China with the A5 and A9 models and was also boasted the top-selling phone in the Asia Pacific region with its A5s. Samsung dominated the Latin America region with the Galaxy A10 and J2 Core as well as the Middle East and Africa market where it boasted the top-five best-selling smartphones.
To put the numbers into perspective the top-10 best selling phones accounted for 15% of all smartphone sales.
Related
Haha your so wrong dude. First off my Google pixel got 4 years of updates if thats poor than your blind. Second off Android barely had malware stop using your same claims isheep thrid off my friend owns a pixel 2 since launch and it never lags. But O...
Bro stfu your lying about using a android phone you sound like a apple fanboy. You are either being a huge liar or a troll. Android viruses?? That rarely happens to my friends. And laggy those are either trash speced androids or others. Instead of be...
Anonymous
01 Mar 2020
m5g
This might make you see a bit clearer: imore com / difference-apple-samsung-industrial-design
Popular articles
Popular devices
Electric Vehicles