Dell Streak review: Size does matter
Size does matter
GSMArena team, 05 November 2010.
Gallery's good but for the banding
Dell did a nice job customizing the Streak gallery, which hasn't been an Android forte so far. The Streak allows you to see full resolution images instead of displaying downsized version only we see in some other Android smartphones.
Dell also added some more eye-candy than usual with new 3D effects and some nice transitions. The different albums appear as stacks of photos, which fall in neat grids once selected. Each time you select a stack from the gallery (that is automatically named after the folder) the background changes to a blurred version of one of the images within.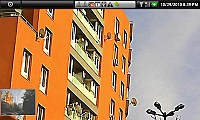 Full resolution images are loaded this time
As usual, locating all you images and videos and even Picasa syncing is seamless.
Scrolling full-screen photos is smooth and you can skip images without having to return to the default view. The pinch zooming is also available here thanks to the Dell Streak multi-touch support.
Our only problem with the Streak gallery is the very prominent banding. Obviously the gallery application doesn't support 16M colors and that makes blue skies appear as a series of wide bands, which makes photo browsing a lot less fun.
Limited video player
Tablets (and to a slightly lesser extent high-end smartphones) are expected to be good for watching videos on the go. Unfortunately the Streak failed to impress here, falling seriously short of most competitors – phones and tablets alike.
First of all, due to the limited codec support most of our test videos failed to run at all. There's no DivX, XviD, MKV or whatever – it's basically MP4 or bust with this one.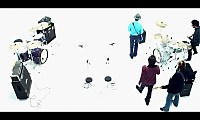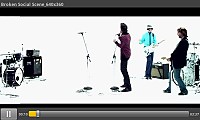 The video player is rather disappointing
And even if you are into converting your videos you won't be getting a stunning performance either. VGA @ 30 fps was buttery smooth, but performance started to degrade rapidly from that point on.
Of course with Froyo, things are expected to improve and with the Android Market at hand you can easily snatch a third party app to take care of those other codecs so it's not a lost cause at all. 3rd party solutions do imply a performance sacrifice but we do believe the extra oomph Froyo brings will make up for that.
Redesigned music player
The Streak music player got a new interface with two tabs on the start screen. The available filters (artists/albums/genres etc) are on the left, while recently added albums with their album art are listed on the right.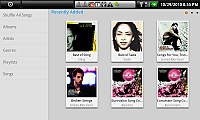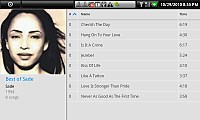 The music player is nicely redesigned
Once you select your preferred filter, the whole screen gets filled with relevant content. You will need to go back though to sort by a different filter. The Galaxy Tab does have a more comfortable solution – skipping that extra step.
There are very few options on the Streak player with equalizers completely absent. Searching for a song on YouTube or Google straight from the player is not enabled either. All you get here is shuffle and loop.
Very good audio quality
As is to be expected from a device with that kind of size and price tag, the Dell Streak did very well in our audio quality test. Its just as good as most of its competitors - both tablets and smartphones.
As you can see the Streak performs excellently when an external amplifier is used and there is only slight deterioration when headphones are attached. The stereo crosstalk reading took the biggest hit (but not as pronounced as on the Galaxy Tab), while the distortion increase is only detectable in lab conditions.
Check out the table and see for yourself.
| | | | | | | |
| --- | --- | --- | --- | --- | --- | --- |
| Test | Frequency response | Noise level | Dynamic range | THD | IMD + Noise | Stereo crosstalk |
| Dell Streak | +0.07, -0.47 | -84.7 | 84.6 | 0.013 | 0.070 | -82.5 |
| Dell Streak (headphones attached) | +0.07, -0.40 | -84.6 | 84.6 | 0.038 | 0.121 | -57.4 |
| Samsung P1000 Galaxy Tab | +0.02, -0.17 | -90.7 | 90.0 | 0.100 | 0.065 | -87.0 |
| Samsung P1000 Galaxy Tab (headphones attached) | +0.72, -0.14 | -90.4 | 89.9 | 0.018 | 0.360 | -53.4 |
| Apple iPhone 4 | +0.01, -0.07 | -90.5 | 90.6 | 0.0041 | 0.011 | -92.0 |
| Samsung I9000 Galaxy S | +0.03 -0.04 | -90.7 | 90.6 | 0.014 | 0.019 | -90.6 |
| Apple iPhone 4 (headphones attached) | +0.01, -0.07 | -90.4 | 90.4 | 0.0036 | 0.092 | -68.4 |
| Samsung I9000 Galaxy S (headphones attached) | +0.40 -0.12 | -90.7 | 90.6 | 0.018 | 0.329 | -43.3 |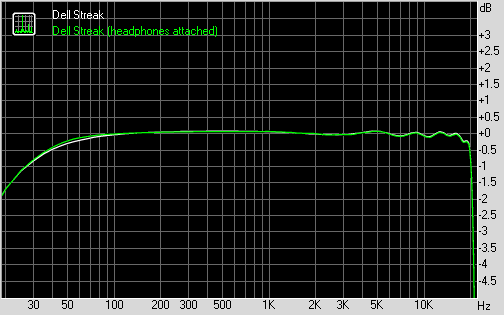 Dell Streak frequency response
"Too large and heavy for a phone" gotta love old reviews that couldn't get with the times.
Back then i loved that phone, the only issue ive got was the charging port was alway broking and wasent able to charge the phone, dell sent me 3 on warranty for the same reason until was discountiniued. Only if he where a usb devide that woupd have m...
The Dell Streak was an awesome phone!!! I got it when it came out in 2010 and everyone couldn't believe how big it was. The screen was 2x the size of an iPhone 4 and, in my opinion, was perfect! Construction quality was amazing, with metal on glass,...