Early testing shows iPhone 13 models charge in about an hour and a half
Victor, 25 September 2021
The new iPhone 13 family has officially been up for sale in over 30 countries for over a day now. We already have the first wave of early impressions and with every passing hour people are digging deeper and deeper into the new hot-ticket Apple items, doing things like teardowns. We have also started working on our iPhone 13 in-depth reviews, so stay tuned for those.
In the meantime, we came across some interesting early charging tests on the iPhone 13 family. Naturally, we'll have to do some testing of our own, just to be sure of the methodology. But, if everything checks out, it seems that the iPhone 13 Pro Max can reach up to 27W of PD charging, with a sustained charging session of about 27 minutes at a cool 26W of power, which then gets lowered a bit and is capped-off by about 25 minutes of trickle charge at 0.8W.
A full charge on the iPhone 13 Pro max reportedly takes around 86 minutes, from 0% to 100%, as per its own battery reading. As a reminder, it has a 4,373 mAh battery to top-off.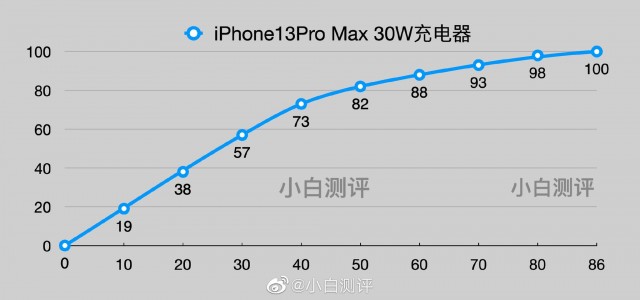 iPhone 13 Pro Max charging test
The vanilla iPhone 13 was tested with both a 20W and a 30W PD charger and managed to peak at around 21W of power draw during its charging cycle on the latter and 19W on the former. The total charging time with both chargers, however was right around 89 minutes, with the iPhone 13 trickle charging at around 0.7W. The 89 minutes, once again, were measured using the iPhone's own battery percentage. According to the tester, if left charging beyond that, the iPhone 13 actually continues to trickle charge for a total charging time of 107 minutes. As a reminder, the iPhone 13 has a 3,240 mAh battery.
Finally, the source tested the iPhone 13 mini as well. Its charging peaked at around 15W of PD and a full charge, again as reported by the phone itself took about 87 minutes. The iPhone 13 mini has a 2,438 mAh battery.
So, to sum up, if these numbers check out, it seems that Apple hasn't really upgraded the actual zero to full charging speeds on the new iPhone 13 family, instead opting for impressive consistency device to device and even across generations. There is plenty of trickle charge allotted on each model, which is good for long-term battery health.
Another potential takeaway from these numbers concerns the sort of PD charger you might want to pick up for your new iPhone 13, now that one isn't included in the box. A 30W or larger capacity one will be ideal for the iPhone 13 Pro Max, whereas you can safely opt for a 20W one for the vanilla iPhone 13 without sacrificing charging time. And the iPhone 13 mini should be good with an even smaller 18W PD charger. No word on the iPhone 13 Pro yet.
Related
Samsung user
04 Oct 2021
Ya6
The micro usb port tends to get full of lint or wear out after a few years. Try cleaning out the port with a needle and see if it helps. If that doesn't help, luckily the s6 can charge wirelessly if you buy a wireless charger.
The reality is that you obviously haven't used android phones recently. My kid has Iphone 11 and only uses it for messaging friends and stuff, maybe sometime to listen to music. I j...k around my Realme X3 superzoom entire day, messaging, browsi...
AnonD-492870
29 Sep 2021
4Ib
I love my g8x. For 120 bucks is a better buy than any iphone to date for what it is. However I am just one perspective. To me a mobile phone is a tool, not a toy, so I cannot see spending over 200 on one and always prefer to buy used. This means ...
Popular articles
Popular devices
Electric Vehicles