ExoLens announces accessory lenses for the iPhone 7 - Pro and Prime ranges
George, 06 October 2016
ExoLens has announced two new ranges of iPhone accessory lenses to add versatility to the cameras of the iPhone 7, iPhone 6/6 Plus and iPhone 6s/6s Plus. The Pro range comes with 'professional-grade' Zeiss optics, while Prime lenses aim to meet a more modest promise to assist those 'looking to create unique, artistic and candid snapshots'.
The Pro range starts with a Zeiss Mutar 0.6x Asph T* Wide-Angle lens for landscape photography. There's also a Zeiss Mutar 2.0x Asph T* Telephoto lens kit meant for portraiture. It will be interesting to find out how that compares to the iPhone 7 Plus' own telephoto camera, itself effectively providing 2.0x magnification (mind you, the iPhone 7 Plus isn't mentioned in the list of devices supported by the ExoLens products).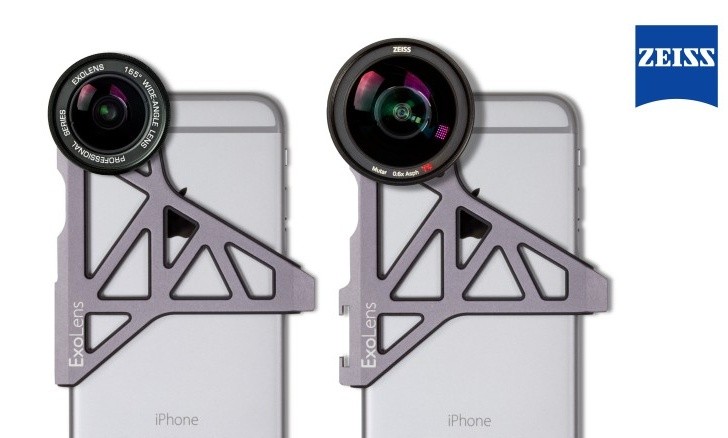 Existing ExoLens accessories
Then there's the Zeiss Vario-Proxar 40-80 T* macro-zoom lens. The accessory will allow you to fill the entire frame with tiny objects, measuring 3cm to 12cm, with focus distances between 3cm and 8cm.
The Pro Wide-Angle lens and mount kit will be priced at $200 minus a cent, while the Pro Telephoto Kit will be $50 more expensive. Both of these will be available starting December. The Pro Macro-Zoom Kit will hit the stores in January, priced at $199.99.
The Prime range will consist of a 0.6x wide-angle, 2.0x telephoto, and a super wide-angle/macro combo. These will be available in Q1 2017, but prices remain to be detailed.
Related
Im eyeing V20 or G6. v20 lacks the look but by reviews its a great phone audio quality, build quality, camera, second screen are all great but battery life is bit on the low side, and you're right V20 is wayyyyyyyyyyyy better than G5, so its either V...
well, I haven't had any overheat issues, and remember all Z5 has SD810 (2nd gen) not the same one found in Z4 (Z3+).. that's the 1st gen SD810 that had overheat issues... I had premium in my hand, and i'd say it's AWESOME and really PREMIUM and crisp...
z.series were great too bad they came to an end I would love to get a z5premium but sd810 overheating besides Im more into LG
Popular articles
Popular devices
Electric Vehicles