Faster Firefox Quantum browser is now available
Vlad, 14 November 2017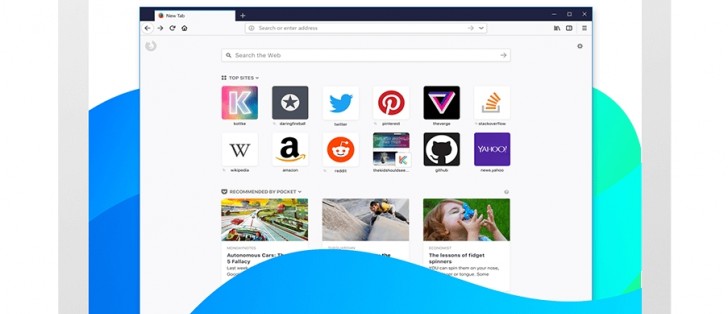 The new Firefox Quantum web browser is now out of beta. Mozilla, the not-for-profit organization that makes Firefox, claims Quantum is twice as fast as its original browser was six months ago. It achieves the speed boost thanks to a new browsing engine. It also has a "just right" multi-process architecture that allows it to consume around 30% less RAM than Chrome. Tab switching should be faster than ever too.
Quantum has a new minimal design. The browser lets you take and share screenshots without using a third party app or add-on. The Pocket service is built right into the toolbar, for easy saving stuff for later. The new browser's library is where you'll find all your favorite content such as Pocket saves, bookmarks, browsing history, screenshots, and downloads - all of these are accessible in one spot.
Of course Firefox still supports some extensions and themes, but many of the existing ones will need to be updated to work with the new browser version. Additionally, the toolbar is customizable through drag and drop. As before, you can sync passwords, bookmarks, and other data between Firefox installs on different devices, and the Send Tabs feature lets you instantly share open tabs between your computer, mobile, and tablet.
Firefox Quantum is available to download now at the Source link below for your computer or iOS or Android device.
Related
Anonymous
18 Nov 2017
Y7u
I think I'll stay with Edge for now its really grown on me, it's very fast and consumes way less RAM than Chrome ever did.
Anonymous
17 Nov 2017
6XU
New version is great. Improved performance and sleek new look. Will keep Opera browser as well. Bye bye Chrome.
Anonymous
17 Nov 2017
81L
Chrome and his Dino (Tyrannosaurus) :D
Popular articles
Popular devices
Electric Vehicles