FCC announces it will hold largest spectrum auction to accelerate 5G development in US
Enrique, 13 April 2019
On Friday, the United States FCC has announced that it will take a couple of measures to expedite the development of 5G in the US. The race to lead the 5G race is one that President Trump fully intends to win, especially with the economic boosts and jobs that come with bringing high-speed internet to customers in rural parts of the US.
It's a race our great companies are now involved in. According to some estimates, the wireless industry plans to invest $275 billion in 5G networks, creating 3 million American jobs quickly, and adding $500 billion to our economy. – Donald Trump
The measures haven't yet been put into place, but today's announcement proposes the bidding procedures for the biggest auction of spectrum in US History. The bands to be auctioned later this year include the Upper 37GHz, 39GHz, and 47GHz spectrum bands.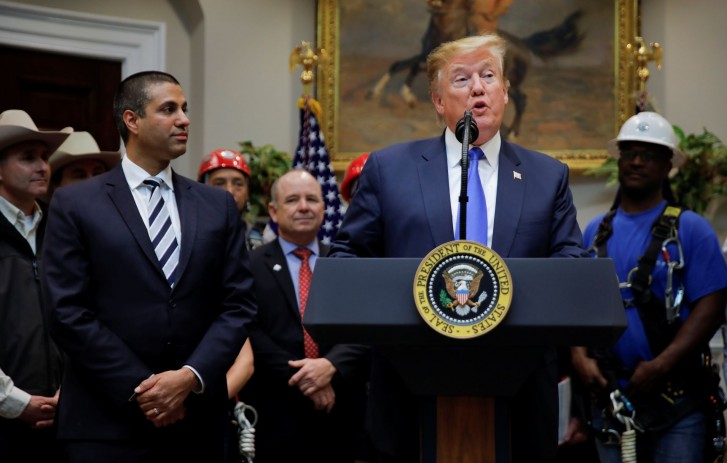 Carlos Barria | Reuters
According to the FCC, this auction will "promote the development of 5G, the Internet of Things, and over advanced spectrum-based services. The FCC plans to begin auctioning available spectrum starting on December 10.
To accelerate and incentivize these investments, my administration is freeing up as much wireless spectrum as needed [...] removing regularity barriers to the buildout of networks. The FCC is taking very bold action, bolder than they've ever taken before, to make wireless spectrum available. – Donald Trump
The proposed new regulations would allow "Fixed Satellite Service operators to provide faster, more advanced services to their customers" by employing a 50 GHz band. The current rules "impair the ability of users to deploy small, next-generation networking devices on their own property," The proposed changes would allow private property owners to install "hub and relay antennas" to expand the reach of 5G.
Pertaining to the use of Huawei equipment in the US, FCC Chairman Ajit Pai addressed security concerns, but tiptoed around actually mentioning Huawei, the Chinese telcom company. Here's what he told CNBC.
We believe that the security and reliability of 5G is absolutely important, not just as a matter of national competitiveness, but also as a matter of national security, [...] I have been very encouraged by my conversations with European allies [...] about the importance of security and 5G networks. – Ajit Pai
Verizon has already launched the first US 5G network in Motorola's home market of Chicago, IL last month. The only smartphone to currently support the network is the Moto Z3 with the bulky 5G Moto Mod.
Related
Yep. It's all about the money for them
Adul Al Salami Kebab
15 Apr 2019
nrX
Would have had it by now if they just used the Huawei stuff... ^_^;
Popular articles
Popular devices
Electric Vehicles