Camera test: iPhone 12 Pro Max vs. Mate 40 Pro vs. Xperia 1 II vs. Galaxy Note20 Ultra
GSMArena Team, 27 November 2020.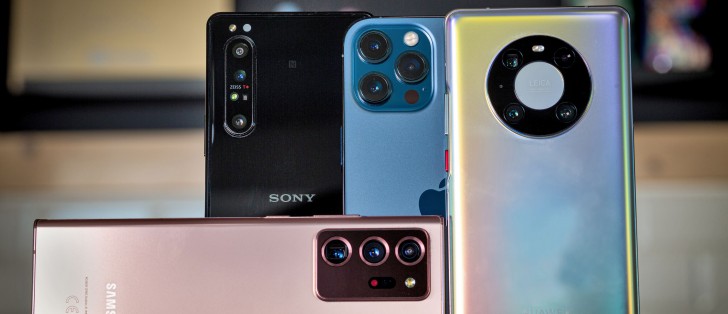 Selfie camera hardware
Over on the front, these four phones adopt varied approaches as well. We have just one autofocusing selfie camera in this bunch, focal lengths span a fairly wide range, and some extra bits can be found here or there.
The iPhone 12 Pro Max has another trick to justify its notch - it's using the structured light 3D scanner for depth mapping in portrait mode. That aside, the actual camera uses a 12MP sensor with 1.0µm pixels and a 23mm f/2.2 lens. It's among the fixed-focused cameras this one.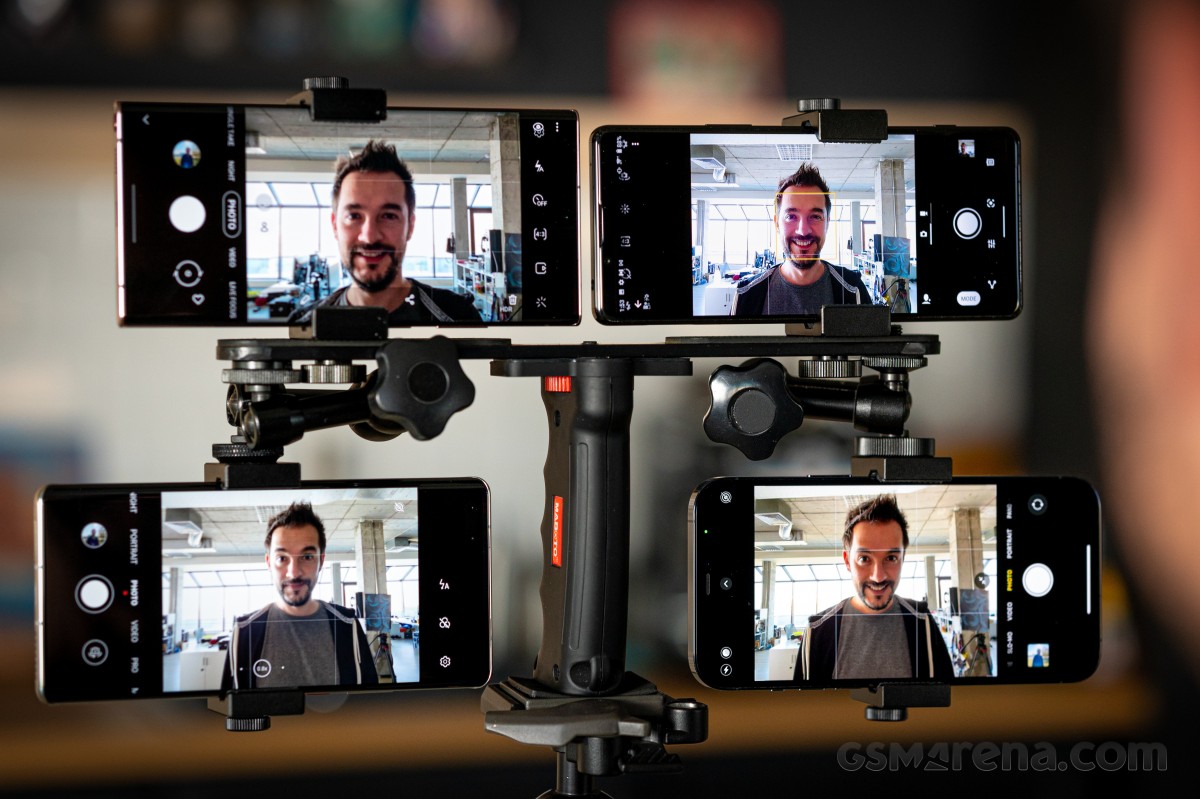 So too is the Mate's selfie camera, only this one is 13MP. More importantly, it has a very wide 18mm equivalent focal length lens (f/2.4 aperture) that lets you capture more in the frame - be it friends or surroundings. The Mate 40 Pro also has a 3D depth mapping solution, but it is based on a time-of-flight camera.
There is no such thing on the Galaxy Note20 Ultra, but it has a unique feature of its own - it's the single selfie camera with autofocus in this group. The only lens with a moving element here has a 26mm focal length and an f/2.2 aperture. At 10MP, it's the second-lowest resolution sensor, but they are fairly big 1.22µm pixels, and do you really need more than 10 million of them?
Or 8, do you need more than 8MP selfies? Sony replies with a 'no' and fits the Xperia 1 II with an 8MP camera, the least impressive of the bunch. It's got a 24mm lens with an f/2.0 aperture.
Camera apps
The camera apps on these phones all offer the same general functionality and allow for easy mode switching, flipping between the front and rear cameras, and operating the various modules. Some let you do some things more easily, others get in the way a bit - we haven't really found one perfect app that hasn't annoyed us in one way or another.
Take the Mate's zoom selector, for example. While it's reasonably accessible when holding the phone in portrait with the right hand, getting at it when using the Mate with the left hand or in landscape in either direction invariably requires another hand (or a nose, depending on the situation). It can be and it is done better on the others.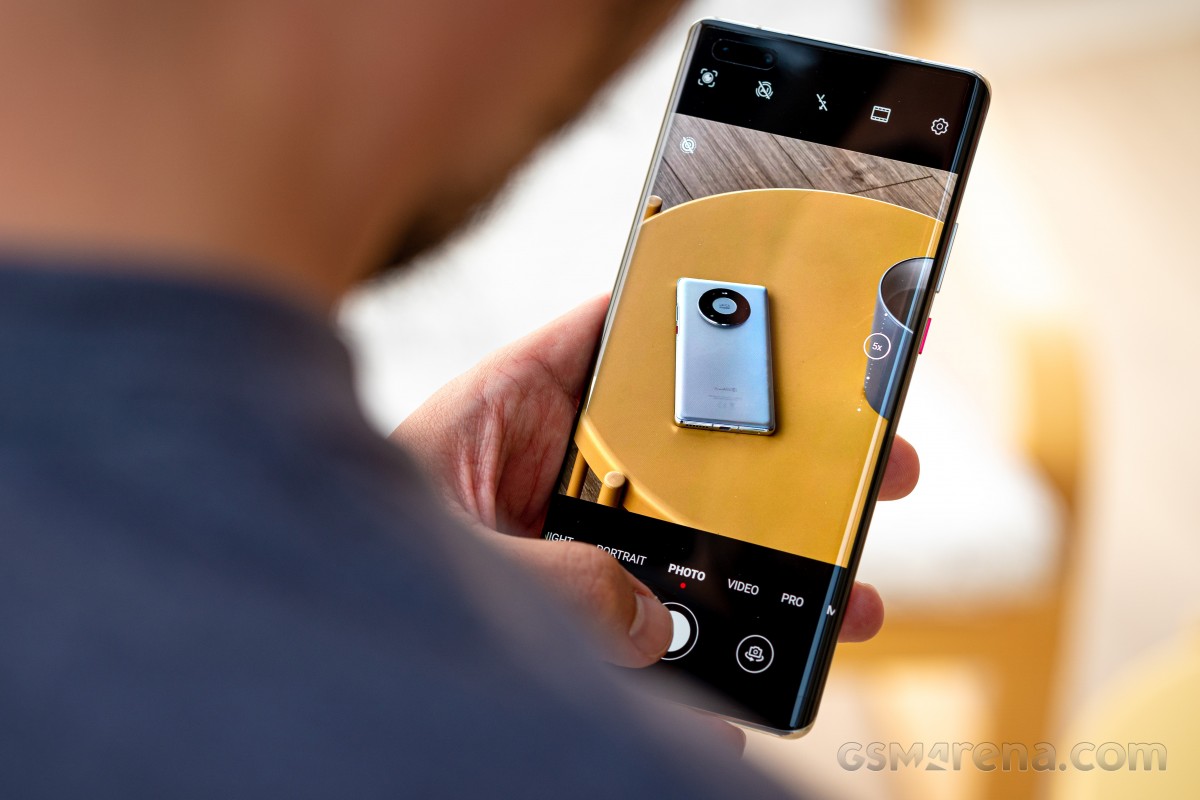 A similar ergonomic oddity is the iPhone's in-viewfinder menu that you need to open with a tap on the far end of the screen and then actually go back to the near end to dial in your input. Another one is controlling Night mode, which on top of its similar far-near operation requires a tap and a swipe to disable - not that you'll really want to disable it with any amount of frequency.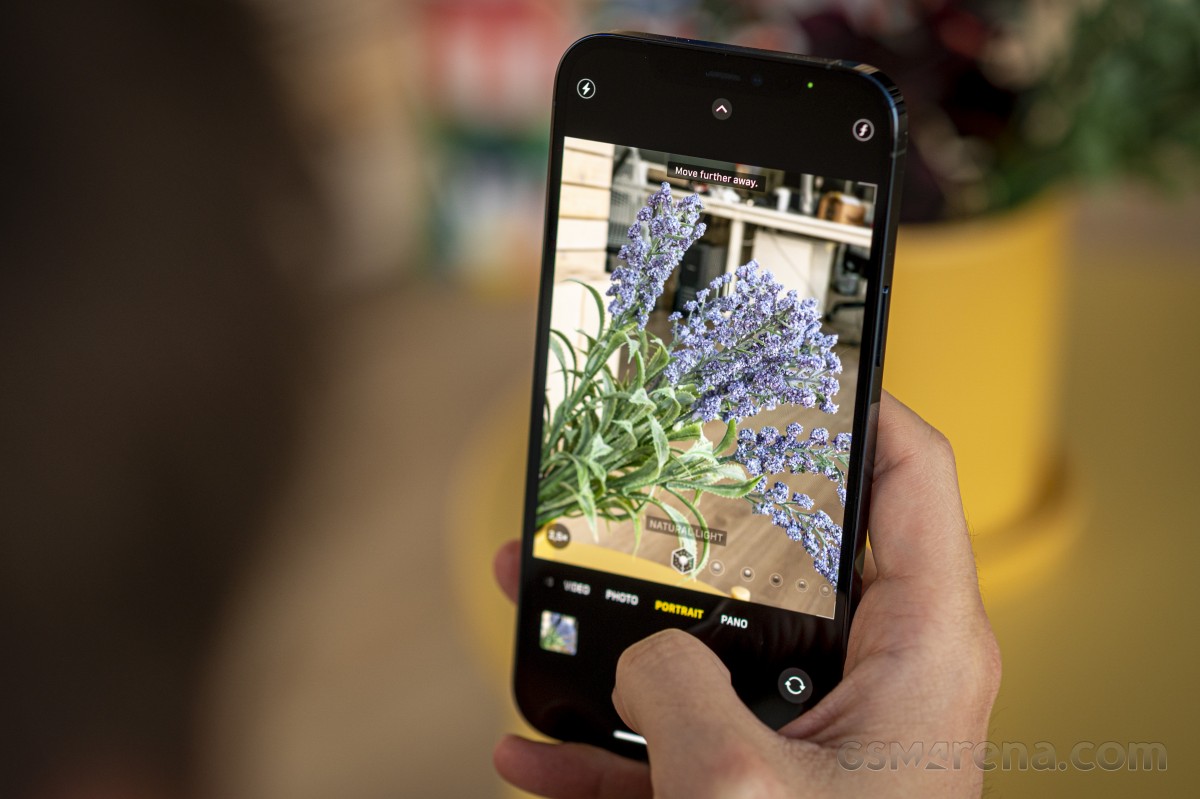 The Galaxy isn't perfect either. Its zoom operation is flawed, too, with additional, non-camera-native 'x' presets popping up when you press on the tree selector. Then if you tap on one of those presets, the highlighted tree can show you a misleading zoom level.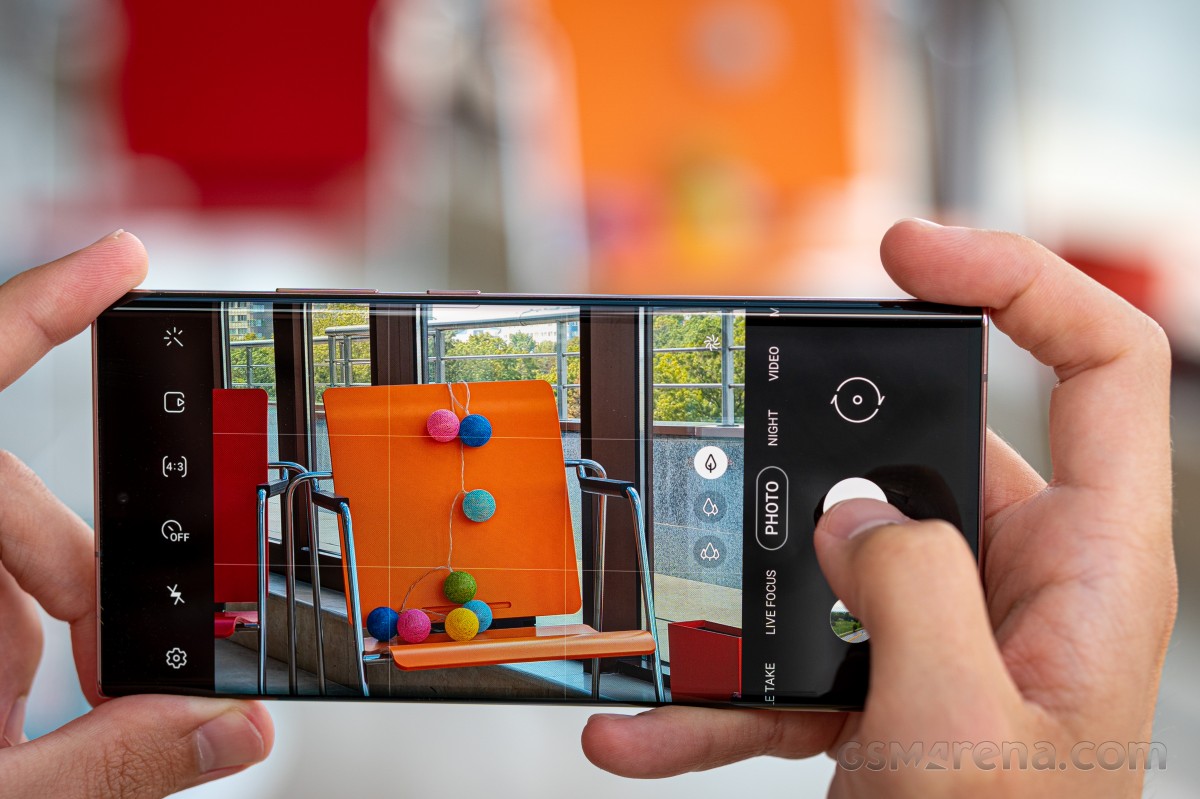 We have a gripe with the Xperia's operation, too, of course. Tap somewhere to focus or bias the exposure, and a slider appears for exposure compensation in place of the zoom selector - why not right next to it, or better yet, next to where you tapped?
Mind you, that's just one of the Xperia's camera apps. It has two more, Photo Pro for stills and Cinema Pro for video recording. You should head over to the Xperia's review for more on those, but let's just mention here in passing that they both have their advantages and weak points.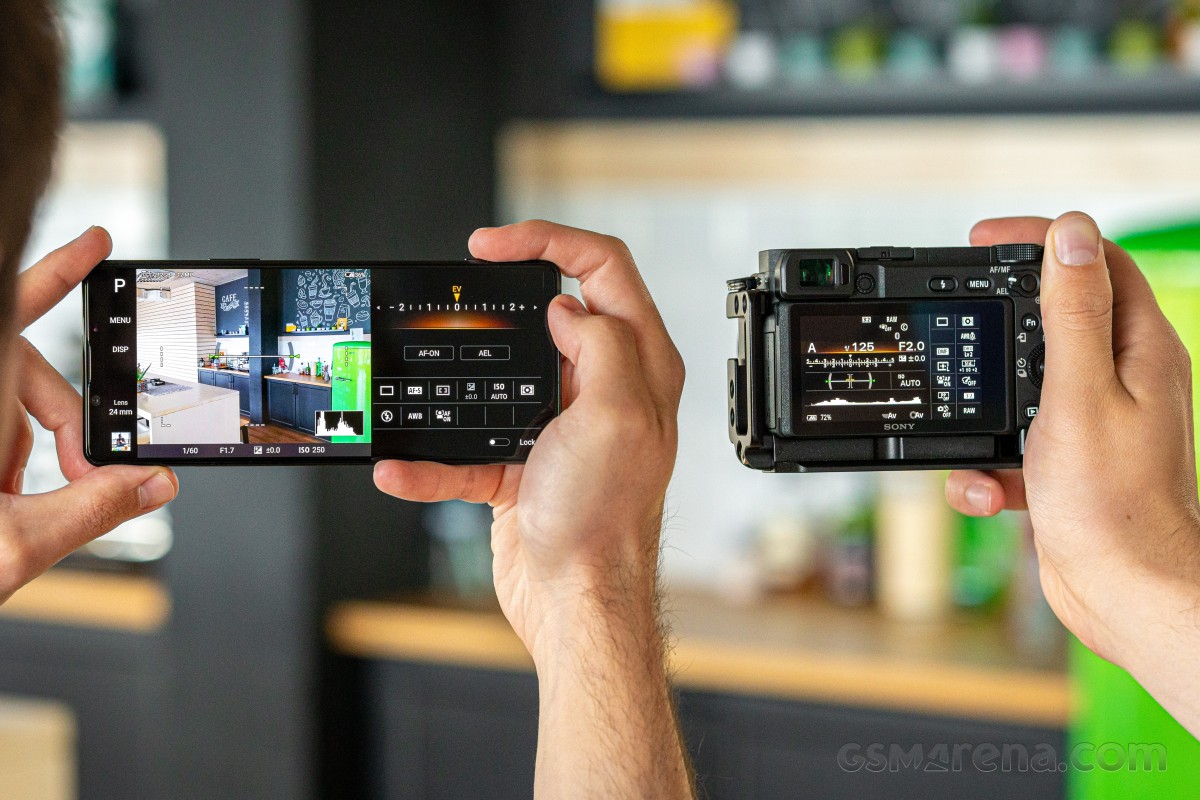 With winter on our doorstep, operating your phone's camera with gloves is a pressing (wow, that pun really snuck up on us) concern, at least to this one reviewer here. He insists the Galaxy is the best of the bunch for this use case since it lets you launch the camera with a double press and even switch to selfies with a further double press. The volume keys serve as shutter release, as usual.
The Mate, too, will launch its camera app with a double press on a physical button (volume down) and then operate the shutter with either volume key. The Xperia has the dedicated shutter button for that (a nice feature that feels like a relic at times), and it can also use the volume rocker for capture. The iPhone is the least gloves-friendly - no mechanical way of launching the camera, though the volume rocker does work for shutter release. No way to mechanically switch to selfies on any of these three, however.
Okay, let's look at some pictures, finally.
Anonymous
03 May 2022
fD9
imma tell you what, i know a thing or two about taking photos and i would take a proper camera over this
Anonymous
06 Mar 2022
Y7I
That's why I have a Sony RX100 VI for trips and outings when I want better pictures than with my phone. I can zoom in optically a lot and it has a nice picture quality. No need for a DSLR unless you are a paid photographer or need it for work or...