Flashback: Samsung Blue Earth and the short story of solar-powered phones
Peter, 03 November 2019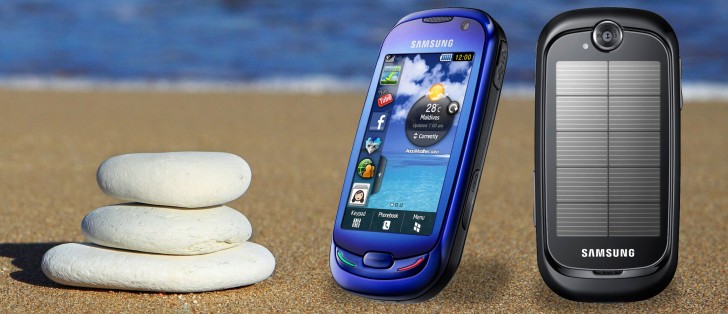 As concerns over global warming rise, the topic of recycling and renewable energy sources are commonly in the news and social media. This brought back memories of a phone that encapsulated both – the Samsung S7550 Blue Earth.
The most distinctive feature of the phone was the solar panel on its back. It was a cool look and more importantly, it had a practical application – an hour in the sun charged the battery enough for a 10 minute phone call (on a 3G network) or two extra hours of standby.
The solar panel was integrated into the back cover and connected to the phone using pogo pins. There was a small blue LED that lit up when the phone started charging from the sun, assuring you that you're using clean energy.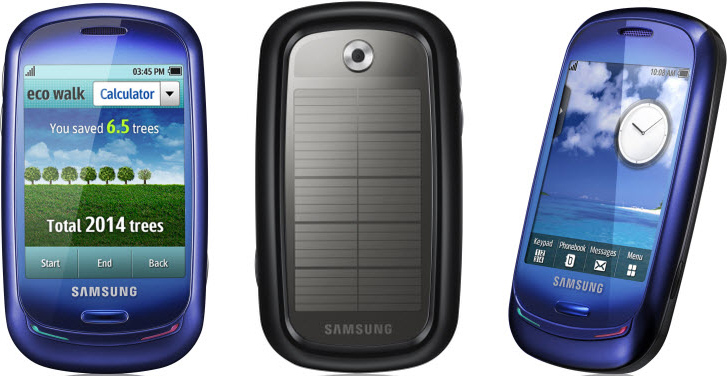 The Blue Earth was eco-friendly from birth. It was made from recycled PET water bottles and arrived in a box made of easy-to-recycle paper and printed with soy ink. Better yet, Samsung gave you instructions of how to reuse the box as a photo frame or a pencil box (you know what they say, "reduce, reuse, recycle").
The phone had a one-click Eco mode that adjusted screen brightness and Bluetooth settings to stretch out its battery life. But it also encouraged you to use less energy too.
As many phones today, the S7550 had a step-counter but instead of calories burned, it calculated how much CO2 would have been released in the atmosphere if you drove a car instead of walking. It kept track of your "high score" and nudged you to try and beat it.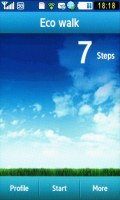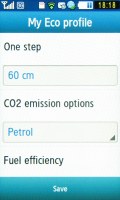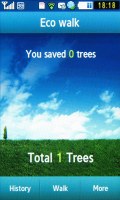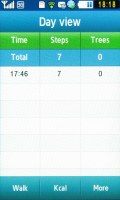 Blue Earth's step counter encouraged you to reduce your CO2 emissions
The Blue Earth was not Samsung's first solar phone – that was the E1107 Crest Solar, which came a few months earlier. It wasn't the first to use recycled materials either, that was the E200 ECO from the previous year. But both of those were basic feature phones with limited functionality.
In contrast, the Blue Earth was a proper touch phone – not a smartphone per se, but it ran TouchWiz, which was halfway there.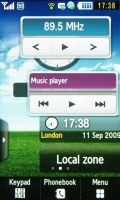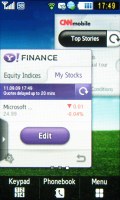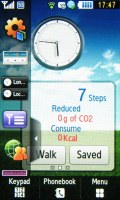 The Blue Earth ran TouchWiz with widgets and multitasking
The phone packed a 3" touchscreen (240 x 400px) and let you browse the web over 3G or Wi-Fi. It featured a blogging app and could send MMS messages with photos shot with the 3.2MP camera on the back.
There was an MP3 player and Bluetooth with A2DP, plus a 3.5mm headphone jack with an FM radio receiver. There was even a decent document viewer that could handle Word, Excel and PDF documents.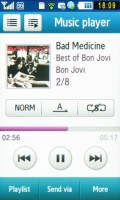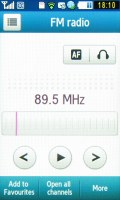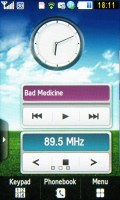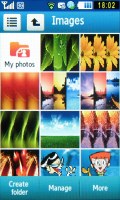 The Blue Earth was a little entertainment machine
You may think that the Samsung Blue Earth would be the perfect phone to have if you're stuck on a desert island or going off-roading into the wilderness – with the solar panel, you'd never run out of juice, plus you could have up to 16GB of music (if you remembered to load up your microSD card) and the few games that came pre-loaded.





With the Solar panel users can always count for enough charge to make a call
Also, there was a GPS receiver and Google Maps. However, that was before Maps supported offline mode, so that wouldn't be much help unless you had solid 3G coverage. The Maps app didn't support navigation either, so you would have had to find your own way back to civilazation.
That's a theory we wouldn't want to test ourselves, however. For one, the phone wasn't waterproof. And games and music would drain the battery faster than the solar panel could refill it.
Castaway daydreams aside, the real disappointment comes from the fact that solar powered phones never caught up. There was the Sagem Puma Phone from 2010, but that seems even less popular. At least recycling caught on – you'll hear many brands mention using recycled materials to build the phones as well as recycling old phones.
Related
AnonD-1046991
18 Jun 2022
G}R
This is better than environmentally controversial iPhone that I remember that
Anonymous
08 Nov 2019
0IT
Are old flashbacks deleted? When I choose flashback tag or search, only 10 results are shown.
Popular articles
Popular devices
Electric Vehicles