Galaxy S5 LTE-A Special Edition has a different back cover
18 June, 2014

The Samsung Galaxy S5 LTE-A is a recently announced GS5 variant that'll be endemic to the South Korean market. In addition to the new and improved QHD screen, better connectivity, and improved processor, it looks like the device will have a Special Edition that features an aesthetic change as well.
The LTE-A Special Edition will be sporting a brand new posterior. Gone is the perforated look, and it is now replaced with a diamond-like textured back cover that seems as if it would provide a better grip.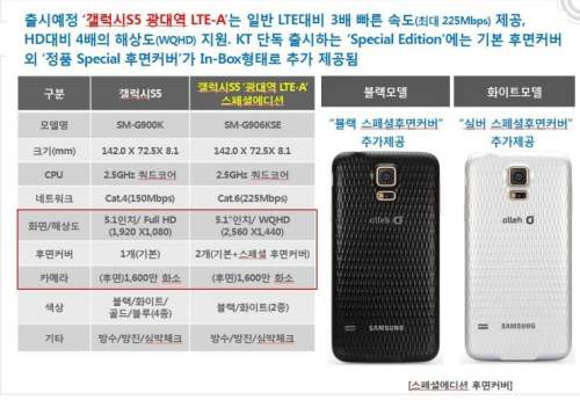 Now this version seems to be peculiar to Olleh, a S. Korean cell provider. But if you're a big fan of this new look, you may be able to scrounge around the internet and find a manufacturer that sells custom back covers, akin to this one, for the S5.
Thanks to Andrea Odone for the tip!
Related
Seriously Sammy..?!! It looks like a snake scale to me.
To everyone who bought the 1st version of galaxy s5 thank you - samsung
Popular articles
Popular devices