Garmin unveils Fenix 7 Pro and Epix 2 Pro, all have solar cells, flashlights and 32GB storage
Peter, 01 June 2023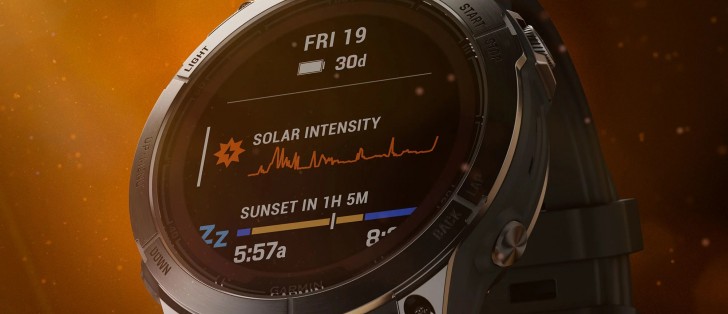 Garmin has introduced Pro models for its Fenix 7 and Epix 2 series, which help to simplify the lineup as well as introduce new options. The new Epix 2 Pro models remain at the same price as the originals, the Fenix 7 Pro got pricier.
The good news is that the Garmin Epix 2 Pro comes in three sizes (the Epix 2 was available in 47mm only). This means can pick up a 42mm, 47mm or a 51mm model with 1.2", 1.3" or a 1.4" display, respectively.

Garmin Epix 2 Pro
The Epix 2 Pro and Fenix 7 Pro are fairly similar in their capabilities, the key difference is the display. The Epix line uses an AMOLED display, while Fenix uses Memory-In-Pixel (MIP) displays, that are more power efficient, especially in Always On Mode. That said, the difference has shrunk between the two and the AMOLED display has better fidelity.
Looking at the 47mm models, the Epix 2 Pro can last up to 16 days in smartwatch mode, 6 days if you have Always-On Display mode enabled. GPS tracking will deplete the battery in 42 hours or in 32 hours if you enable the more accurate multi-band mode. The Fenix 2 Pro promises 22 days of battery life, 73 hours of GPS tracking or 48 hours with multi-band enabled.
We mentioned that Garmin simplified the line-up, here's how – all models have a solar cell on the front, it's not a separate option anymore. Also, all models have 32GB of storage, which can be used for offline maps as well as offline music. Plus, multi-band GPS is available on all models. Multi-band and 32 gigs of storage used to be exclusive to the Sapphire tier.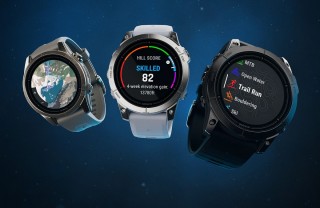 Now standard in the Pro series: flashlight • new maps and training modes
You can still pick the fancy Sapphire edition, which changes both the front glass and features a titanium bezel (the body is mostly made out of fiber-reinforced polymer in both cases). Whether that's worth the $100 upgrade is up to you.
Another change is that now all models have a flashlight, even the 42mm ones. It has two white LEDs and one red LED. This can be used as a flashlight, of course, but also as a strobe light if you go running at night. The flashlight is something that was previously available only on the large Fenix 7X 51mm.
Garmin Fenix 7 Pro
Other notable changes include a brand new optical heart rate sensor (Elevate V5) and there is unconfirmed info that there is ECG hardware on board. However, this hasn't been certified and Garmin is legally prohibited from talking about it until it gets a certification, so file this one under "maybe".
There are some software changes too, like shaded-relief maps, weather overlays, "split-screen mode" (showing both a map and performance metrics), new Endurance and Hill scores and so on.
The Garmin Fenix 7 Pro now starts at $800 for the 42mm and 47mm models, up $100 compared to the Fenix 7/7S. Do note that this is comparing against the non-solar 7/7S, the solar versions cost the same. The 51mm watch is $900 and the Sapphire upgrade for all three is $100 extra. Check out the Fenix over at Garmin.com.
The Garmin Epix 2 Pro starts at $900 for the 42mm and 47mm models, the 51mm is $1,000, just like the non-Pro version. The Sapphire upgrade is a $100 extra again. More on Garmin.com.
Related
The 51mm Fenix almost doubled in price since 6 gen.
That's capitalism for you 😏. Everything is always overpriced especially in AMERICA!
Popular articles
Popular devices
Electric Vehicles