Gear VR hands-on: refined and more versatile than ever
Victor, 04 August, 2016
It is great to see that Samsung is still working hard on VR, as being a pioneer is becoming increasingly daunting and challenging in today's tech realm. And the Gear VR is just that - when it was unveiled alongside the Galaxy Note 4 at IFA 2014 in Berlin, it was more or less charting new ground. Sure, the parallels with Google's Cardboard experience are numerous and the basic principle of operation is the same.
However, currently comparing the two is a perfect "apples to oranges" example since the partnership between Samsung and Oculus has taken the idea so far beyond some cardboard and a pair of lenses that the Gear VR is now effectively a yardstick for the emerging tech niche.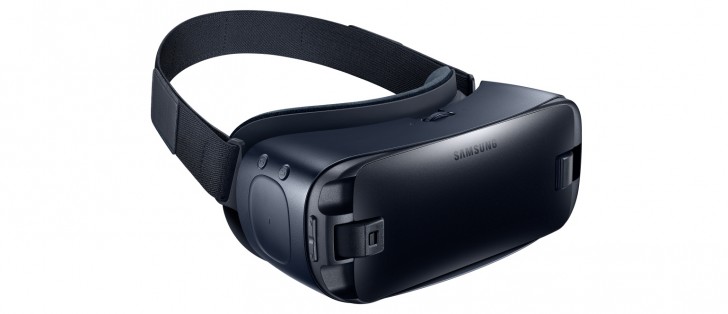 This year's Gear VR viewer brings yet another round of refinements to the experience and although it doesn't really show that much on the surface, it might actually be the biggest one yet. The refreshed device appears almost identical to last year's model, the most obvious difference probably being the color. But as they say, god is in the details and even the decision to ditch white for a deep ink blue is a motivated one. In this case, it addresses many user complaints that the white innards were too reflective and took away from the immersion. The new color definitely eliminated this issue, plus it makes for a really slick exterior as well.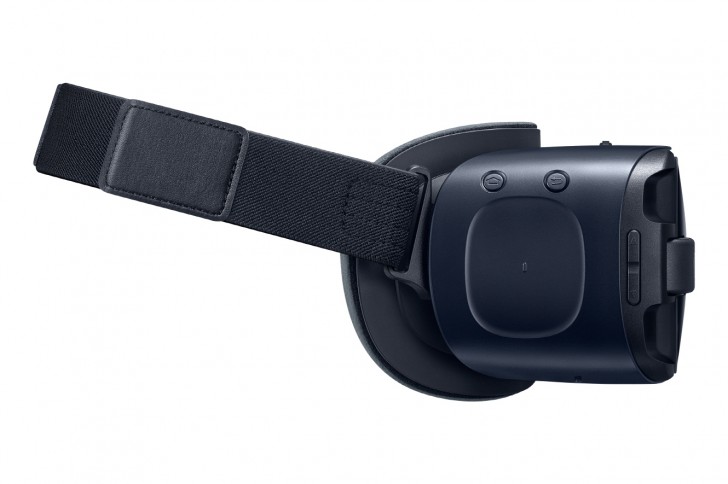 And while we are on the topic of immersion, Samsung has added a few other important touches in this area as well. The padding at the end of the vizor is now softer and also thicker. This allows for a comfy and pretty snug fit with hardly any light passing through. The material is is definitely an upgrade over the previous generation.
Just be sure to add and properly adjust the top strap as well as the main one, disregarding the fact that most press materials seem to omit it. If not in place, the whole device tends to slip down towards your nose and often limit your ability to breathe - not ideal, unless you're playing a choking simulator. Removing some of the padding around the nose could potentially help, but then again we don't exactly believe that a jerry-rigged solution is acceptable in this situation.
Still, even if the device becomes uncomfortable from time to time, it still managed to keep us glued to it for extended periods. This is definitely a testament to Samsung's efforts to improve the overall experience and level of immersion. The lenses are bigger this time around and bump the total field of view up from 96 degrees to 101. This is a subtle difference, but still a noticeable one.
Another key innovation in the 2016 Gear VR, the one you likely heard of first, is its extended device compatibility. This time around, Samsung has really tried to make VR even more accessible to potential buyers. Instead of matching up your viewer to the specific Galaxy you own and having them inevitably go together once you upgrade, now you can use any Galaxy S or Note device as far back as the S6. This, of course, covers the S7 and the two edged models as well. On the Note front, there is compatibility for the Note5, but sadly not the Note 4, which is a little disappointing for early adopters, since it was the platform Samsung's Gear VR debuted on.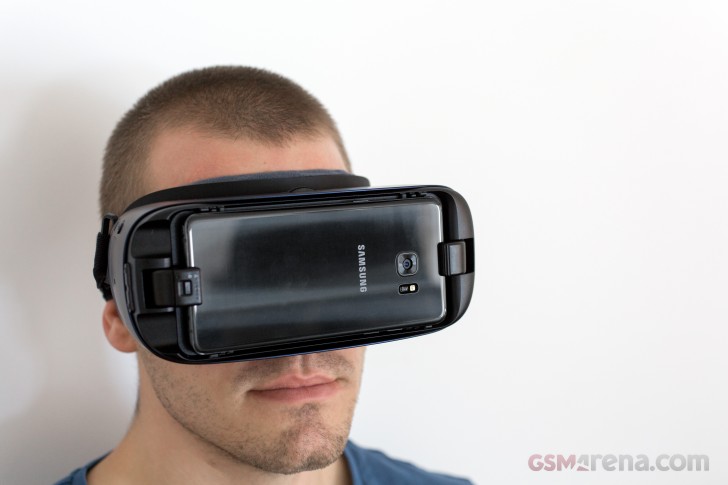 Still, that definitely constitutes a new broad marketing approach and with a price tag of $99, we are confident the new Gear VR will do a lot better in sales than its predecessors. As for the technical side of this extended compatibility list, Samsung has achieved it through the use of interchangeable connectors. You get a USB Type-C as well as a micro USB bracket out of the box. Simply swap them as needed.
This push towards newer standards extends to the outside of the Gear VR as well. What was once a micro USB port intended to simply charge the phone while inside the viewer is now a USB Type-C interface, which provides a data connection as well. This should allow the usage of wired gamepads, if nothing else, instead of only relying on Bluetooth solutions. There are many other potential uses and we can't wait to see what developers implement in the future.
On the Gear VR itself, Samsung has mostly kept the original set of controls intact. This includes focus control, as well as the familiar touch pad interface, which is now completely smooth and groove-free. The back button sits on top of it,as usual, but this time around there is a home button as well, which conveniently brings you to the starting point in the Gear VR launcher.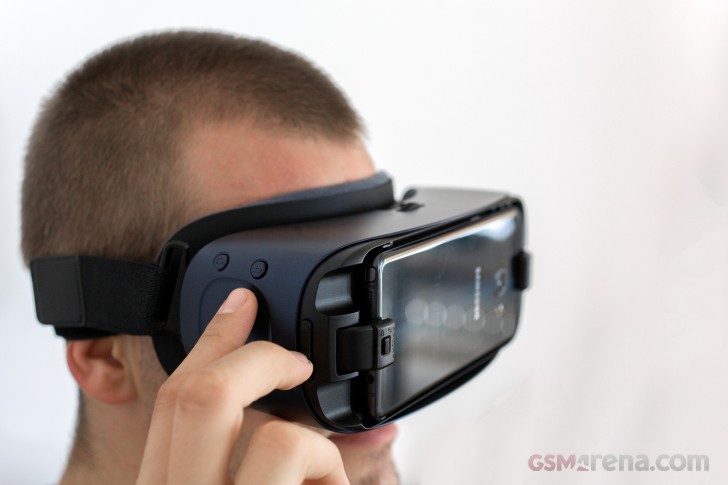 The launcher is mostly unchanged from previous generations and still works quite well. Convenience is definitely boosted by the fact that the Gear VR has dedicated controls to ease navigation. As for content, well, just like any other VR platform it is still spotty, but quality has definitely be getting better. Plus, Samsung's VR store really organizes things in a splendid way.
You get categories, top lists, search and all the other standard store features you would expect, but also a useful comfort rating for each app, as you might want a heads-up that other users have had trouble coping with the experience and became sick or dizzy in the process. You also get convenient indications as to whether a particular VR experience requires a gamepad or internet connection to function - neat!
The store can actually be accessed in VR mode as well and it works surprisingly well. All information is still present. Swipe-enabled navigation works great and you can practically go through a whole session in VR mode alone, without ever breaking the immersion to edit some options or boot into another app.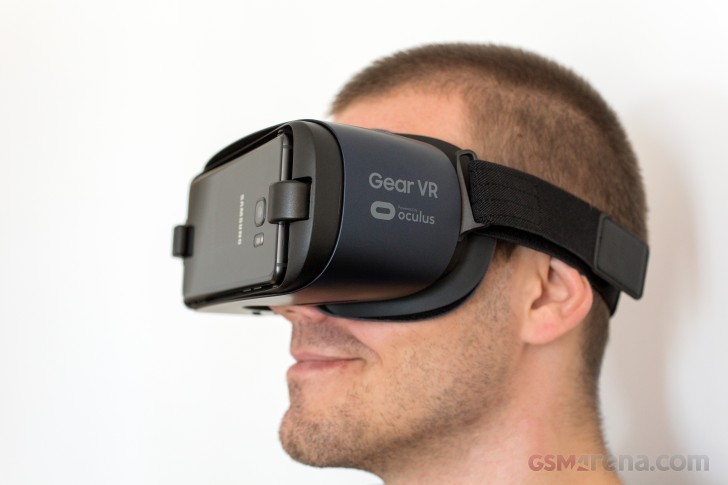 In fact, your phone remains usable while in VR mode. Samsung is nice enough to push notifications to you, provided you enable it to, which appear as fixed floating boxes on the screen. Also, you can hold down the back button at any point to access a universal menu. From it you can check various settings for the VR app and your profile. The time and battery level are also included and you can even capture a screenshot or a video. It works really well.
All things considered (device compatibility, $99 price tag, improved experience and increasing amount of content), the new Gear VR is the true embodiment of how far Samsung's virtual reality efforts have really come. It took a few years, but this generation's offering finally looks like something worthy of a truly wide audience, not just an obscure gimmick or prospective development tool.
We can definitely picture the 2016 Gear VR as the first stepping stone into VR for many current and future Samsung flagship owners. And if the Korean giant sticks to its traditional market tactics and starts bundling the viewer with flagships in the coming months, who knows how popular the Gear VR could eventually become.
Related
AnonD-718101
24 Nov 2017
PGh
does it work with a5 2017?
Is it compatible with one plus 3??
AnonD-582290
08 Sep 2016
Jj{
You can hold home button for the menu. There you have a option to use the back camera and see trough the vr headset :)
Popular articles
Popular devices
Electric Vehicles