Google Maps adds a personalized 'match' score for places, makes group outings easier to organize
Vlad, 08 May 2018
Google Maps wasn't forgotten at the search giant's big developer conference this year. The service is due to receive some new features of its own this year.
The redesigned Explore tab will show you everything that's new and interesting nearby. You'll see dining, event, and activity options based on the specific area of the map you're looking at.
It will contain top trending lists like the Foodie List to show you where the tastemakers are eating, and help you find new restaurants based on info from local experts, Google's algorithms, and trusted publishers.
Maps will even track your progress against each list, adding a game-like feel. If you've already been to a few places in one list, it will tell you how many there are left for you to try before you've crossed all of them off.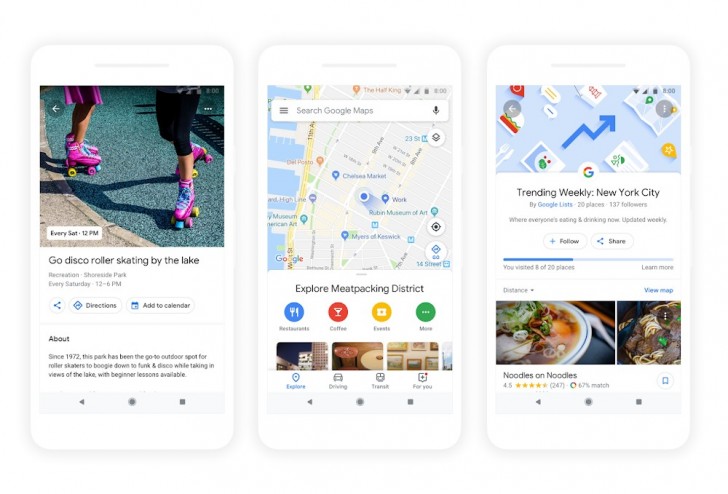 When you tap on any food or drink venue you will get a number that suggests how likely you are to enjoy the place - this is called your 'match'. You'll see the reasoning behind each number, based on factors such as what Google knows about the business, your food and drink preferences (which you've previously selected in Maps), the places you've been to, and whether you've rated a restaurant or added it to a list.
The matches will change over time, as your own tastes and preferences evolve. This should aid in confidently choosing your next dining spot, for example.
Group planning of a meal or activity will get easier because you'll be able to long press on the places you're interested in to add them to a shortlist that you can share with your friends or family. They can then add more places to the list and vote on them. Once you've reached a decision together, you can use Maps to book a reservation and find a ride to get to the place.
A new For You tab will allow you to stay on top of the latest happenings in the areas you're into. You can choose to follow neighborhoods and dining spots you want to try. This means you'll always have a quick idea for your next outing.
All of these features will roll out globally on Android and iOS "in the coming months".
Related
Nothing yet. Be the first to comment.
Popular articles
Popular devices
Electric Vehicles