Google Pixel 2 XL hands-on review
GSMArena team, 16 October 2017.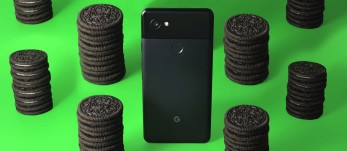 Google Pixel 2 XL performance
Performance on the Google Pixel 2 and Pixel 2 XL is in line with other smartphone powered by the same processor. In fact, the Google Pixel devices performed right around the middle of the Snapdragon 835-powered gang, only heavily beat by the iPhone 8 duo, with the necessary disclaimer that benchmark results aren't meant to be compared across platforms.
Similar to the first Google Pixel last year, the Pixel 2 and Pixel 2 XL are receiving the latest Qualcomm processor months after other phone makers have adopted it into their flagship models.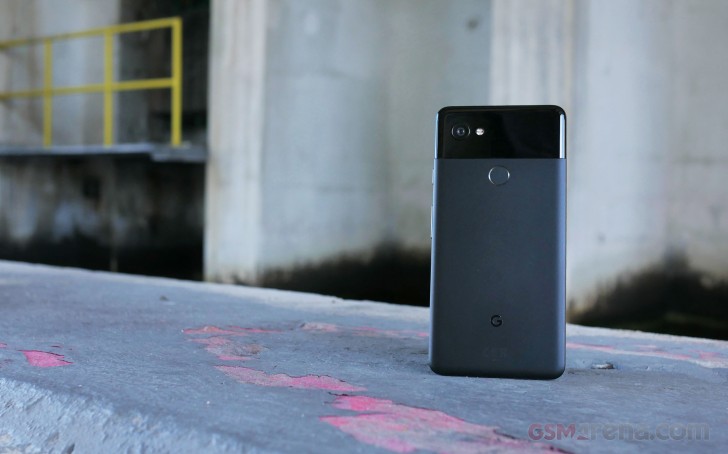 Still, Google's ultimate goal is to provide the smoothest and most consistent Android experience, centered around Google's apps and services, even if that CPU doesn't rank the phone #1 in benchmark scores.
In terms of benchmarks, there's not much to say. Phones with the same chipsets tend to score around the same and results are within tight margins. You only really see scores drift further apart when they involve Apple's A11 Bionic chip or the Exynos-powered Samsung devices.
GeekBench 4.1 (multi-core)
Higher is better
Apple iPhone 8
10214
Apple iPhone 8 Plus
10037
Samsung Galaxy Note8
6784
Samsung Galaxy S8
6656
Motorola Moto Z2 Force
6629
OnePlus 5
6604
Samsung Galaxy Note8 (SD 835)
6590
Google Pixel 2
6437
Google Pixel 2 XL
6428
Samsung Galaxy S8+ (SD 835)
6301
LG V30 (non-final)
6151
Apple iPhone 7 Plus
5956
Apple iPhone 7
5831
GeekBench 4.1 (single-core)
Higher is better
Apple iPhone 8
4234
Apple iPhone 8 Plus
4232
Apple iPhone 7 Plus
3503
Apple iPhone 7
3459
Samsung Galaxy S8
1991
Samsung Galaxy Note8
1987
OnePlus 5
1932
Google Pixel 2 XL
1915
Motorola Moto Z2 Force
1915
Google Pixel 2
1912
LG V30 (non-final)
1904
Samsung Galaxy Note8 (SD 835)
1862
Samsung Galaxy S8+ (SD 835)
1832
AnTuTu 6
Higher is better
Apple iPhone 8
202645
Apple iPhone 8 Plus
188766
OnePlus 5
180331
Motorola Moto Z2 Force
178674
Samsung Galaxy Note8 (SD 835)
175153
Apple iPhone 7 Plus
174987
Apple iPhone 7
174532
Samsung Galaxy S8
174435
Samsung Galaxy Note8
172425
Google Pixel 2 XL
170407
Google Pixel 2
168648
Samsung Galaxy S8+ (SD 835)
168133
OnePlus 3T
165097
Google Pixel XL
141186
Huawei P10 Plus
126252
GFX 3.0 Manhattan (1080p offscreen)
Higher is better
Apple iPhone 8
85
Apple iPhone 8 Plus
85
Samsung Galaxy Note8 (SD 835)
63
Google Pixel 2 XL
61
Motorola Moto Z2 Force
61
Apple iPhone 7
61
Google Pixel 2
60
OnePlus 5
60
Apple iPhone 7 Plus
60
Samsung Galaxy S8+ (SD 835)
57
Samsung Galaxy Note8
51
Samsung Galaxy S8
50
OnePlus 3T
49
Google Pixel XL
47
Huawei P10 Plus
28
GFX 3.0 Manhattan (onscreen)
Higher is better
Apple iPhone 8
60
Apple iPhone 7
60
Apple iPhone 8 Plus
59
Google Pixel 2
56
OnePlus 5
56
Apple iPhone 7 Plus
56
OnePlus 3T
48
Samsung Galaxy Note8
42
Motorola Moto Z2 Force
40
Samsung Galaxy Note8 (SD 835)
37
Google Pixel 2 XL
36
Samsung Galaxy S8
36
Samsung Galaxy S8+ (SD 835)
34
Google Pixel XL
30
Huawei P10 Plus
19
GFX 3.1 Car scene (1080p offscreen)
Higher is better
Google Pixel 2 XL
25
Motorola Moto Z2 Force
25
Samsung Galaxy Note8 (SD 835)
25
Samsung Galaxy Note8
25
Samsung Galaxy S8
25
Google Pixel 2
24
OnePlus 5
24
Samsung Galaxy S8+ (SD 835)
23
OnePlus 3T
20
Google Pixel XL
19
Huawei P10 Plus
12
GFX 3.1 Car scene (onscreen)
Higher is better
Google Pixel 2
26
OnePlus 5
24
OnePlus 3T
20
Motorola Moto Z2 Force
15
Google Pixel 2 XL
13
Samsung Galaxy Note8 (SD 835)
13
Samsung Galaxy Note8
13
Samsung Galaxy S8
13
Samsung Galaxy S8+ (SD 835)
12
Google Pixel XL
11
Huawei P10 Plus
9
Basemark X
Higher is better
Samsung Galaxy S8
42370
Samsung Galaxy Note8
40890
Google Pixel 2 XL
39143
OnePlus 5
38844
Google Pixel 2
38794
Motorola Moto Z2 Force
38615
Samsung Galaxy Note8 (SD 835)
37211
OnePlus 3T
36958
Samsung Galaxy S8+ (SD 835)
34951
LG V30 (non-final)
33719
Google Pixel XL
30861
Huawei P10 Plus
30602
Basemark OS 2.0
Higher is better
Apple iPhone 8
3934
Apple iPhone 7 Plus
3796
Motorola Moto Z2 Force
3609
Apple iPhone 8 Plus
3601
OnePlus 5
3601
Samsung Galaxy Note8 (SD 835)
3424
Apple iPhone 7
3416
Google Pixel 2
3387
Google Pixel 2 XL
3379
Samsung Galaxy S8
3376
Samsung Galaxy Note8
3333
Samsung Galaxy S8+ (SD 835)
3319
Huawei P10 Plus
2940
OnePlus 3T
2678
Google Pixel XL
2281