Google Pixel 3a teardown finds it easier to repair than most phones
Vlad, 10 May 2019
Now that the Google Pixel 3a and 3a XL are finally official, and even available to buy, the teardown experts at iFixit decided to do what they do best and take them both apart. The phones have similar constructions, so in the end they both got a 6 out of 10 repairability score, where 10 is easiest to repair.
That may not seem like a high mark, but it means the new Pixels are actually much easier to repair than most smartphones nowadays. Most of their components are modular and can be easily replaced once you remove the display assembly, which has foam adhesive that makes the opening process not very involved. That said, while the display does come off first, it's thin and poorly supported.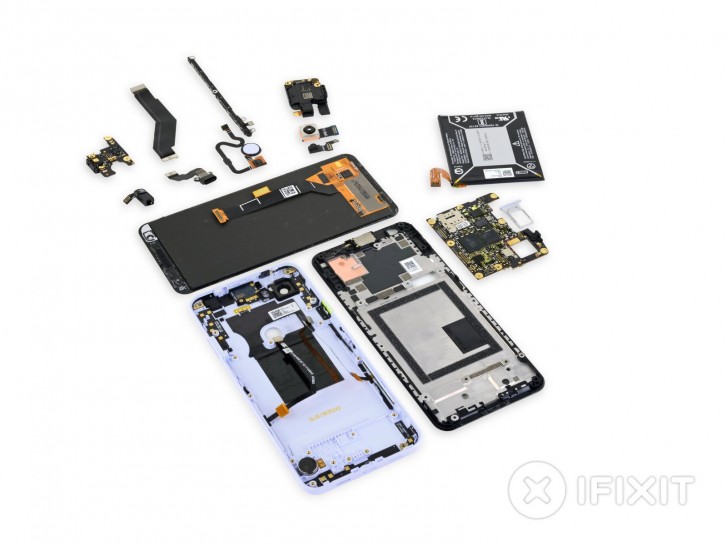 Stretch-release adhesive secures the battery and this is a plus since it means it's very repair-friendly, and the only screws inside the Pixels are standard T3 Torx fasteners, so you won't need any weird screwdrivers on hand. The main issue is that there are myriad long, thin ribbon cables connecting the internal components, and these can be hard to work around without accidental tears.
If you want to follow the entire teardown process, make sure you check out the Source linked below for the Pixel 3a's disassembly, and watch this video to see the 3a XL get opened up.
The phones are easy to open without heat, a rarity in this day and age, and the display is made by Samsung for both of them. The flash storage and RAM come from Micron, and as you may know there's no Pixel Visual Core chip inside these mid-rangers - that's a high-end Pixel exclusive.
You do however get Google's Titan M security chip, as well as a modular USB-C port, which is good news if yours ever breaks. Also modular: the headphone jack. The vibration motor is a garden variety linear resonant actuator, so no fancy precision haptic motor here like in the Pixel 3 or Apple's handsets.
Related
Anonymous
11 May 2019
vry
Associating repairability with ugliness. No wonder we get pretty disposable phones these days.
Pointless ugly yet very expensive for what it is offering.... except OLED display, there is nothing to browbeat about this. There are plenty of better options available outside Pixel with far better specs
Anonymous
10 May 2019
Q5i
coz nothings special on that phone. and its like a cheap crap phone that why its easy to repair. coz " NOTHINGS SPECIAL "
Popular articles
Popular devices
Electric Vehicles