Google Pixel 6 Pro review
GSMArena Team, 3 November 2021.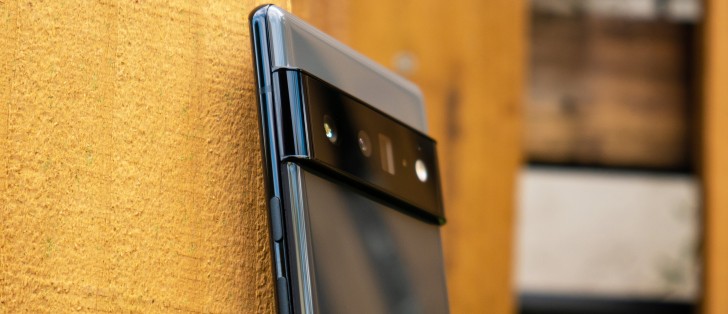 LTPO AMOLED panel with 120Hz
The Google Pixel 6 Pro is equipped with a high-end LTPO AMOLED display. The 6.71" panel features a 120Hz refresh rate which automatically scales down to 10Hz to conserve power. There are a couple of firsts for Google Pixel with this screen: the Pixel 6 Pro's display is the first Pixel to support a 120Hz refresh rate and the first Pixel to feature a display with curved edges. With a QHD+ resolution of 1440 x 3120 px, it has a sharp pixel density of 512ppi and an aspect ratio of 19.5:9. This display also supports HDR10 content and 24-bit color depth.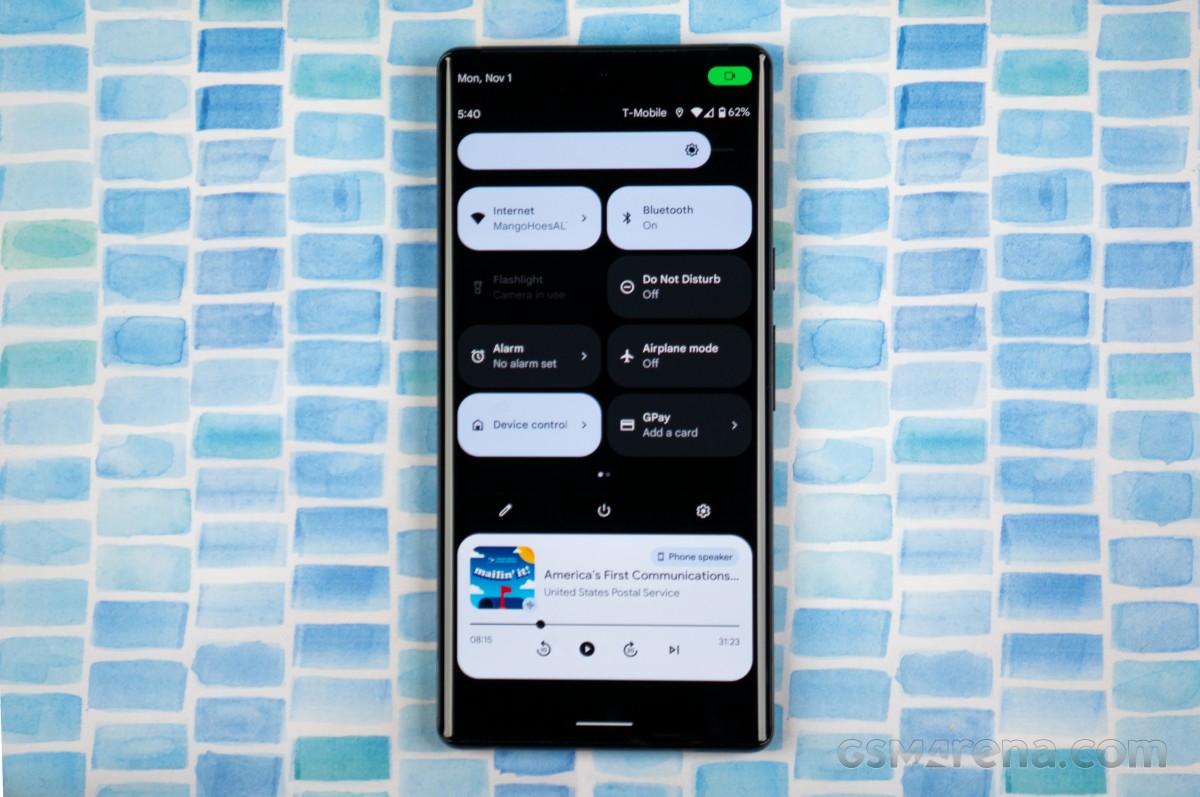 In our display brightness tests, the Google Pixel 6 Pro scored 497 nits of maximum brightness using the manual slider. Peak brightness reached 860 nits when set to Adaptive Brightness. These numbers are excellent considering Google's Pixel phones have historically been behind the competition in screen brightness. Even so, display panels of current flagships from Apple, Samsung, and vivo have already broken past the 1000 nits mark for peak brightness.
Sunlight legibility is great, nonetheless. Menus and screens are visible enough to use, even with dark theme enabled, and the viewfinder is bright enough to see exactly what you're shooting.
Display test
100% brightness
Black,cd/m2
White,cd/m2
Contrast ratio
Google Pixel 6 Pro
0
497
∞
Google Pixel 6 Pro (Max Auto)
0
860
∞
vivo X70 Pro+
0
458
∞
vivo X70 Pro+ (Max Auto)
0
1022
∞
Apple iPhone 13 Pro Max
0
852
∞
Apple iPhone 13 Pro Max (Max Auto)
0
1050
∞
Apple iPhone 13 Pro
0
856
∞
Apple iPhone 13 Pro (Max Auto)
0
1063
∞
Samsung Galaxy S21 Ultra 5G
0
458
∞
Samsung Galaxy S21 Ultra 5G (Max Auto)
0
1023
∞
Google Pixel 5
0
475
∞
Google Pixel 5 (Max Auto)
0
699
∞
Google Pixel 5a 5G
0
508
∞
Google Pixel 5a 5G (Max Auto)
0
861
∞
Google Pixel 4 XL
0
436
∞
Xiaomi Mi 11 Ultra
0
514
∞
Xiaomi Mi 11 Ultra (Max Auto)
0
943
∞
Xiaomi Mi 11T Pro
0
516
∞
Xiaomi Mi 11T Pro (Max Auto)
0
837
∞
Asus Zenfone 8 Flip
0
518
∞
Asus Zenfone 8 Flip (Max Auto)
0
735
∞
OnePlus 9 Pro
0
525
∞
OnePlus 9 Pro (Max Auto)
0.038
871
22921:1
Samsung Galaxy S21+ 5G
0
459
∞
Samsung Galaxy S21+ 5G (Max Auto)
0
883
∞
Apple iPhone 13
0
802
∞
There are three preset color modes on the Pixel 6 Pro. The default color mode is "Adaptive" based on the DCI-P3 color space, there's a "Natural" color mode based on the accuracy of the sRGB standard, and there's a "Boosted" mode that's a slightly more saturated version of the Natural profile.
With the default Adaptive profile, we determined an average deltaE of 2.5 and a maximum deviation of 5.3 units on the DCI-P3 color space. The most accurate mode was the Natural profile with an average deltaE of 1.5 and a maximum deviation of 2.8 in the sRGB color space. The Boosted profile yielded an average deltaE of 1.9 and a maximum deviation of 3.9 on the sRGB space.
There's no advanced tuning of the color modes, and there's no changing the resolution mode of the display. This keeps it simple for the user, but if you want to be able to tune color temperature or switch between FHD and QHD resolutions, then the Pixel 6 Pro's display might not be for you.
Battery life
The Google Pixel 6 Pro has a hefty 5,000 mAh battery with support for 30W charging, but this year Google decided that chargers don't need to be included in the box anymore. Google released a new 30W adapter that will be available on the Google Store website. Still, you should be able to use any PPS-compatible charger that outputs 30W or higher to achieve maximum charging speeds.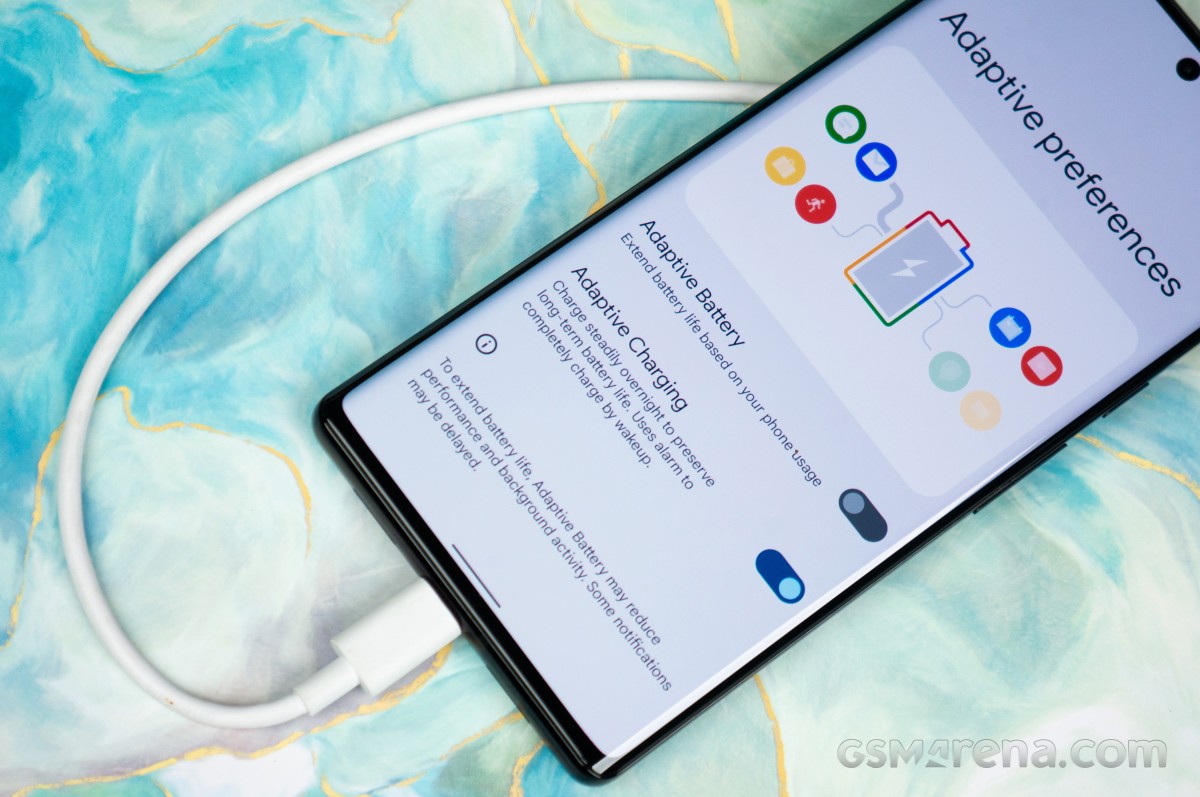 There is also support for up to 23W via wireless charging but only with the new version of the Google Pixel Stand. It isn't available from Google just yet, although the Pixel 6 Pro supports Qi wireless charging and reverse wireless charging.
Google's Pixel 6 Pro is advertised for "Beyond 24-hour battery life" or "Up to 48-hour battery life with Extreme Battery Saver".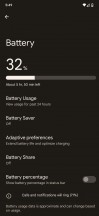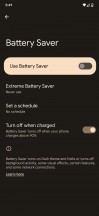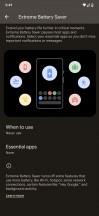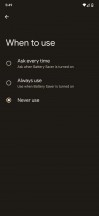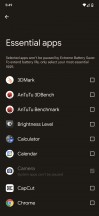 Battery menu • Battery Saver • Extreme Battery Saver
We lament to tell you that the Pixel 6 Pro did not reach our expectations in the battery department. Google Tensor is a first-generation chip that debuts with the Pixel 6 and 6 Pro, and the numbers corroborate that battery life is not this device's strong suit. This is despite the LTPO display and mentions of Tensor being able to perform certain tasks with half the power.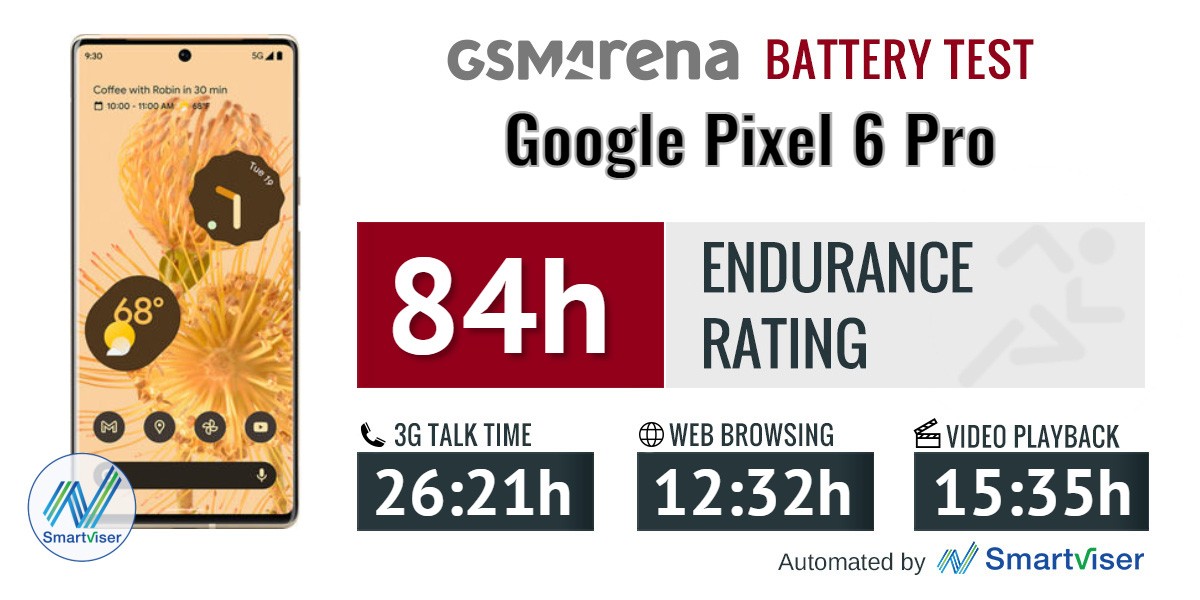 Our battery tests were automated thanks to SmartViser, using its viSerDevice app. The endurance rating denotes how long the battery charge will last you if you use the device for an hour of telephony, web browsing, and video playback daily. More details can be found here.
Video test carried out in 120Hz refresh rate mode. Web browsing test done at the display's highest refresh rate whenever possible. Refer to the respective reviews for specifics. To adjust the endurance rating formula to match your own usage patterns check out our all-time battery test results chart where you can also find all phones we've tested.
Overall, the Google Pixel 6 Pro scored 84 hours of endurance in our standardized testing. With it, we saw 26:21h of talk time, around 12:32h of web browsing time, and 15:35h of video playback. We were most disappointed with the standby numbers, which weren't representative of a phone with this large of a battery pack. We think this draw may be due to some inefficiency in the modem used in the Google Tensor chip, which is believed to be a Samsung-made one. Perhaps this could be tweaked via future firmware updates from Google.
Loudspeakers
The Pixel 6 Pro has a typical dual-loudspeaker setup: one speaker is bottom-firing, and the other doubles as the in-call speaker. The Pixel 5 had the in-call speaker embedded behind the display, and we didn't love its execution. With the 6 Pro, audio is plenty loud, and it sounds great at maximum volume.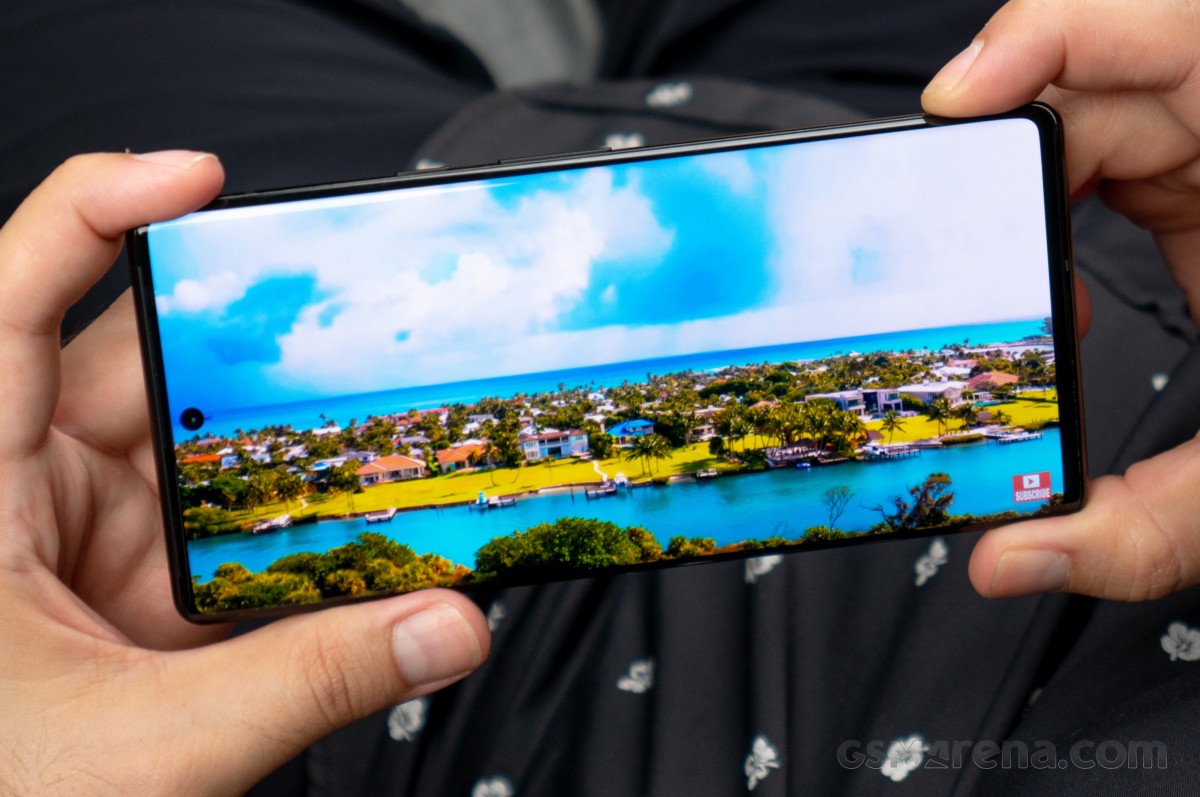 There's no distortion at maximum volumes, but mids and trebles may sound tinny when playing music. Otherwise, the phone is plenty loud for spoken word content, but you shouldn't rely on these speakers if you want to play some music while cooking or something.
Now that we've covered all the hardware and lab tests, let's look at the software features that make the Pixel 6 Pro unique.
Sounds quite harsh but stop whining, you agreed to be beta-tester for Google 😅
Good job succumbing to western ideals by removing the sd card slot from the cons. Smh.
I have used this phone for over a month now and I'm so angry at the results. I bought the pixel 6 pro after watching many reviews and seeing it had a much better camera than the iPhone 13 pro max(which it does) but all the other features are gre...