Google Pixel 7a review
GSMArena Team, 26 May 2023.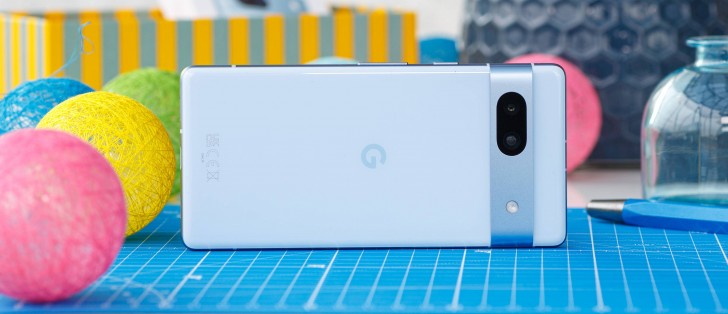 6.1-inch OLED gets a 90Hz refresh rate
The Pixel 7a maintains the display diagonal of the old model at 6.1 inches, and that's a tiny bit less than the Pixel 7's 6.3 inches. The 1,080x2,400px resolution in a 20:9 aspect ratio results in a pixel density of 429ppi.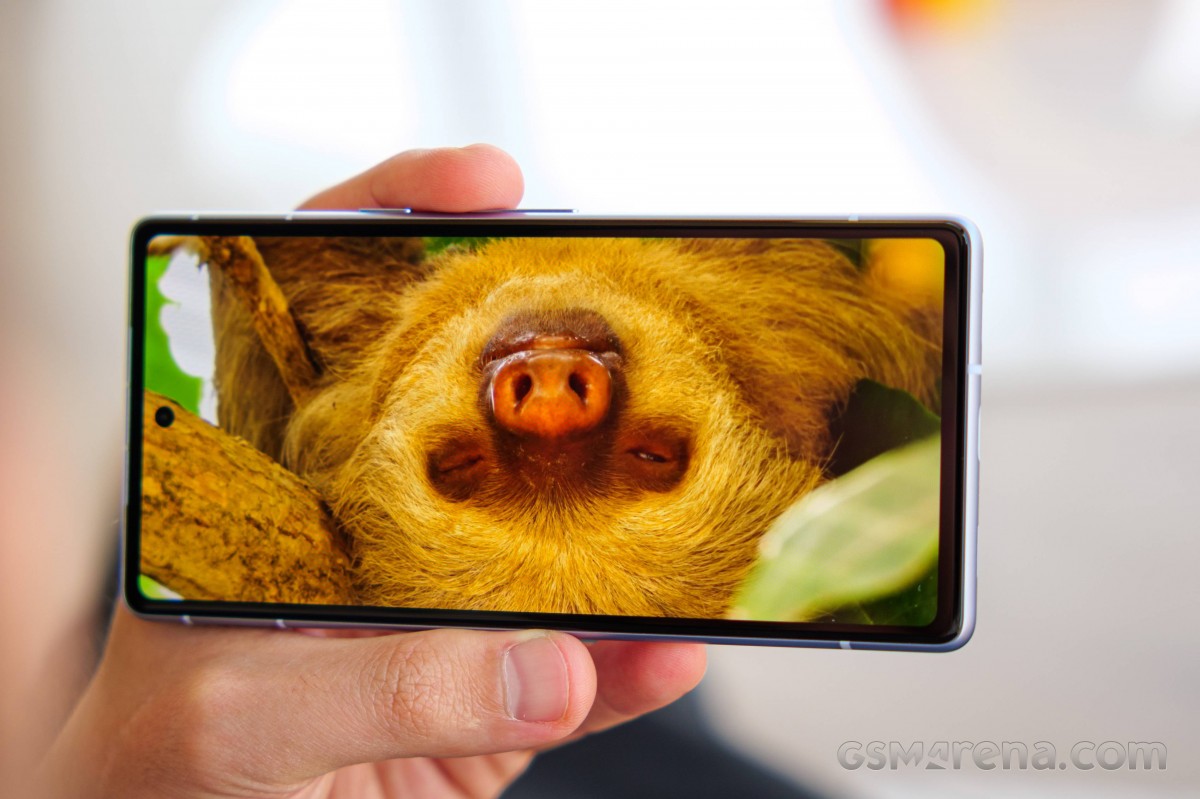 There is one change this year and it's a long overdue one - the 'a' model finally gains a higher-than-standard refresh rate. In absolute terms it's only sort of 'high' - the 7a settles for 90Hz when even midrangers from most companies are using 120Hz panels these days. But then the Pixel 7 (proper) also maxes out at 90Hz, so it's unreasonable to expect the 7a to go above that. We'll reiterate that from a user experience perspective the move from 60Hz to 90Hz is more easily felt than that from 90Hz to 120Hz, but that doesn't change the fact that the Pixel 7a is lagging behind the competition in this respect.
It's leading the pack in terms of maximum brightness, though. We measured 1,070 nits with adaptive brightness enabled which is about as high as you can get for the money, though the Motorola Edge 40 is close. The just under 500 nits you can achieve manually is pretty much par for the course for a modern-day OLED display.
Max display brightness test
White test pattern, 75% fill (nits)
Sort by
Manual mode
Auto mode
Galaxy S23

1198

476

Pixel 7 Pro

1090

588

Pixel 7a

1070

498

Motorola Edge 40

1043

516

Galaxy A54

980

457

Pixel 7

974

460

Sony Xperia 10 V

947

624

Xiaomi 13 Lite

938

512

Apple iPhone 13 mini

N/A

831

iPhone 14

N/A

804

Samsung Galaxy S21 FE 5G

792

385

Nothing phone (1)

663

466

Apple iPhone SE (2022)

N/A

605
Color accuracy
Color reproduction on the 7a is handled in the simple way we're used to seeing on Pixels - there are just two modes and no sliders for further tweaking. The default Adaptive mode is the one for vibrant colors and wide color gamut, and it showed very good (but not great) overall color accuracy for our DCI-P3 test swatches.
It's noteworthy that unlike the vast majority of phone displays, the default setting doesn't have a strong bluish cast and the white point is close to perfect, making the absence of temperature adjustment a non-issue.
It's a similar story for the white point in Natural mode, only that one is also properly accurate for the sRGB content it's been tuned for.
HDR and streaming
Just like the 7 and 7 Pro, the 7a supports HDR10 and HDR10+, but no Dolby Vision (which isn't a dealbreaking offense, particularly for this class). Popular platforms like YouTube, Netflix, and Prime Video all serve HDR streams on the Pixel 7a, and HDR content looks striking with great colors and respect for the original content brightness level - not all phones with HDR support can actually claim that.
The Widevine L1 certification means you get 1080p resolution for DRM-protected content too.
Refresh rate
The 7a adopts the same HRR control as the Pixel7 and it's a pretty simple one - you touch the screen, the refresh rate goes to 90Hz, you leave the display idle for a couple of seconds, system brings it down to 60Hz. That's it.
The refresh rate remains 90Hz even in video players and streaming apps while you're interacting with the UI, but since you are not touching the display during video playback, the refresh rate goes down to 60Hz anyway.
Games that support high frame rates do get a constant 90Hz refresh rate.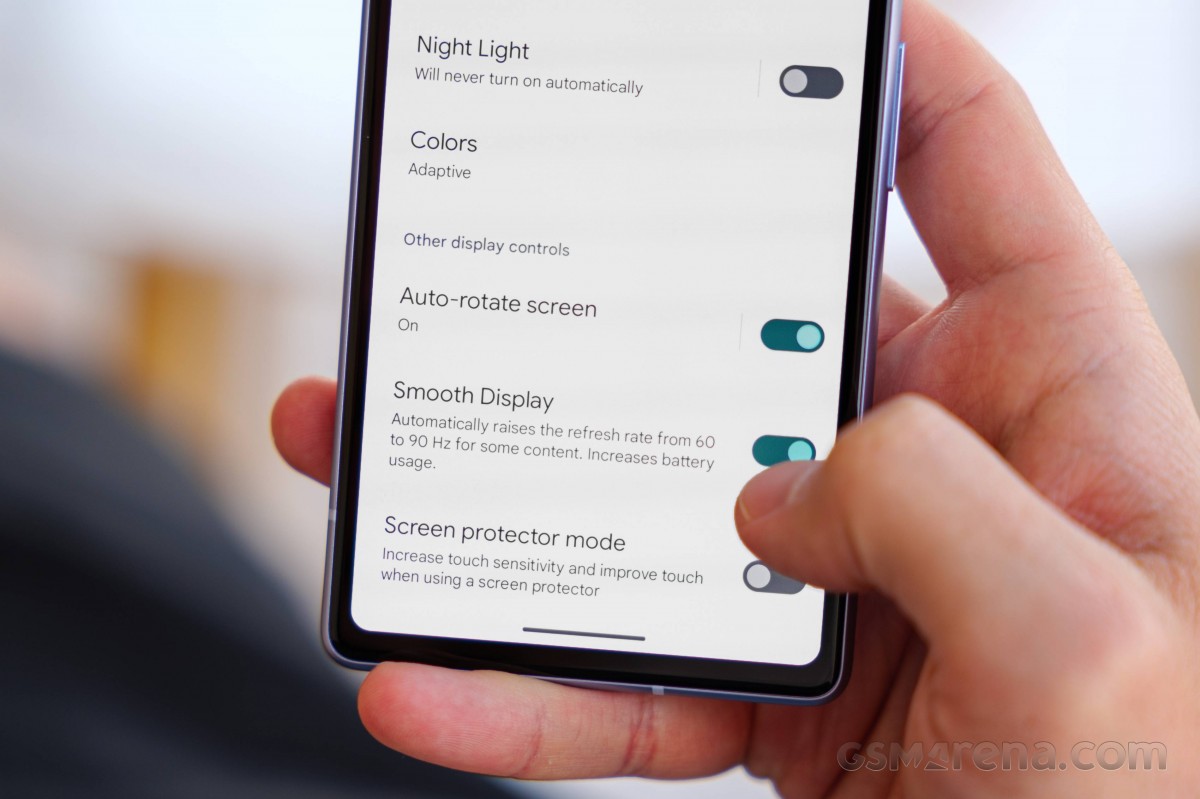 You can limit the refresh rate to 60Hz by disabling the 'Smooth Display' toggle in settings in case you want to preserve battery life. However, from our personal experience, the difference between 60 and 90Hz refresh rates in battery life is negligible.
Google Pixel 7a battery life
The Pixel 7a's battery has a rated capacity of 4,385mAh - that's 25mAh less than the 6a, but 30mAh more than the Pixel 7. Competitors like the Motorola Edge 40 and Nothing Phone (1) are in the same ballpark, while the Galaxy A54 is a bit better equipped, with its 5,000mAh power pack.
In our testing, the Pixel 7a didn't exactly return spectacular results, with standby and voice call longevity being below average. It did somewhat redeem itself in the screen-on tests, where the nearly 15 hours on our Wi-Fi script are as good as on rivals, while the 18:12h of looping videos is a bit below the competition, but still solid. The overall Endurance rating of the Pixel 7a then works out to 76h.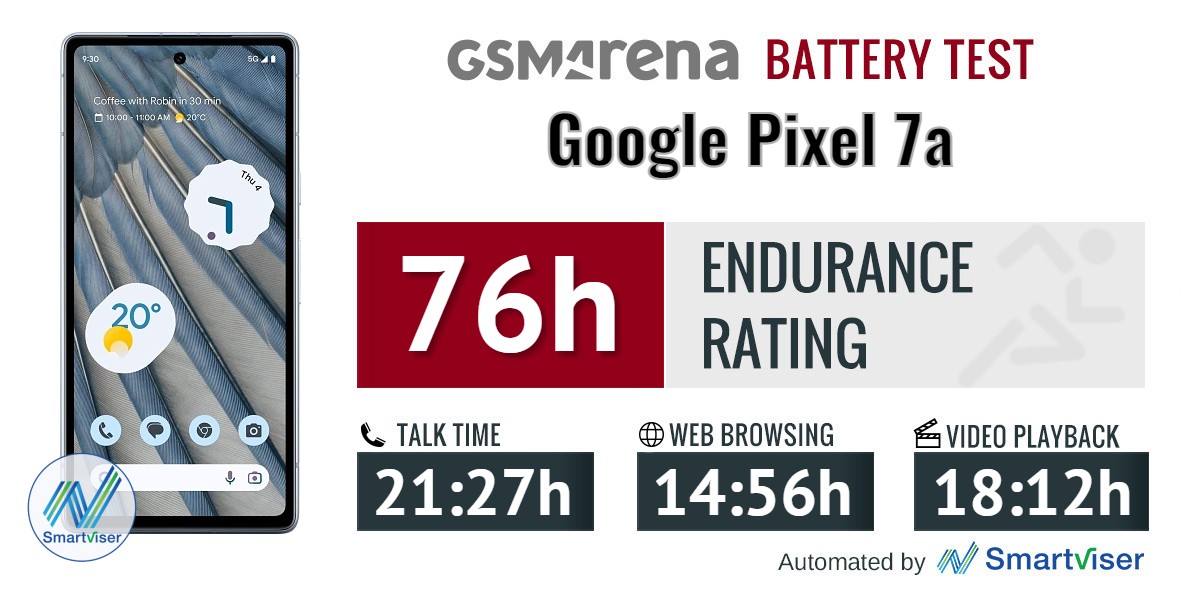 Our battery tests were automated thanks to SmartViser, using its viSerDevice app. The endurance rating denotes how long the battery charge will last you if you use the device for an hour of telephony, web browsing, and video playback daily. More details can be found here.
Video test carried out in 60Hz refresh rate mode. Web browsing test done at the display's highest refresh rate whenever possible. Refer to the respective reviews for specifics. To adjust the endurance rating formula to match your own usage - check out our all-time battery test results chart.
Charging speed
Charging speed isn't a strong suit of the 'big' Pixels, and the Pixel 7a is one level below them still. Google specifies a maximum power rating of 18W and in our testing the power meter actually peaked at 18.7W when using Google's official 30W adapter, so that's sort of a win.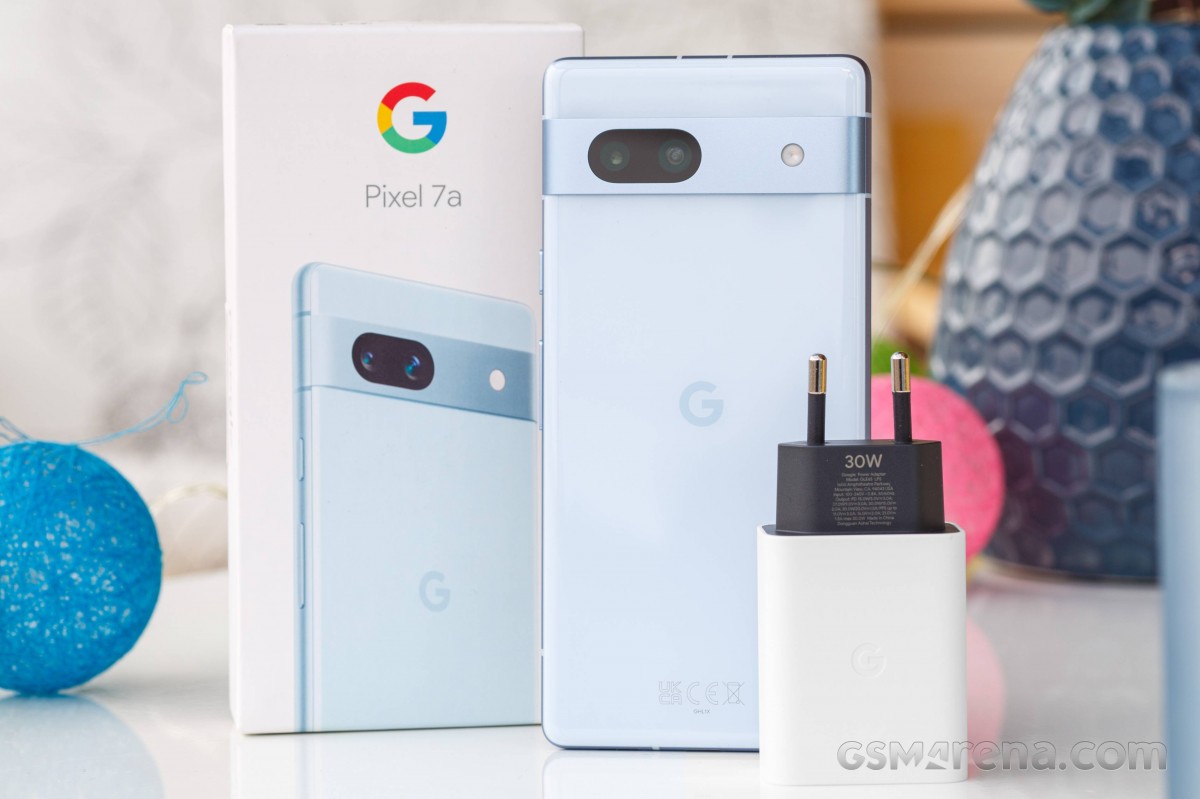 But ultimately, the Pixel 7a returned pretty mediocre numbers for charging speed, with just 36% showing in the battery indicator at the half hour mark. Getting from flat to 100% required just under two hours and it then took another 20mins of trickle charging to reach a reported 'full' state. With those results, the 7a is among the slowest charging phones, particularly for the money.
15min/30min charging test (from 0%)
Higher is better
Sort by
15 min time
30 min time
Motorola Edge 40

92%

58%

Xiaomi 13 Lite

83%

46%

Apple iPhone 13 mini

61%

44%

Apple iPhone SE (2022)

61%

N/A

Galaxy S23

57%

30%

Galaxy A54

56%

30%

Galaxy S21 FE 5G

51%

N/A

Google Pixel 7

48%

25%

Nothing phone (1)

48%

N/A

Google Pixel 7 Pro

46%

24%

Google Pixel 6a

42%

N/A

Sony Xperia 10 V (65W PD)

37%

20%

Google Pixel 7a

36%

20%
* Tap/hover over the device names for more info
Time to full charge (from 0%)
Lower is better
| | |
| --- | --- |
| Motorola Edge 40 | 0:40h |
| Xiaomi 13 Lite | 0:42h |
| Galaxy A54 | 1:03h |
| Galaxy S21 FE 5G | 1:15h |
| Galaxy S23 | 1:16h |
| Apple iPhone SE (2022) | 1:18h |
| Apple iPhone 13 mini | 1:24h |
| Nothing phone (1) | 1:31h |
| Google Pixel 7 | 1:40h |
| Google Pixel 7 Pro | 1:49h |
| Google Pixel 6a | 1:51h |
| Google Pixel 7a | 1:57h |
| Sony Xperia 10 V (65W PD) | 1:58h |
* Tap/hover over the device names for more info
In a first for a Pixel 'a' model, the 7a supports wireless charging. There's no listing for it on the WPC website, and there's no mention of the maximum power the 7a can take in the official specs, but the internet appears to have settled on 7.5W. Regardless of what the actual number is, it won't make a world of a difference when overnighting your phone, which in our minds is the key use case for wireless charging.
Speaker test
The Pixel 7a's speaker setup is the usual hybrid stereo arrangement with a 'main' unit firing out of the bottom of the phone and the earpiece acting as the second channel. The top speaker is assigned the left channel in portrait, while in landscape, the channels will be adjusted to match the actual orientation.
Both speakers will also output the opposite channel's track, albeit at a much attenuated volume. The bottom speaker is slightly louder than the top one, but it's not an imbalance you can easily pick up with real-life content.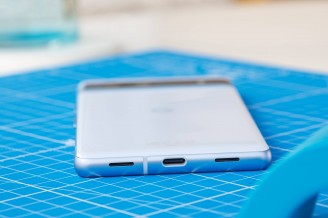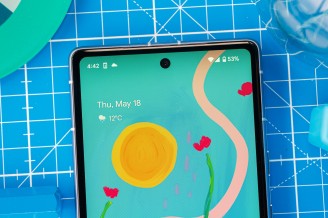 Bottom speaker (the left slot in this photo) • Top speaker/earpiece
The Pixel 7a earned the same 'Good' rating for loudness as the 7 in our testing, both a notch below the 7 Pro. Oddly enough, the 7 and 7a sound a little different despite the similar scores and it's the 7a that produces the 'fuller' sound. It's not the best set of speakers, but it's one of the better ones for the money.
Use the Playback controls to listen to the phone sample recordings (best use headphones). We measure the average loudness of the speakers in LUFS. A lower absolute value means a louder sound. A look at the frequency response chart will tell you how far off the ideal "0db" flat line is the reproduction of the bass, treble, and mid frequencies. You can add more phones to compare how they differ. The scores and ratings are not comparable with our older loudspeaker test. Learn more about how we test here.
Anonymous
13 Nov 2023
0Uc
Phone seems bigger than the 6a, somehow. Solid camera performance! Battery is also very good if you use "Battery Saver" all the time. Got it mainly for UI: very clean and snappy. Don't mind the 60 Hz and lack of 5G (both from Battery S...
Anonymous
07 Nov 2023
0Uc
Got a Pixel 7a. I regret nothing!
Anonymous
28 Oct 2023
rAt
I haven't had luck with smartphones for last few years, bad luck started with galaxy s10e. Great size but frose often and there was something wrong with the camera. So I traded it with iphone 13 mini which I absolutely loved apart from photos. P...