Google's Pixel 6 and 6 Pro are all about smarts and imaging
Ivan, 19 October 2021
After months of leaks and a few weeks of teasers that left almost no mystery remaining, Google's Pixel 6 and 6 Pro are official. A marked departure from last years' mid-range hardware the new Pixels have top-notch specs focused on performance, smarts, and photography.
It starts with Google's custom-developed Tensor chip. The 5nm SoC has an octa-core processor with two whole Cortex-X1 powerful cores - the first phone with more than one. There are also two mid-level cores as well as four power-efficient ones. The custom image processor takes computational photography on the Pixel 6 phones to a new level.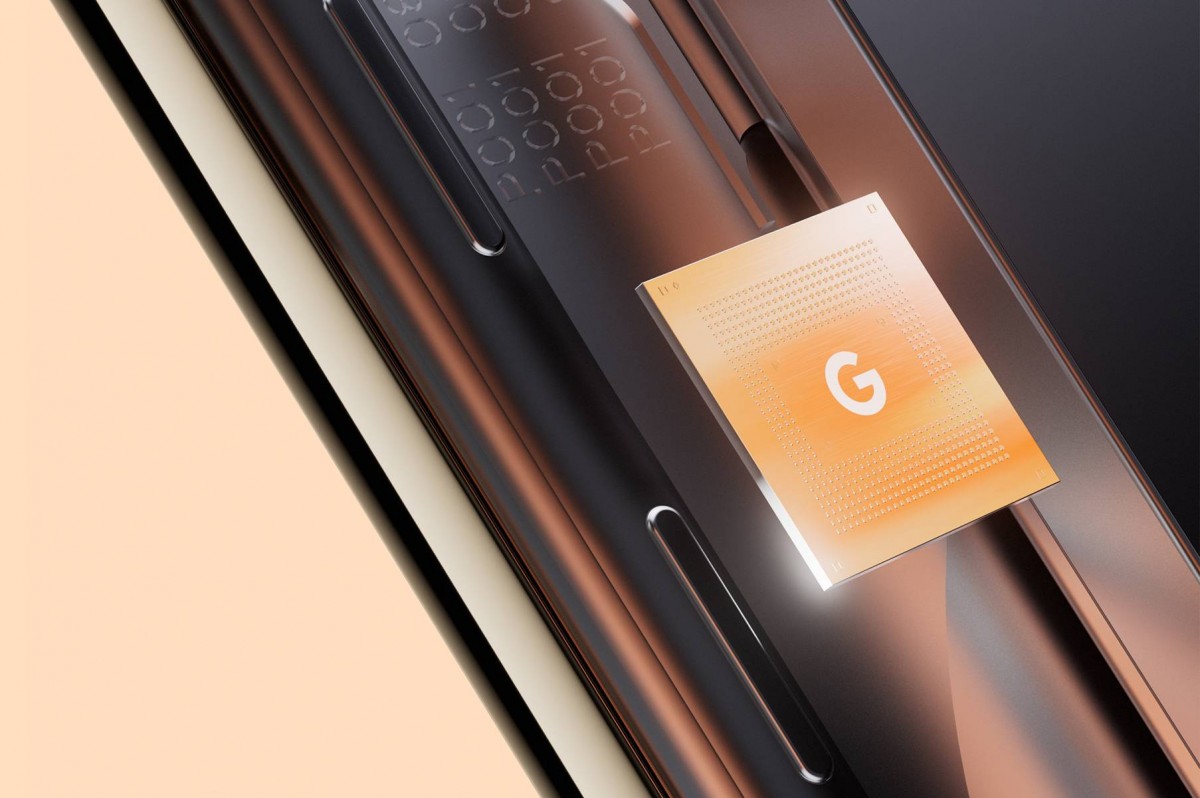 Magic Eraser automatically removes distractions from photos, Face Unblur picks a sharp face from a batch of photos and tacks it onto an action shot. Portrait Mode shots are now better with improved subject separation and better skin tone rendering. Night Mode and Astrophotography have improved over previous Pixels too.
The Google Pixel 6 and 6 Pro feature Live Translate, which can translate messages, captions, or text in the camera viewfinder in up to 55 languages. Using Tensor, the Pixel 6 and 6 Pro can act as an Interpreter in French, German, Italian, Japanese, Portuguese, or Spanish, fully offline.
Tensor also has a built-in Titan M2 security chip, which protects your photos, texts, and sensitive data from outside attacks. To help bolster its custom chip, Google promises up to 5 years of security updates to its Pixel 6 lineup.
The Google Pixel 6 Pro is bigger and has several noticeable advantages over the Pixel 6. Its screen is larger at 6.7-inches, sharper at 1440p, and refreshes faster at 120Hz. It's an LTPO AMOLED that will offer variable refresh rate to preserve battery. In comparison, the Pixel 6 has a far more pedestrian 6.4-inch 1080p AMOLED with an up to 90Hz refresh rate. Both phones are covered with Gorilla Glass Victus, but the Pixel 6 Pro's display is curvier, Google calls it 3D glass. Both have built-in fingerprint scanners, presumably optical.
The Pixel 6 Pro also has an edge in camera hardware with a dedicated 4x zoom camera, sitting in front of a large 48MP sensor, which Google claims can go up to 20X with the help of 'Super Res Zoom'. On the front the Pixel 6 Pro has an ultrawide 11.1MP fixed-focus selfie camera, a step above the Pixel 6' 8MP regular selfie.
The other two imagers are shared between the pair - a 50MP 1/1.3-inch Samsung GN1 sensor that combines pixels for a final 12.5MP image and a 12MP ultrawide camera. That 50MP main camera is a big improvement over the main sensor in the Pixel 5 (which was the same size on the Pixel 4, 3, and 2) with a 150% increase in light gathering ability.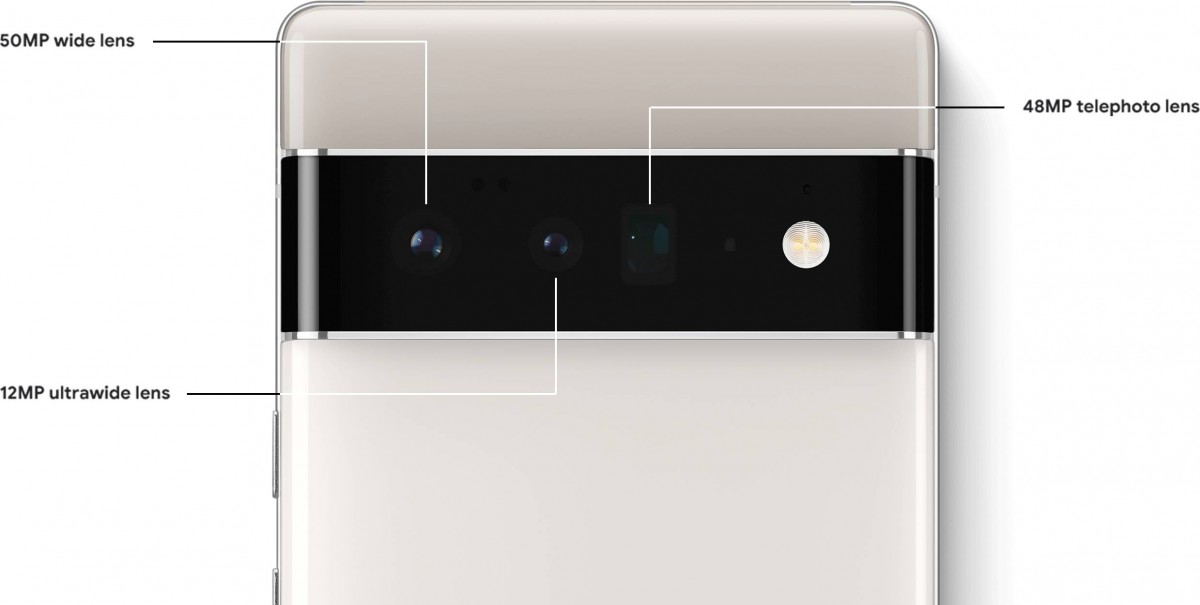 Being the larger device, the Pixel 6 Pro also comes with a bigger, 5,000mAh battery. The Pixel 6 uses a smaller 4,600mAh unit. Both will charge at up to 30W through a wire and at 21W/23W wirelessly through Google's new Pixel Stand charger. Both wired and wireless chargers don't come in the box.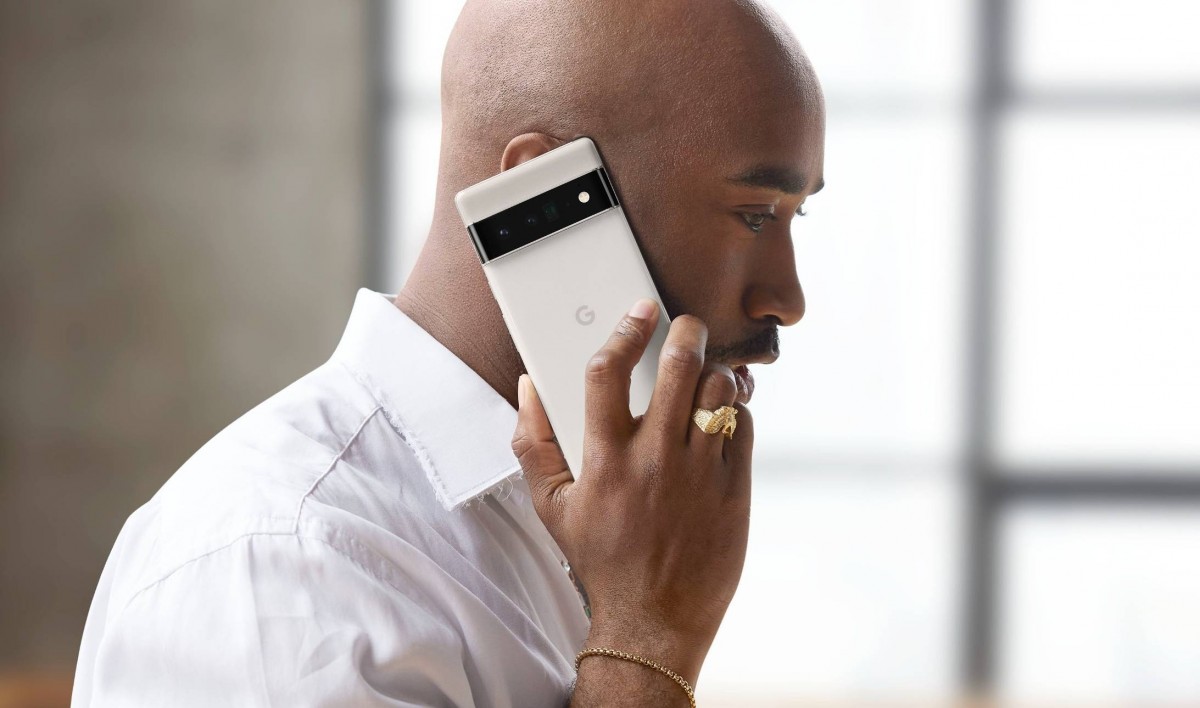 The Google Pixel 6 Pro has a polished aluminum frame and comes in three colorways - Cloudy White, Sorta Sunny, Stormy Black - and in two memory configurations - 12/128GB, 12/256GB and even a 12/512GB. Prices start at €898 in Europe and $899 in the US.
The Google Pixel 6 has a textured aluminum frame and is also available for pre-order, in three colors - Sorta Seafoam, Kinda Coral, Stormy Black - and in 8/128GB and 8/256GB memory tiers, starting at €649 and $599.
Pre-orders for both phones are already open with first shipments expected on October 28.
Related
Really disappointed that the Pixel 6 pro STILL uses 2x Digital zoom for portraits. Really was expecting this to be optical zoom. I have a 3aXL currently and the one thing I was looking forward to was increased image quality on portrait mode. B...
Anonymous
22 Oct 2021
gBV
I have also seen some base Iso periscope 4x images and they seem to have more noise and noise reduction than one would expect, reminds me of traditional single frame photography. I begin to wonder whether they still use HDR+ for the periscope camera ...
Anonymous
21 Oct 2021
gBV
Now I have seen a 20x zoom image. I downsampled it to 2 megapixels (at 20x, the sensor of the periscope camera uses approximately 2 megapixels in its 48 megapixel mode) , but the image quality at pixel level is bad even after downsampling. This indic...
Popular articles
Popular devices
Electric Vehicles