GSMArena labs: introducing our What is my phone tool
GSMArena team, 20 March 2021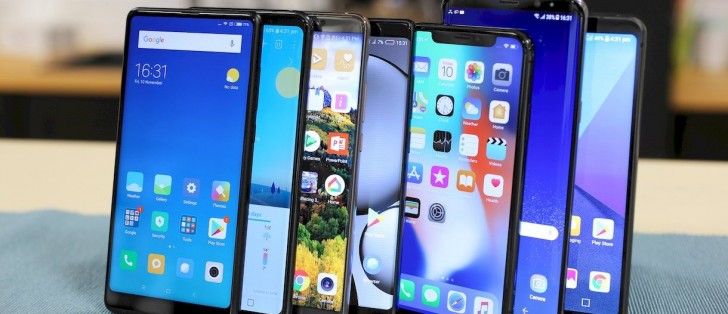 Some follow new phone launches closely and are able to recognize different models by minute details. Others can probably only name the brand of their phone. While we do enjoy examining phones under a microscope, we also try to serve the more casual users.
This is why we built the What is my phone tool. Open it in your phone's browser (not in our app!) and it will tell you what phone it is – then you can consult our detailed database of specifications, read our review and comments by other users, check related models and so on.
This is obviously not going to be much use to our regular readers, but it's something your less tech-savvy friends and family can use. If they are having trouble figuring out their phone model - and can't meet them in person (it has not been a great year for that) - then this tool can help you find out what phone they have.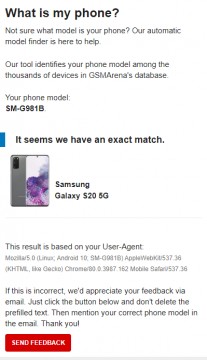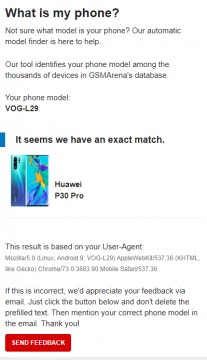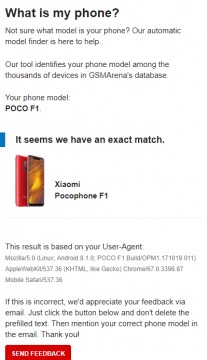 The tool in action - just open the page and you should get a result instantly
It goes without saying that this won't work on your computer or within our app – you need to open the tool in your phone's browser. In fact, you may have already used a version of this if you have our app installed (check the hamburger menu under "My GSMArena").
The tool is still relatively new, so it might fail to identify your exact model. In some cases it will offer two or more possibilities. And if that fails, it will at least try to tell you the model code.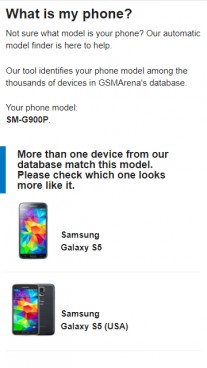 Sometimes there's ambiguity and the tool will offer a few possible options
If the tool does get it wrong, we would appreciate it if you use the Send feedback button and mention the actual model that you are using. This should open your email client so you can send the information to our support account. Please leave the pre-filled text as it is, it will help us determine why the detection failed).
If you need to find the What is my phone tool again, just check the hamburger menu on our mobile site – it's the blue button next to Phone finder. There you'll also find many other helpful links.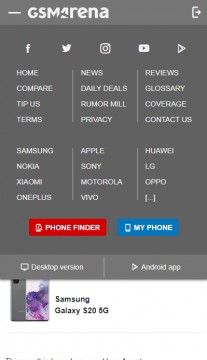 The My Phone tool can be accessed through the hamburger menu (top left)
Note: currently, the tool has trouble distinguishing iPhones - it does know that it's an Apple phone, so it will offer instructions on how to find the model name in the About screen. Again, you can probably do this stuff on your own, your mom and dad might need a little help. If you're wondering why iPhones are difficult to recognize, it's because Apple made a change in iOS that conceals the exact phone model.
One more thing
We also enabled Dark mode on our mobile site. This was already available in our app, but now those using a browser can give their eyes a break in the evening as well. Note that this is available only for registered users - you can find it by going to your account settings (tap on your user name in the top right), then hitting the Manage account button.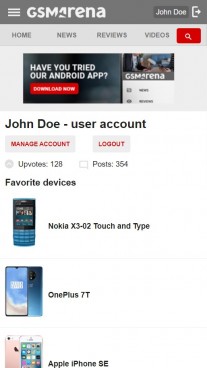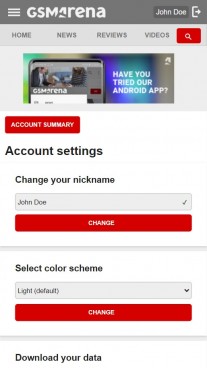 Go to your account settings • Then hit Manage account
Here you will find the setting for your preferred color scheme. There is Light mode, the default that leaves things as they were. Then there is Dark, which uses light gray text on dark gray backgrounds. If that is still too bright, the third setting, Black, sets all backgrounds to pure black. It also removes most of the color infill from the interface and even dims images slightly.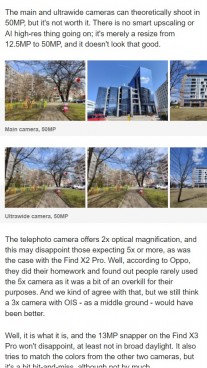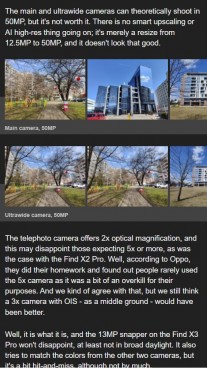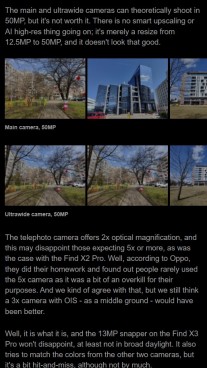 (Default) Light mode • Dark mode • Black mode
Let us know if you run into any issues with the What is my phone tool or the new Dark mode (sorry, desktop users, Dark mode is mobile only).
Related
when I opened it in browser and turned on the web for pc option on Chrome and it told that I am using a Linux pc instead of my redmi phone 😂😂😂
They already told, don't do it from within the app. Are you dum* or what ?
Popular articles
Popular devices