[Hands-on] HTC launches Amazon Alexa support for the US
Enrique, 17 July 2017
Today, HTC and Amazon are launching the HTC Alexa app in the US for the HTC U11. The partnership was first announced at the launch stage in Taipei where HTC announced the U11 would support dual-hotwords that would wake either Google Assistant or Amazon Alexa depending on the one you used. We've been testing a pre-release version of HTC Alexa and would like to share our experience.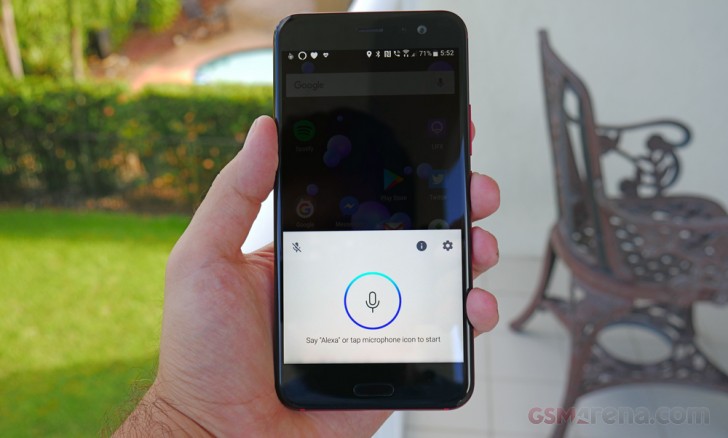 HTC U11 with Alexa
An OTA update was pushed to these devices last week, which included preparations to get the smartphone ready to support the HTC Alexa App. To get the HTC Alexa app, all you have to do is download it from the Google Play Store.
Setting up HTC Alexa is pretty simple. Upon firing up the HTC Alexa app, you'll be prompted to sign into your Amazon account. And authorize that the HTC Alexa app will have the same terms and conditions as any Amazon Echo.
Unlike the Huawei Mate 9's implementation, HTC Alexa can use your location to find nearby places, unfortunately, it still won't tell you the weather in you actual location. For example, if you live in Fort Lauderdale and work in Miami, asking Alexa for the weather from would result in hearing the weather from home, or wherever you have the home address set to.
You can also program the U11's edge sense to summon Alexa without having to say the hotword. We recommend you do this if you already have an Amazon Echo at home since HTC Alexa doesn't support Spatial Perception as of yet.
HTC Alexa's settings let you enable or disable the wake word, or enable/disable the wake word to work while the screen is turned off. Otherwise, there are a few shortcuts to other settings like the official Amazon Alexa app or the Edge Sense trigger screen.
HTC Alexa will appear as another Amazon Echo in your Amazon Alexa app, here you can manage its location and settings available from Amazon's end.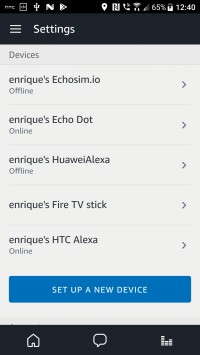 Amazon Alexa app list of devices
When enabled, Alexa will permanently live in your notification shade with suggestions for what you can ask Alexa.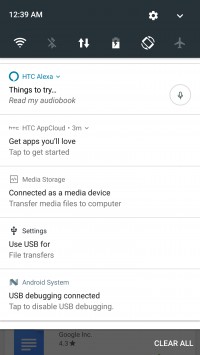 Access Alexa from the notification shade
After our time with the Alexa-enabled HTC U11, we've jotted down some notes about the HTC Alexa app which proves the experience isn't as cohesive as the already baked-in Google Assistant:
Without Spacial Perception, HTC Alexa gets in the way when you try to use your @home Echo.
Unlike the standalone speaker, you must wait for the "blip" to start speaking your command. You don't have to do with with "Ok, Google".
"Alexa" wake word won't bypass your lockscreen, but will prompt you to unlock if you have a passcode
HTC Alexa doesn't support setting timers or alarms, but HTC says this functionality is "coming soon".
HTC Alexa doesn't support Alexa Deals, you need to have a real Echo speaker to take advantage of them.
Although Amazon Music and Audible audiobook are supported, third party music players like Pandora and Spotify are not.
You cannot interrupt Alexa by saying "Alexa, stop" while she's rambling, press the back button to do this.
We'd recommend that anyone who is interested in buying into the Amazon Echo ecosystem should definitely enable HTC Alexa to try out the home assistant as a way to try Alexa before buying an Echo.
Otherwise, in the app's current state as of the date of this post, it's difficult to recommend a current Amazon Echo owner to enable this feature given that Google Assistant performs most if not all the same voice commands with a more polished and consistent experience.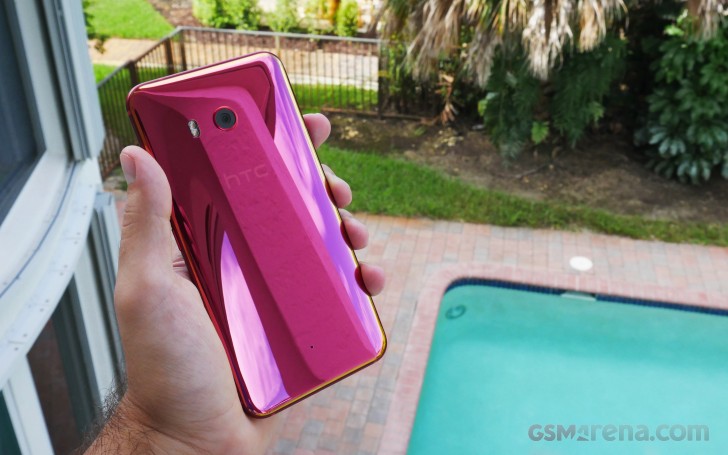 Solar Red HTC U11
If you are fond of the way Alexa already manages all your smart home needs, then by all means, this is the same Alexa that can change your thermostat or dim your lights. Just remember, without Spacial Perception, it's very cumbersome to use HTC Alexa around other Amazon Echo Speakers, so you'll want to disable the wake word option and maybe use the squeeze shortcut with Edge Sense.
This is only the second smartphone handset that integrates Alexa into its software (the Huawei Mate 9 was the first), and while it's only the beginning of seeing Alexa on a smartphone, we're sure the experience will reach the level of its standalone speakers.
Related
Anonymous
17 Jul 2017
StU
I like the idea of have Google assistant, Alexa and Sense companion on one phone. They all have their strengths and weaknesses. Google is not the best for shopping compared to Alexa. Google doesn't have as many partners as Alexa for smart Tech to use...
AnonD-625786
17 Jul 2017
nYS
Just stick with Google Assistant on your phones, manufacturers. We don't need more assistants, Google Assistant is perfectly fine.
Well, basically we can say that it is unneeded, to have two virtual personal assistants and considering that the Google Assistant already performs almost (or all) the same commands and that is even better because it is more polished, consistent, etc....
Popular articles
Popular devices
Electric Vehicles