Here are Samsung's promo videos for the Galaxy S22 and Galaxy Tab S8 families
Vlad, 09 February 2022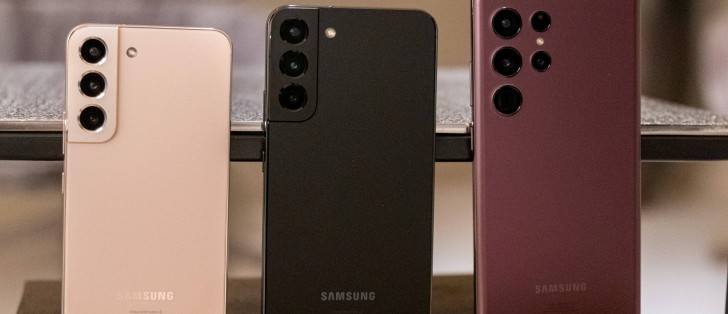 As you probably know already, today was a very big day for Samsung, as it unveiled the Galaxy S22, Galaxy S22+, Galaxy S22 Ultra, Galaxy Tab S8, Galaxy Tab S8+, and Galaxy Tab S8 Ultra. Same naming scheme on phones and tablets - finally!
Samsung has produced a ton of freshly baked promo videos for all of its newly announced devices, and this is where you get to see them all. Let's start with the Galaxy S22 Ultra, and specifically, its "Unveiling" video:
Next up, the S22 Ultra "Official film":
There's also a longer S22 Ultra "Official introduction film":
And then there's the "Official Unboxing":
Finishing off with the top of the line smartphone, there are two "Untold Stories", the first about "Nightography":
And the other one is all about "Vision Booster" and "Heat Solution":
Moving on to the Galaxy S22 and S22+, their Unveiling video features the TV show Bridgerton... for some reason:
The obligatory "Official Unboxing" is also available:
And to round off the phones we have a guide on how to apply a screen protector, for those who need it:
Now let's move on to software. Here's Samsung "Galaxy Experience Film" about One UI 4:
And another one entirely dedicated to the hot buzzword du jour, privacy:
Speaking of buzzwords: "Galaxy for the Planet" featuring BTS:
Now it's time to move on to the tablets, first there's an "Untold Stories" feature starring both the Galaxy S22 Ultra and the Tab S8 series:
Guess what? The S22 Ultra and Tab S8 Ultra are "Partners with The Batman":
Then we get to the meat of things, with the Galaxy Tab S8 Ultra Official Launch Film:
And the longer Official Introduction for the top of the line tablet:
If an unboxing is what you want, here's one "Official Unboxing" video for all three tablets:
And finally, the Galaxy Unpacked Highlights:
That's it for the videos. If you're interested in Samsung's newly announced flagship smartphones, don't miss our hands-on review of the Galaxy S22 trio.
Related
Do you ask that in all seriousness or do you need unboxing videos only when there is a charger in the box because you can't remember how a charger looks?
Anonymous
10 Feb 2022
I@H
Don't know why they still make unboxing videos when all they have in the box is the phone.
Popular articles
Popular devices
Electric Vehicles