Here are Samsung's official infographics for the Galaxy S23 phones and Book3 laptops
Vlad, 01 February 2023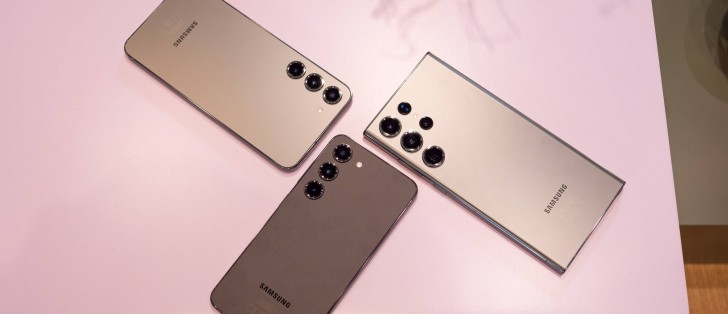 It's a big day for Samsung today, as the Korean company has officially unveiled its latest flagship smartphones - the Galaxy S23, S23+, and S23 Ultra - as well as its latest flagship laptops - the Galaxy Book3 Pro, Pro 360, and Ultra. Those are a lot of devices for sure, but thankfully Samsung is out with a few infographics about its newest products, which point out the most important bits of information about them in a very easy-to-digest form.
So let's start with the undisputed king of Samsung's presentation, the Galaxy S23 Ultra smartphone. It gets its own infographic, unsurprisingly, and it's all about photography and gaming performance.

Next up, the Galaxy S23 and S23+ share an infographic, since they also share most of their specs. How fitting! Once again, cameras are front and center, but the bespoke chipset gets a mention too.

Did you know that the Galaxy S23 family was "designed with the planet in mind"? Well, now you do. These devices use more recycled materials than any Galaxy smartphone to date.

Samsung's premier laptop is the new Galaxy Book3 Ultra, which brings the Ultra idea to a new product line. You can expect "ultra-high performance" with this one, as well as a seamless connected experience between laptop and (Galaxy) phone.

On that same note, here's an infographic that's all about how Samsung's newest laptops and phones can seamlessly work together.

And finally, let's turn our attention towards the Galaxy Book3 Pro and Galaxy Book3 Pro 360, with their standout AMOLED displays and wide range of ports.

If you're interested in the Galaxy S23, Galaxy S23+, or Galaxy S23 Ultra, make sure you read our freshly baked hands-on review of them.
Related
Book3 Ultra without the S Pen support? Really Samsung? It even looks as if it lacked the touchscreen, too! That thing is not Ultra. Without touchscreen it shoul be called "Book3 Outdated"
Exactly! Also like this strange mix of 50's advertisement with 80's newspaper ad. Would feel cheap, if it wasn't ironic. Now it's playful. Somewhat more intreaguing then those javascript loaded leading reins which websits no...
Anonymous
02 Feb 2023
L94
Its a joke where is the earbuds this price insane in Europe after 2 month drop the price or give a free watch or buds to sell this s22 ultra 2.0 the phone market is dropping all the world ,i bet the fold 5 also nothing big change to come same display...
Popular articles
Popular devices
Electric Vehicles